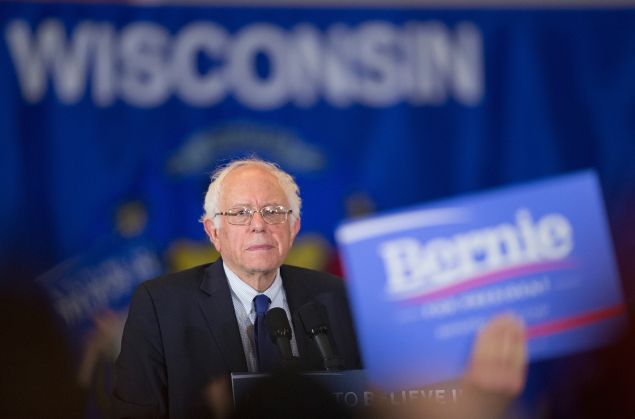 Vermont Sen. Bernie Sanders chalked his sixth consecutive victory over Hillary Clinton, the Democratic presidential front-runner, by defeating her in the Badger State primary tonight.
Mr. Sanders beat Ms. Clinton, the ex-secretary of state, with more than 56 percent of the vote in Wisconsin.
"Wisconsin, today you sent a strong message: when we stand together there is nothing we can't accomplish. Thank you," the Brooklyn-born lawmaker tweeted shortly after the results came in.
Tonight's triumph gives Mr. Sanders an argument for carrying on his underdog bid for the Democratic nomination. and a sense of momentum heading into both next week's Wyoming caucus and—more importantly—New York's increasingly competitive April 19 primary. Yet it would take landslide wins in each forthcoming state for the self-described democratic socialist to overcome Ms. Clinton's massive delegate lead before the July convention.
Mr. Sanders reaped 47 delegates from the Wisconsin contest, while Ms. Clinton took 36. She leads him 1,279 to 1,027 among pledged delegates, those elected in the primaries and caucuses to represent their state at the summer conclave—but has the backing 0f 469 superdelegates, party insiders who support the candidate of their choosing, to his 31.
It takes 2,383 delegates in all to clinch the nomination.
Mr. Sanders campaigned heavily in the state in the weeks leading up to the primary. The insurgent converted his superior fundraising hauls—having stashed more cash from supporters than his rival three months in a row—into $2.4 million in radio and TV ads, drowning out Ms. Clinton, who spent almost a full million less.
Wisconsin resembles places where Mr. Sanders' anti-Wall Street populism has resonated strongly before: better than 70 percent white, with a quirky political history. Some 160 years ago, the state was the birthplace of Robert LaFollette, one of the fathers of the progressive movement.
More recently, clashes with anti-union Gov. Scott Walker brought out a more aggressive, if less successful, strain of leftism among young people and battered organized labor. Mr. Sanders explicitly attacked Mr. Walker, a former 2016 GOP candidate and current supporter of Texas Sen. Ted Cruz, and targeted millenials in his speeches and ads in Wisconsin.
The senator also emphasized his consistent opposition to free trade deals like the North American Free Trade Agreement of the 1990s and the Trans-Pacific Partnership. His ads did not name Ms. Clinton directly, but made veiled allusions to her support for NAFTA and her role in the Obama administration crafting the TPP—a massive, barrier-shattering commerce accord she has since disavowed..
Trade issues are particularly poignant to blue collar midwesterners, who lost well-paying generational manufacturing jobs to Mexico and China in recent decades.
Ms. Clinton enjoyed the backing of most leading Democratic Party figures in the state, including Sen. Tammy Baldwin, former Sen. Herb Kohl and former Gov. Jim Doyle.
A ragged-sounding Mr. Sanders hit on his usual economic themes while speaking to an ecstatic victory crowd in Laramie, Wyo.: the gap between the rich and poor, universal healthcare, paid family leave, free college education, campaign finance reform, infrastructure spending.
"Real change comes about when people stand up and they look around them and they say 'you know, the status quo isn't working. We can do better,'" he said, dismissing claims that his policy propositions are unrealistic. "Yes, we can change the status quo when we think big and when we have a vision."
The candidate suggested Ms. Clinton was getting "a little nervous" that he might win the state she represented in the U.S. Senate and where she still resides.
"I think we have a very good chance to win New York and a lot of delegates there," he said to raucous applause. "I happen to know a little bit about New York. I spent the first 18 years of my life there when I was growing up in Brooklyn."
The two candidates traded places in the polls more than once, but surveys in the final days showed Mr. Sanders edging ahead yet again.
Updated to reflect the most recent vote totals and comments by Mr. Sanders.