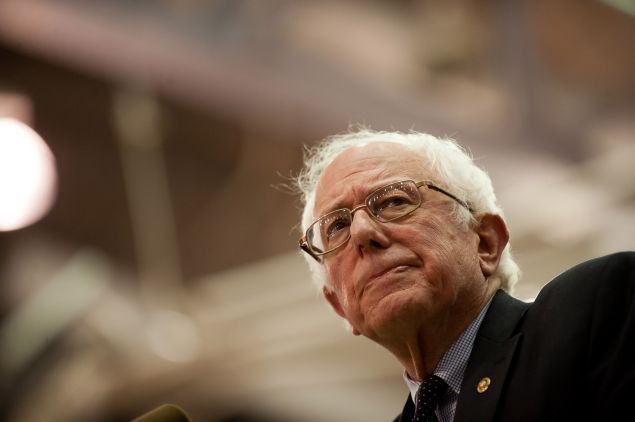 Bernie Sanders never really had a chance when he came home.
New York was always going to be hostile territory. A closed primary kept his independents out, and Hillary Clinton's demographic advantages, coupled with her deep ties to the establishment and history of representing the state in the Senate, were too formidable to overcome. Mr. Sanders, a Vermont senator, may have grown up in Brooklyn, but he had no political history here. Polls always showed him well behind and Ms. Clinton performed to expectations.
Now that he's lost the Empire State, the immediate question for the Sanders campaign, and the movement that accompanies it, will revolve around what comes next. He's vowed to campaign onward, looking to win in Pennsylvania and other Northeast states that vote in a week. Mathematically, his chances of outright victory are greatly diminished, and he'd need near-landslides in places like California to compensate for slipping further behind. Mr. Sanders, as canny a pol as he is a soaring ideologue, probably knows this.
So how he concedes to Ms. Clinton and what he can get with his leverage will matter. Few left-wing insurgents in presidential history have made it this far against an establishment candidate. Even fewer, if any, have managed to raise more money than the party-backed candidate, as Mr. Sanders has remarkably done in 2016.
Ms. Clinton will need Mr. Sanders' supporters, many of whom revile her past dalliances with the center-right, in November, when she will seek to recreate the Obama coalition of younger voters and nonwhites to thwart a Republican. Assuming this Republican is Donald Trump, the toxic GOP front-runner, this will not be difficult, and she should be a heavy favorite. But if she snubs her nose at the Sanderistas, she will run the risk of alienating a growing chunk of the Democratic electorate.
Despite the calls from some Democrats for Mr. Sanders to step aside soon to allow the former secretary of state to focus her efforts on the Republicans, he will have little incentive to do so. Unlike past insurgents, he doesn't need to hold fundraisers, relying instead on small dollar online donations that will keep pouring in. As long as he doesn't run out of money, he can battle on. And if he's going to keep forcing Ms. Clinton leftward and even compel her to adopt some of his campaign platform at the national convention in Philadelphia, dropping out early won't help his case.
Democrats will cry out that Mr. Sanders is only harming the party by continuing to campaign when he has little chance of victory. But Barack Obama faced down an even more bitter and drawn-out challenge from Ms. Clinton in 2008 and still prevailed in the fall. Given the specter of Trump, Ms. Clinton should have little trouble raising money from terrified liberals and moderates to take on the billionaire real estate developer. There's no need yet for Mr. Sanders to leave the race.
How he exits, though, will be crucial, both for his own fortunes and the future of the progressive movement. He's approaching his big moment.
He can't blow it.
Disclosure: Donald Trump is the father-in-law of Jared Kushner, the publisher of Observer Media.