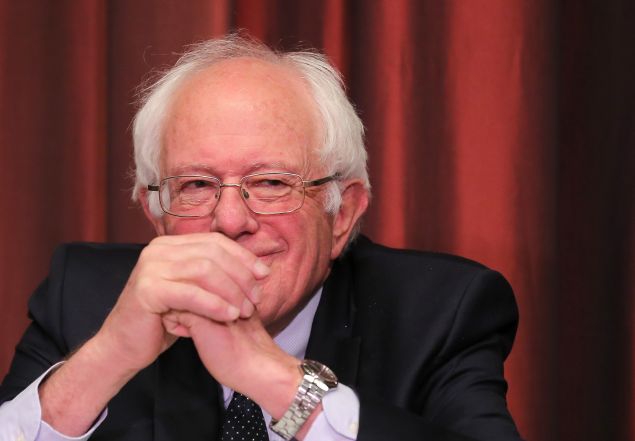 One year after he first addressed Rev. Al Sharpton's National Action Network convention—his campaign then nothing more than a rumor—Vermont Sen. Bernie Sanders came back to the New York Sheraton as a candidate for the White House hoping to make inroads in Democratic front-runner Hillary Clinton's base: the African-American community.
Introducing the Democratic underdog, Mr. Sharpton lauded the self-described socialist for returning to the forum "with a lot of momentum" and having "changed the conversation in this election." But he called on the candidate, known for populist broadsides, to speak in specifics about how he would help black Americans. He also referred to the Jewish pol as "Bernie Saunders."
"He's here to speak with us and share with us, and we are very receptive to hearing him as we heard Secretary Clinton," the controversial civil rights leader said, referring to Ms. Clinton's appearance at the convention yesterday. "There are many discussions about race going on in this campaign. What we are interested in is a substantive discussion around policy, and law and how, if they are elected president, what they would do in concrete terms."
Just like last year, Mr. Sanders promised "blunt talk" before he launched into his usual tirade against wealth inequality and corporate influence on politics. But his tone had tempered, his speech was slower and he directly addressed leading minority issues that he either avoided or only alluded to in 2015—disproportionate unemployment, poverty and clashes with the police, plus stricter voter identification and enrollment laws in GOP-controlled states that he labeled "voter suppression."
"You would have thought after all we have gone through as a country to make sure people have the right to vote, regardless of the color of their skin, that these Republican governors would show some mercy, and not try to bring us back to Jim Crow days," he said, pivoting a short while after to naming high African-Americans who died during or after violent encounters with the police. "All of us in this room, we are tired—more than tired—of seeing the videos of Sandra Bland and Eric Garner, and all the rest, who are unarmed—and Michael Brown, you name it—a long list, a list too long, who are killed by police officers."
He highlighted his support for Rev. Jesse Jackson, who was sitting in the audience, and his outsider candidacy in the 1988 presidential race—a move he claimed led the Vermont Democratic establishment to "turn their backs on me." He also highlighted his opposition to the Welfare Reform Act of 1996, which then-President Bill Clinton signed into law.
But the candidate nonetheless argued racial equality is linked to income inequality, and recalled accompanying Dr. Martin Luther King, Jr. on his March on Washington for Jobs and Freedom.
"Dr. King recognized, quote, 'it is criminal to have people working on a full-time basis, at a full-time job, getting part-time income,'" he said. "What does it matter if you desegregate a lunch counter if you don't have the money to buy the damn hamburger?"
He also argued that the two gulfs can have common solution: a massive investment in infrastructure he claimed would both sow jobs and prevent a recurrence of the kind of mass lead poisoning that happened in the majority-black city of Flint, MI. And he coupled it with an anti-war message that drew the loudest applause he had received yet.
"I got a simple question: how does it happen we have trillions of dollars available to spend on war in Iraq we never should have gotten into, but then we're told we don't have the funds available to rebuild inner cities in America?" the Brooklyn-born pol said.
He ended with an almost direct attack on Ms. Clinton for receiving financial and political support from corporations.
"If you believe that those issues can be addressed by the establishment politics and establishment economics, you've got a very good candidate to vote for, but it's not Bernie Sanders," he said, drawing a mixture of claps and cries from the audience. "That's the truth. If you think, and I don't mean to be disrespectful, that you can run for office, have a SuperPAC, and raise tens of millions of dollars from wealthy special interests, and then go out and take on the big money interests, and protect working families, well if you think that, you got a very good candidate out there, but it's not Bernie Sanders."
Polls show Ms. Clinton leading Mr. Sanders by double digits in New York, where she resides and which she represented in the Senate for eight years, thanks in part to strong support from minority voters. The primary is on April 19.