Sen. Bernie Sanders may very well have won the art world's vote. On Saturday, the Democratic presidential candidate made a surprise appearance at a pop-up art show at The Hole gallery on The Bowery for the opening reception of "The Art of a Political Revolution: Artists for Bernie Sanders 2016." The exhibition, open through April 18, includes politically themed art, with many works featuring artistic interpretations of his likeness, by major artists such as Ron English, Molly Crabapple and Shepard Fairey.
While an invite for the exclusive opening reception only promised appearances by Mr. Sanders' wife Jane and son David Driscoll, guests erupted in excitement when Mr. Sanders showed up unannounced after having just returned to New York from a whirlwind visit to the Vatican, where he met the Pope.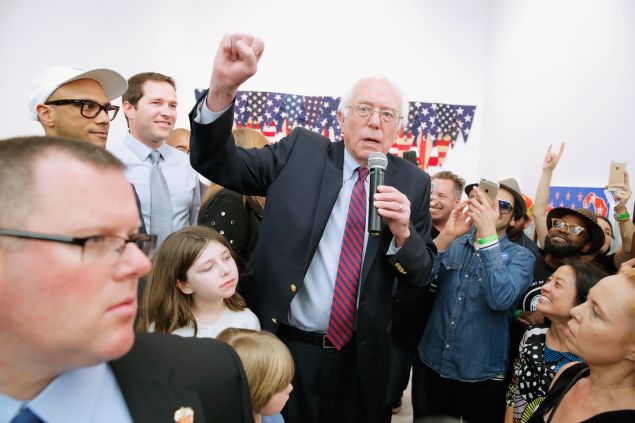 "I've got to tell you, on a personal level, it is a little bit weird to see all these guys that look like me on the wall," Mr. Sanders told a packed crowd inside the gallery.
His remarks were brief, but touched pointedly on the grassroots organizing at the heart of his campaign. "One of the very gratifying aspects of this campaign is not just the grassroots movement that we have all over the country, but it's all kinds of fantastic things that are happening more or less spontaneously," he said. "The fact that we have so many people that have volunteered their time to come up with this incredibly creative art is just extraordinary. This is just another manifestation of what we mean by a political revolution."
Mr. Sanders toured the exhibition with his grandchildren by his side, stopping to admire a plush muppet version of himself created by artist Donny Miller, murals by street artists Rostarr and Dan Buller that span three of the gallery's walls and loose interpretations of the American flag by Mr. English and Steven Arroyo.
"We're trying to unleash the energy and the potential of the American people," Mr. Sanders said. "That's what this is about."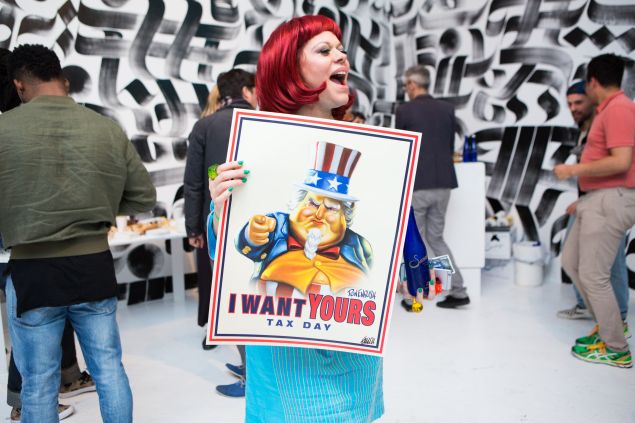 In September 2015, Mr. Sanders released a YouTube video with the Arts Action Fund touting his support for the arts. In the clip, he mentions founding the Burlington Arts Council during his time as mayor of the Vermont city, and his arts education initiatives.
"You have my promise that as president I will be an arts president," Mr. Sanders said in the video. "I will continue to advocate strongly for robust funding of the arts in our cities, schools and public spaces. Art is speech, art is what life is about."
The Arts Action Fund provides information on the arts records of each of the presidential candidates, and a page on Mr. Sanders website includes the names of well-known artists, musicians and cultural figures—David Crosby, Steve Wozniak and Mark Ruffalo, to name a few—who currently endorse the senator.