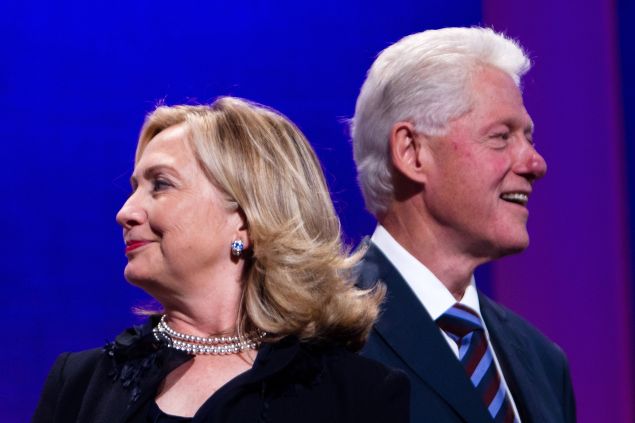 Former President Bill Clinton clashed with Black Lives Matter protesters Thursday over his abhorrent 1994 crime bill during a stump speech for his wife's campaign, self-righteously defending Hillary Clinton's highly controversial use of the term "super predators."
One of the protesters at the Clinton campaign rally in Philadelphia held a sign that said "CLINTON Crime Bill Destroyed Our Communities," a reference to the Violent Crime Control and Law Enforcement Act of 1994, which is now considered a disaster because it caused the incarceration rate among the black community to skyrocket. The legislation was such a debacle that Mr. Clinton said last year he regrets signing the bill. But at Thursday's rally, the former president angrily attempted to justify another Clinton outrage from 1994: Ms. Clinton calling black gang members "super predators" who must be "brought to heel." Video of her comments has been widely distributed by the Black Lives Matter movement during the current campaign, hurting her pitch to the black community.
"This is what's the matter," Mr. Clinton began his attack on the protesters, seething with shameless condescension. "I don't know how you would characterize the gang leaders who got 13-year-old kids hopped up on crack and sent them out on the street to murder other African-American children. Maybe you thought they were good citizens—she didn't. She didn't! You are defending the people who killed the lives you say matter. Tell the truth!"
Mr. Clinton's argument is the same one some white people use to respond to outrage from the black community when police shoot a black person—that blacks are hypocritical for not being outraged over killings and violence within the black community. But those arguments, including Mr. Clinton's on Thursday, disregard the pain and trauma institutionalized racism causes in the black community. Mr. Clinton's outrage showed that he and his wife lack the ability to make this distinction and empathize with the plight of blacks in America today.
Michelle Alexander, author of The New Jim Crow, described the awful policies of Mr. Clinton's administration—which are revered by his wife because she helped sell them to the American people—in a February article in The Nation. "In her support for the 1994 crime bill, for example, she used racially coded rhetoric to cast black children as animals," Ms. Alexander wrote. "Both Clintons now express regret over the crime bill, and Hillary says she supports criminal-justice reforms to undo some of the damage that was done by her husband's administration. But on the campaign trail, she continues to invoke the economy and country that Bill Clinton left behind as a legacy she would continue."
Ms. Alexander went on to show that the 1994 crime bill had a devastating impact on the economic livelihood of the black community. "As unemployment rates sank to historically low levels for white Americans in the 1990s," she wrote. "The jobless rate among black men in their 20s who didn't have a college degree rose to its highest level ever. This increase in joblessness was propelled by the skyrocketing incarceration rate."
Mr. Clinton's attempt to shout down protesters in Philadelphia was not the first time he or Ms. Clinton lost their temper when they were interrupted on the campaign trail. At a rally in South Carolina in February, Mr. Clinton was confronted by a former Marine over Ms. Clinton's role in the Benghazi scandal. Around the same time, Ms. Clinton got into a spat with a black activist at a $500-a-plate fundraiser over her invocation of the super-predator myth, helping to fuel the backlash against her insincerity on racial justice. Shortly after, Ms. Clinton was campaigning in Minnesota when a young black activist asked about her record of supporting the black community, in particular Somali-Americans. Ms. Clinton attacked the girl, telling her she should run for office.
With Sen. Bernie Sanders now on a major run, winning six of the last seven contests and thumping Ms. Clinton in Wisconsin on Tuesday, Mr. Clinton's tirade in Philly and Ms. Clinton's "super predators" comment only serve to further alienate black voters and encourage a voting bloc that is crucial to her candidacy to support Mr. Sanders instead.