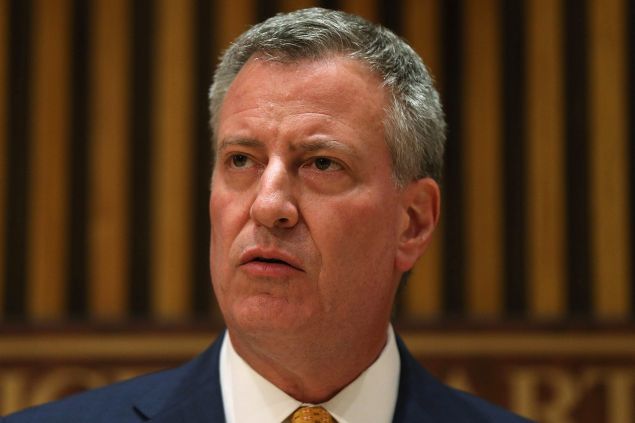 Mayor Bill de Blasio refused today to directly answer reporters' queries about his office's interactions with U.S. Attorney Preet Bharara over a pair of unfolding scandals—or about how he would deal with any employee of his caught involved in wrongdoing.
Speaking to the press after an unrelated event in Manhattan, the mayor refused say whether the Department of Justice made any requests for information after a lawyer Mr. de Blasio's 2013 campaign retained last week reached out to investigators to offer assistance. Earlier this month, it came out that Mr. Bharara's office is investigating potentially illegal gifts two top donors to the mayor and his political nonprofits allegedly gave to police in Brooklyn.
The corruption-busting prosecutor is also reportedly probing what influence Capalino+Company, a firm close to Mr. de Blasio, had on the city's decision to lift a restrictive deed on a Lower East Side property—permitting a client of the firm to turn what was an HIV/AIDS care facility into high-price condos. Founder James Capalino, who has fundraised heavily for the mayor, has denied ever discussing the property with him.
"I'm not going to get into the details day-by-day. The bottom line here is, we hold ourselves to very high ethical standards, we're going to cooperate," the mayor said today. "We reached out, as you know, to the U.S. Attorney's office and said 'we're going to cooperate with you,' that's our stance."
Mr. Bharara's office declined to comment. Mr. de Blasio refused to say whether he would dismiss any member of his administration indicted or found to have taken part in inappropriate activity.
"The bottom line is, we'll look at each situation as it emerges. I don't deal with hypotheticals. I believe that anyone who does something wrong should suffer the consequences," he told the Observer, noting that the NYPD has reassigned several officers tied to the investigation to lower posts.
Mr. de Blasio did say that he had not spoken with Department of Investigations Commissioner Mark Peters—his 2013 campaign treasurer—before the commissioner recused himself on Friday evening from DOI's part in the probe. Mr. Peters had previously resisted calls to abstain from involvement in the case, even though one of the men under investigation, Jona Rechnitz, "bundled" roughly $41,000 in contributions for Mr. de Blasio from multiple donors in 2013.
"I did not talk to Mr. Peters, but I'm glad he recused himself. That was the right decision," the mayor said today.
The mayor vowed last week he would no longer take questions about the investigations. News broke during the press conference today that police arrested a man formerly involved in the Borough Park, Brooklyn shomrim—the ultra-Orthodox volunteer safety patrol—who allegedly promised to expedite NYPD pistol permits for people who paid him as much as $10,000.
Sources told the Observer the man in custody, Shaya Lichtenstein, has not been involved with the shomrim in several years and resides now in Rockland County, which falls under the jurisdiction of Mr. Bharara's Southern District of New York.
No reporter had the opportunity to ask Mr. de Blasio about the arrest, because press secretary Karen Hinton called off the off-topic question-and-answer session shortly after queries turned to the scandal.
Updated to clarify the details of the Lower East Side property deal.