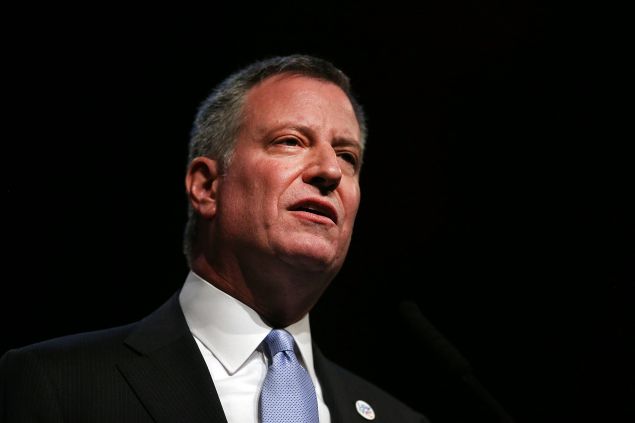 Mayor Bill de Blasio informed reporters today that he would no longer respond to inquiries about U.S. Attorney Preet Bharara's reported investigation into his cash-gathering apparatus.
Mr. de Blasio made the announcement at an unrelated press conference in the Bronx. CBS and the New York Post reported last week that the corruption-busting Mr. Bharara is sniffing around the mayor's money as part of a probe of two Brooklyn men who gave and bundled cash for Mr. de Blasio's campaign, contributed to one of his political nonprofits and sat on his transition team after the 2013 election.
The feds suspect the two men of bribing cops with gifts in exchange for an array of favors.
"The questions have been asked and answered about something that in my experience is absolutely theoretical at this point. And there's nothing else to say," said Mr. de Blasio, who has denied any knowledge of any investigation into his fundraising. "We comport our selves with the highest standards of integrity."
The mayor did permit a few more queries about the situation this afternoon, though said they would be last allowed. He said he had not retained a lawyer to deal with Mr. Bharara's office, and had no intention to do so at this time.
The two men, Jona Rechnitz and Jeremy Reichberg, both hail from the cloistered ultra-Orthodox enclave of Borough Park, part of which Mr. de Blasio represented in the City Council last decade. Nonetheless, the mayor has maintained that he never met either man before the fall of 2013—though he could not guarantee he had not had dealings with any of their relatives and business partners during his time as a legislator.
Mr. Rechnitz donated $50,000 to Mr. de Blasio's recently dismantled Campaign for One New York group, which promoted his left-wing agenda, while Mr. Reichberg hosted a fundraiser for the group at his home in 2014. Unlike a campaign operation, nonprofits can take in infinite funds and only disclose donors voluntarily.
Citizens Union, an anti-corruption group, labeled the Campaign for One New York and Mr. de Blasio's other political lobbying groups a "shadow government" that created a pay-to-play culture at City Hall.
Mr. de Blasio, like most liberals, has criticized the influence of monied interests in politics and is an outspoken opponent of the Citizens United Supreme Court decision, which allowed so-called "superPACs" unaffiliated with campaigns to lavish unlimited cash on ads during campaign season.
But he told the Observer today that the public should not be concerned with donations to someone whose motivations are as unimpeachably pure as his own.
"If you have integrity, and you know your job is to represent the people's interests, you're going to make the decision based on what you think is right for the people," he said. "I consider myself a reformer for a reason: I believe in making fundamental changes."
The mayor did, however, announce on Friday that he would return $9,900 Mr. Rechnitz had given to his re-election campaign.