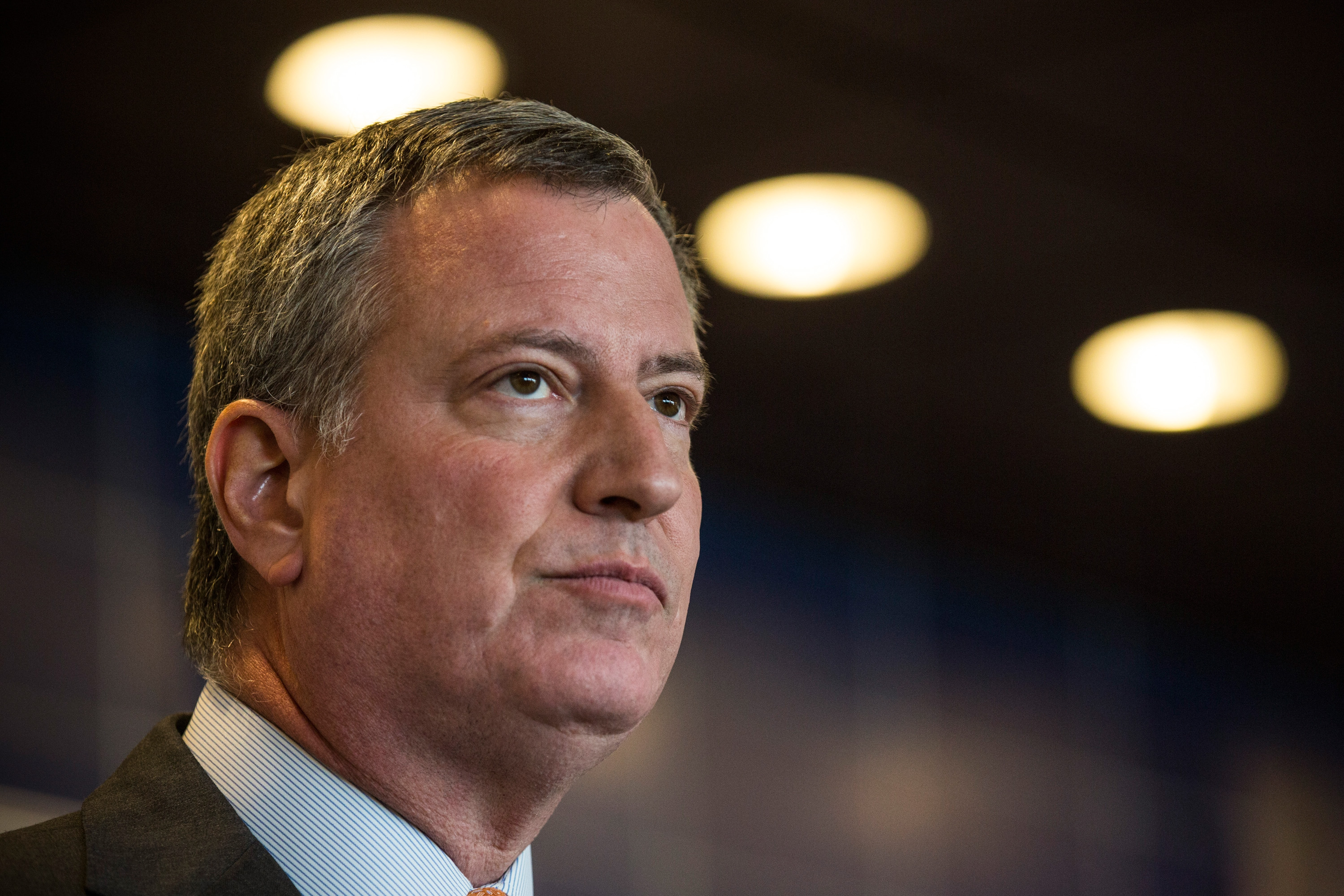 Almost every one of the questions Mayor Bill de Blasio was asked during a crowded media availability today seemed to a question he didn't want to answer. His parting line pretty much summed it up.
"Thank you everyone. Glad we focused on the important issues of the day," he said to a cadre of reporters as he stalked off, out of a ballroom at a midtown Sheraton where he'd been participating in National Action Network convention.
Those "important" issues? One was whether he'd heard from U.S. Attorney Preet Bharara about a reported investigation into his campaign finances, tied to two donors, Jeremy Reichberg and Jona Rechnitz, who are being investigated for exchanging gifts for favors from the NYPD. That issue ranked important enough for Mr. de Blasio to have his campaign lawyer, Barry Berke, call Mr. Bharara.
"He called on behalf of the 2013 campaign and said, 'We're happy to help in any way.' And there was no particular response in terms of any particular need," Mr. de Blasio said. "But again, we haven't received anything further, any part of my office or anything associated with it."
Mr. Rechnitz donated $50,000 to Mr. de Blasio's recently dismantled Campaign for One New York group, which promoted his left-wing agenda, while Mr. Reichberg hosted a fundraiser for the group at his home in 2014. Unlike a campaign, nonprofits can take in unlimited funds and only disclose donors voluntarily.
Mr. de Blasio said people who donate to him shouldn't expect anything in return.
"They don't have the right to expect anything," Mr. de Blasio said. "That's the simplest answer."
Mr. Bharara has said nothing about the mayor's campaign finances publicly. But last night at a gala held by a good government group, the prosecutor railed against a "pay-to-play" culture in the executive branches of the city and state—which, given the context of Mr. de Blasio's recent woes, seemed a pointed reference.
"I'm not going to interpret that," Mr. de Blasio told the Observer. "You'll have to ask him what he meant."
Mr. de Blasio repeatedly argued that the city had come a long way in reforming its ethics—"this was place was horrible in the 80s"—and was leaps ahead of Mr. Bharara's favorite hunting ground, Albany. Anyone who violates the city's strict rules will be punished, he promised.
But for a hint at how bad Mr. de Blasio's day was going, consider this: the campaign contribution probe was just one of two reported investigations by Mr. Bharara he was about today.
Mr. Bharara is also reportedly investigating the de Blasio administration's decision to lift a deed restriction on a Lower East Side nursing home, which allowed the owner to net a big profit by selling the building to be turned into condos. Mr. de Blasio said neither he nor his staff have been contacted by the feds about that, either. And the mayor said he would not simply "assume" he was under investigation because "unnamed sources" had said so.
(The deal is also being investigated by the Department of Investigation and the city comptroller.)
"In life, stuff happens," Mr. de Blasio's spokeswoman, Karen Hinton said in a statement. "Allegations swirl, but that is all they are — allegations. We are keeping our eyes on the prize, which is making this city the best it can be, keeping New Yorkers safe, growing jobs and incomes and creating more affordable housing. That's what the Mayor is doing. That's what we are all are doing."
Atop of everything else, Mr. de Blasio was also dealing with days worth of blowback over a joke with racial overtones he made on stage beside his favored presidential candidate, Hillary Clinton, at Saturday night's Inner Circle show. He kidded that his late endorsement was due to him being on "C.P. time"—"cautious politician," of course, and not the more well-known version of the phrase: colored people.
Did the mayor—who had just spoken to a room full of black civil rights activists, including Al Sharpton who kidded him about it—regret the line? "No, I don't. It was satire."
Mr. de Blasio's wife, Chirlane McCray, is black and was at the event, and he said she saw no issue with the joke. He also cited a defense from former Mayor David Dinkins, whose City Hall the mayor met his wife in.
"Suffice it to say I have a long experience with the community, and it's a phrase that is used by some people derisively, by some people humorously, but the bottom line is we were putting it in the context of a skit," Mr. de Blasio said, that "subverted" expectations and put the joke on him.
The press conference and the myriad of problems addressed during it amounted to plenty of red meat for the press and the mayor's critics. And yet there was still more raw hamburger to come.
This afternoon, Mr. de Blasio's office announced Richard Emery, the chairman of the Civilian Complaint Review Board that reviews accusations of police misconduct, would resign, hours after the Daily News reported a co-worker was suing him for calling her and another woman attorney "pussies."
"After a lengthy substantive discussion with the Mayor, he and I agree that the confluence of recent circumstances will preclude me from further fulfilling my goals as Chair of the Civilian Complaint Review Board," Mr. Emery said. "The issues of inhibitions on my law practice, several of my recent public statements and recent litigation have created daily distractions from the success of the CCRB."
This story has been updated with comments from Mr. de Blasio's spokeswoman.