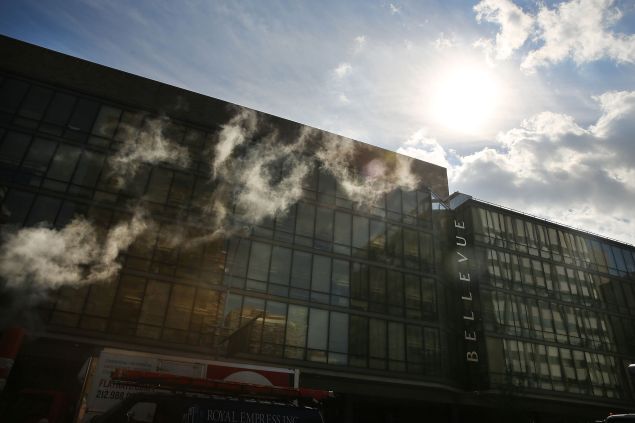 Mayor Bill de Blasio's kitchen-sink plan to save the city's ailing public hospital system includes a proposal to develop "vacant and under-utilized parcels" at healthcare facilities across the five boroughs.
The mayor's plan to fill Health + Hospitals' yawning budget gap—projected to hit $1.8 billion by 2020 without action—relies largely on increasing and expediting reimbursements from the state and federal government, and allowing attrition and reassignments to shrink its payroll. But Mr. de Blasio's 12 strategies also include monetizing chunks of property by creating supportive units for disabled and mentally ill homeless people, affordable units for the low-income and even market-rate housing.
"Pursuing these development projects will help Health + Hospitals' bottom line in two ways," the 55-page plan reads, citing studies that stable housing drastically reduces public medical expenses. "1) generate revenue from land sales and ground leases and 2) reduce costly healthcare services."
Health+Hospitals is a public benefits corporation that operates 11 hospitals and five long-term care facilities across the city.  Its board of directors consists largely of de Blasio appointees.
The proposal to develop vacant Health + Hospitals land resembles Mr. de Blasio's plan to revitalize the finances of another struggling city entity he controls—the housing authority. And, unlike private projects, developments on public land have the advantage of not requiring state-controlled tax abatements like the now-defunct 421a credit to be profitable.
Mr. de Blasio first hinted he might employ similar approaches in bolstering the hospital system in January. But whereas the NYCHA plan emphasized constructing below-market apartments toward the mayor's goal of creating 80,000 affordable units by 2024, Mr. de Blasio said his main interest in Health+Hospitals was in generating cash.
"I don't think of it first and foremost in terms of the affordable housing plan. I think of it in terms of revenue. What's the best option for revenue?" he said, leaving open the possibility of luxury development.
First Deputy Mayor Anthony Shorris hinted that space currently allocated to cars and nonmedical facilities could become construction sites—and suggested that repurposing different buildings might open up more space for development.
"HHC has a lot of land, some of it's used for healthcare facilities, some of it's used for related things—parking garages, support buildings, etcetera," he said. "There is no question that with a portfolio that big, there should be some opportunities."
"The question is, are there ways to both use the portfolio more efficiently and perhaps create some revenue? That's definitely something we're going to want to look at," he continued.
The administration was unable to provide estimates as to the amount of acreage that it could develop, or how many units of housing it could wring from it, and Mr. de Blasio sought to paint this as just one small aspect of his plan. But the mayor promised that no structures that are currently for acute care would become apartment buildings.
"We don't have a specific set of sites," Mr. de Blasio said. "The central commitment here is that we are keeping all the hospital buildings hospital buildings."