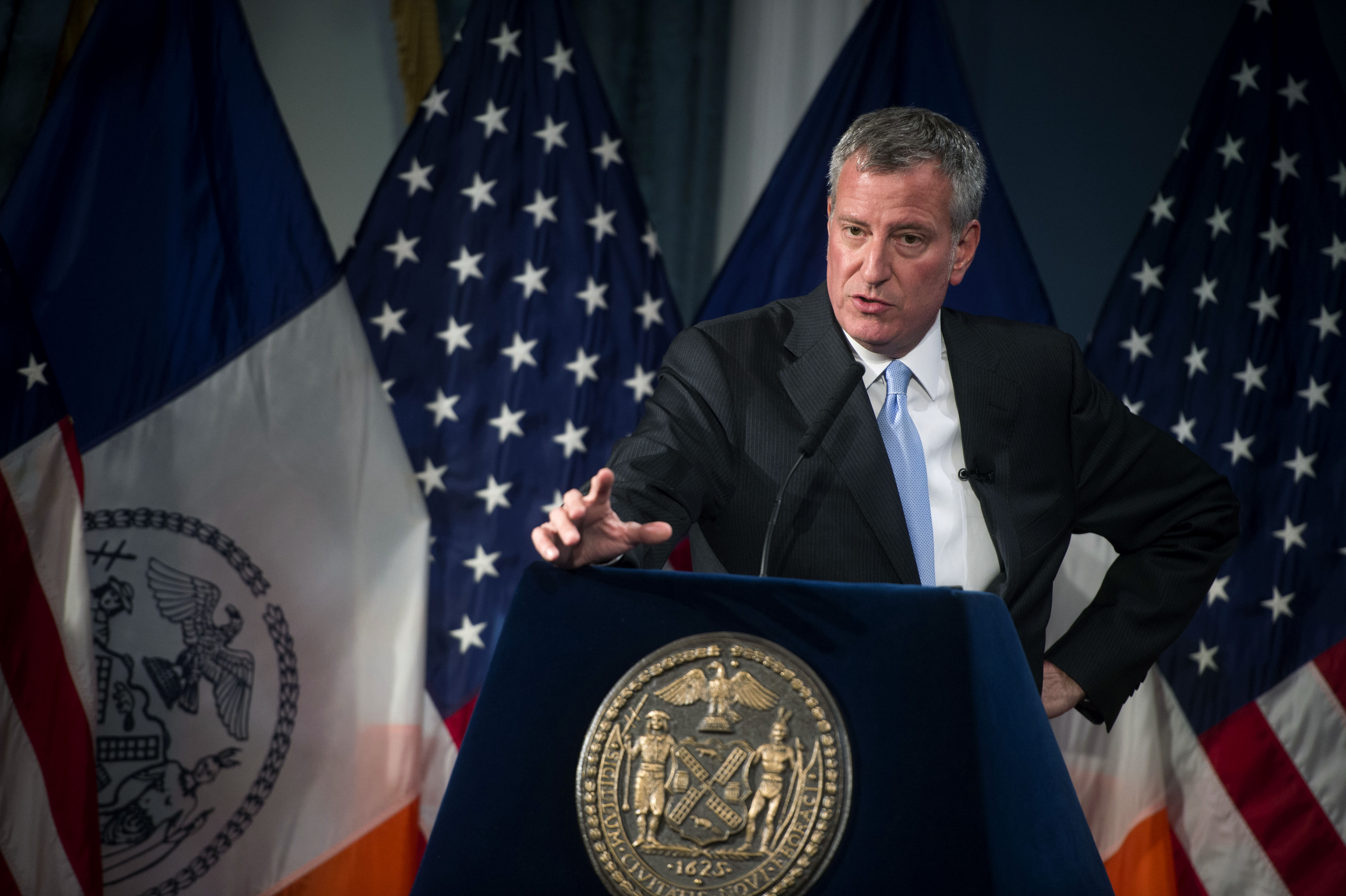 Mayor Bill de Blasio yet again questioned why a state official recommend a criminal inquiry into his fundraising for Democratic State Senate candidates—insisting he's followed both the law and the precedent.
"This is something of a double standard, if some people follow the law exactingly and that's considered a problem and other people followed the law exactingly and it's not a problem," Mr. de Blasio told WNYC's Brian Lehrer this morning.
Risa Sugarman, the chief enforcement officer for the State Board of Elections, referred the case for criminal investigation after finding what she called "willful and flagrant" violations of state law in Mr. de Blasio's fundraising—outlined in a memo that was reported by the Daily News last Friday. Ms. Sugarman was appointed by Gov. Andrew Cuomo, who has been feuding with Mr. de Blasio. The referral was unanimously approved by the bi-partisan board; several people close to the mayor have been served subpoenas.
At issue are donations Mr. de Blasio's team solicited for upstate county Democratic committees, which can accept contributions of up to $103,000—well more than the $10,300 an individual candidate can take. The committees can then transfer unlimited amounts to individual campaigns. In this case, after contributions were made to the committees, they were promptly funneled to candidates. In her memo, Ms. Sugarman argued that amounted to using the committees as straw donors to evade contribution limits.
But Mr. de Blasio has argued this is a common practice that has been used by other mayors. Mayor Michael Bloomberg donated handsomely—though with his own money—to keep Senate Republicans in power during his tenure. He said the media who is sniffing around his spending should ask why the state sniffed around first.
"I think they should ask the question of how a state Board of Election official singled us out, apparently not understanding how state election law works, and then leaked their document to the media, which in and of itself may be a violation of the law," Mr. de Blasio said. "I think that needs to be looked at and I find it telling and I think here is a larger set of issues that needs to be looked at here about whats' really going on."
He added that the memo came just before he rolled out his budget: "How convenient that when we're doing a lot of work to help everyday people, there are all sorts of efforts to obscure that work."
But despite his insinuations that somebody was targeting him for something, Mr. de Blasio never named Mr. Cuomo, or anyone else. "I'm not alleging anything specific. I'm saying it should be looked into."
Who made the call to leak the memo is certainly an interesting political question. But the investigation itself poses a larger question, one that's sure to worry any elected official who has taken advantage of the state's notoriously loose campaign finance laws.
In the age of U.S. Attorney Preet Bharara's promise to "stay tuned"—and his conviction of Sheldon Silver, the former assembly speaker, for doing things that many characterized as business as usual—what were once gray areas of the law seem to be coming into sharper focus, at least for prosecutors. It's unclear if their interpretation of the law will lead to the conclusion that anyone on the mayor's team broke it, and it's a matter of debate among plenty of people already.
Some, like Citizen's Union's leader Dick Dadey, have argued the problem arises if the committees are treated as only a pass-through—rather than someone donating to the committee knowing they'll help Democratic candidates, but not knowing which ones in particular will get how much. Laurence Laufer, one of Mr. de Blasio's attorneys, wrote an exhaustive memo insisting the fundraising had been within the law and within the conduct of prior mayors.
"Everything was done within the law. Now if people want to change the laws," Mr. de Blasio said, that's a different story. He argued that his foes can raise unlimited funds for firepower against him—and for him to sit back and not fight back on behalf of the people of New York, by raising money under the current campaign finance system even if he doesn't agree with it, would not be "noble."
Silver's case was different in many ways—the money in question was for his own financial gain, not to boost his political causes. But his defense was fairly similar to Mr. de Blasio's argument: that making outside income might have been ugly, but it wasn't illegal in New York. Silver was convicted and will be sentenced soon. 
Mr. de Blasio has already closed down his Campaign for One New York, a nonprofit that allowed him to take in large cash contributions and use them for his causes. When Mr. Lehrer asked whether Mr. de Blasio, going forward, would draw any other "bright lines" with fundraising, he insisted he already had gone above and beyond by disclosing his donors when he didn't have to do so.
"Here's the problem—we are following the law and we are disclosing," Mr. de Blasio said. "There are figures int his state that have received huge of donations from private interests and have not disclosed where they are from."