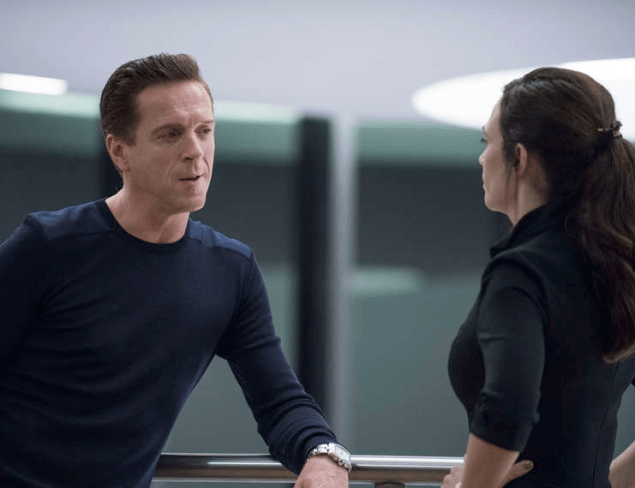 The Axe is losing his edge. In the opening minutes of "Magical Thinking," last night's episode of Billions, Bobby Axelrod goes against the advice of every analyst in his employ and hangs on to a stock he thinks is a sure thing to explode—only for it to collapse completely, taking upwards of a billion of Axe Capital's dollars with it. The opportunity to make a smart move and keep his company on the right track was right there, and he blew it. When you compare last week's top-to-bottom success of an episode to this week's far spottier installment, you can't help but wonder if Billions just did the same. The scope, structural complexity, high emotional stakes, and game-changing character revelations it had suddenly proven itself capable of pulling off are gone, in favor of a meandering long dull night of the soul.
Of the four storylines that parallel one another to form the episode, at least two were pure filler, whatever initial promise they may have shown. For example, it's not a bad idea for Lara to bring her Michelin-starred chef sister to Axe Capital for a potential job there, just so that she can point out to Lara what a crew of entitled grotesques she runs with now. But the moment they left the parking lot for a long night of hitting the old hangouts, riding in helicopters, and shopping at a mall they bribed open in the middle of the night, nothing that happened remotely justified the screentime; if anything, kid sis just looked as easily bought off as anyone, dazzled by the city lights and the unlimited access. Maybe that was the point, but it seemed it was supposed to be about making Lara feel human again, not dehumanizing her sister. If so, it failed.
Something similar happened with Connerty and Sacker, the crazy kids in love in Chuck's office. They start off strong enough, with Connerty wondering aloud if they do their job just to settle scores with people they hate and Sacker responding by spinning a yarn about a promising med student she knew who now pulls down $20 million a year scouting Biomed stocks, instead of curing cancer or whatever. "Society's fucked when that happens," she says. "Incentives all out of whack." Their job shifts the balance, however slightly. It's an intriguing insight into what makes the prosecutors tick—but it quickly devolves into a "dangerous" tryst on Chuck's desk (which, admittedly, they call off because a) it's clichéd, and b) ew, Chuck sits there) and a cute but inconsequential scene in which they shoot illegal fireworks on the beach at Coney Island. It's the definition of padding, of just needing to keep the characters in the episode and coming up with something for them to do after the decision's already been made.
Chuck's journey, at least, has a more compelling destination: He violates his wife's privacy, and her patient's confidentiality, by opening her laptop and emailing himself her notes on her night-long session with Bobby. At first glance it seems as if he believes they're having an affair, but his subsequent trip to an BDSM club without her permission indicates that he covets the friendly intimacy between her and Axe, not that he's misconstrued the nature of their relationship. His storyline this episode is full of those kind of qualitative ups and downs: He has his umpteenth passive-aggressive meeting with his rich and influential father, but then he has a bracing discussion with his old friend Ira about the seemingly glamorous life he's leading as a divorcé; he can drown himself in women all he wants, but he can't shake regretting all the times he could have opened up to his wife but choked it down instead.
This is advice Chuck should have taken to heart, especially after he discovers that a photographer has followed his every move all night. Instead, he doubles down on duplicity. It's possible he comes clean immediately after the cut to the closing credits, but if not, the decision rings false. Piling one destructive lie atop another has not been Chuck's style—for every brash action, there's an equal and opposite circumspect reaction. After stepping out on your dominatrix wife and nearly getting outed with a sex worker in the press, you then steal your wife's files when you come home with your tail tucked between your legs? That's a hard one to swallow.
One telling contrast between Bobby and all the other characters? They have to traipse all across New York City for their journeys of self-discovery, while all he really has to do is walk around the grounds. Pressganging Wendy into an all-night session about the gigantic trade he blew, he eventually—and this was a surprise—comes clean about his real role in Donnie's death: not just how he used his illness to play for time against Chuck, but also how he discouraged his doctor from telling him about an experimental treatment that could have prolonged his life. Now hiding your disapproval to help a patient is one thing, but if Wendy is bothered by Bobby's conduct at all, she shows no sign of it. Not only does she assure him he's no sociopath (though she warns that the door is open if he keeps switching his feelings off) and wind up laughing the night away with him afterwards (it's this picturesque scenario that Chuck sees, driving him into the arms and St. Andrew's cross of a professional dom), she dismisses the medical malpractice itself with a mere "Pancreatic gets everyone." Oh, well okay then! Her reaction makes even less sense considering the immediate follow-up: Bobby tells her he knows she's been looking for jobs elsewhere. If she's uncomfortable enough with the Axe Capital culture to want to leave it behind, wouldn't this example of that culture at its most extreme all but turn her stomach? She may be good at her job as these people's coach and confidant, but god help us if she's good enough at it to switch her feelings off, but only when it suits the need of the story.