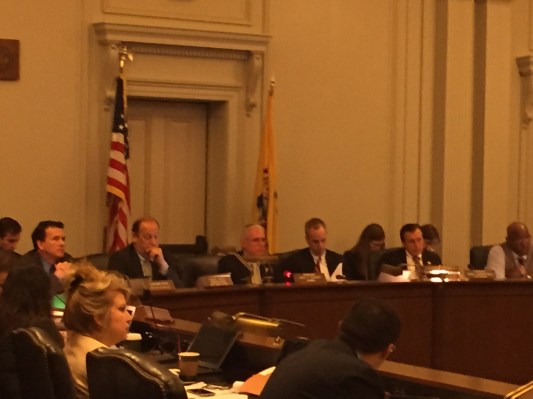 TRENTON — The Department of Community Affairs faced pointed criticism from members of the Assembly Budget Committee Monday, where lawmakers expressed reservations about giving that agency additional oversight in Atlantic City under Governor Chris Christie's favored state takeover bill. The Assembly split with the Senate last week when Speaker Vince Prieto (D-32) declined to post that bill and saw his own proposal advance in committee one day before the city ran out of cash.
At issue was the amount of transitional aid to be provided to Atlantic City in this year's budget, and the wisdom of allowing the state to take over when previous years of state-funded transitional aid and a state appointed emergency manager have failed to improve holes in the city budget.
Chairman Gary Schaer (D-36) laid into D.C.A. commissioner Charles A. Richman for supporting the plan from Senate President Steve Sweeney (D-3), which would have the agency make final judgements on the municipal budget and the hiring and firing of city workers. Sweeney's bill would also give the state authority to alter or tear up union contracts — a provision that Prieto has called too far-reaching, and which would be delayed by two years of additional benchmarks under his own bill.
"The state failed to give us and early understanding of the problem," said Schaer, pointing to the fact that several sets of collective bargaining agreements for police, fire fighters and beach patrol officers have already expired and not been renewed. "Which leads me to question why it took so long for an administration, which rightfully prides itself on its aggressiveness in terms of fiscal responsibility, would allow such things to happen."
"Those who don't know history are doomed to repeat it," Schaer continued. "Do you dispute that statement?"
Assemblyman John Burzichelli (D-3) showed frustration with the commissioner for not being able to cite concrete projections on how the Sweeney bill would impact the city's finances.
"I'm very surprised to hear you say that you don't know what happens if that bill became law, because first of all it's very significant. Second of all, someone took a lot of time thinking about how to approach this."
Though Richman would not draw comparisons between the two bills or comment on the precedent Sweeney's would set in allowing the state to intervene in cities whose ratable bases take the same kind of hit in years to come, he said that Atlantic City's dire straights require swift action whether through renegotiated union contracts or a monetization of the city's water authority.

"The last thing I would like to do is tell you or anyone else that I have a pot of money here, and therefore we should back into what those sacrifices ought to be" he said. "This is a municipality whose finances are worse than I've ever seen."
"With all due respect mister chairman, my advice will be made to him," he said when Schaer asked his opinion on the merits of Prieto's bill and its sole focus on Atlantic City.
Assemblyman John McKeon joined fellow Democrats Elizabeth Maher Muoio (D-15) and Schaer in expressing skepticism about the state's ability to produce different results with a similar set of regulatory powers, and took the Christie administration to task for the governor's surprise pocket veto of a bill to offer the Borgata and other Atlantic City casinos a payment in lieu of taxes agreement. That measure would stem some of the losses from casino tax appeals by fixing casinos' payments, and is now tied to the takeover in both bills.
"If the PILOT bill had gone through there would have been a lot more money for this calendar year for Atlantic City. Yes or no," McKeon asked Richman.
"The PILOT itself does not produce additional moneys to the municipality," he replied, refuting McKeon's claim that the possibility of future appeals outweighs the governor's misgivings about passing the PILOT on its own. "The PILOT and the levy are virtually the same."