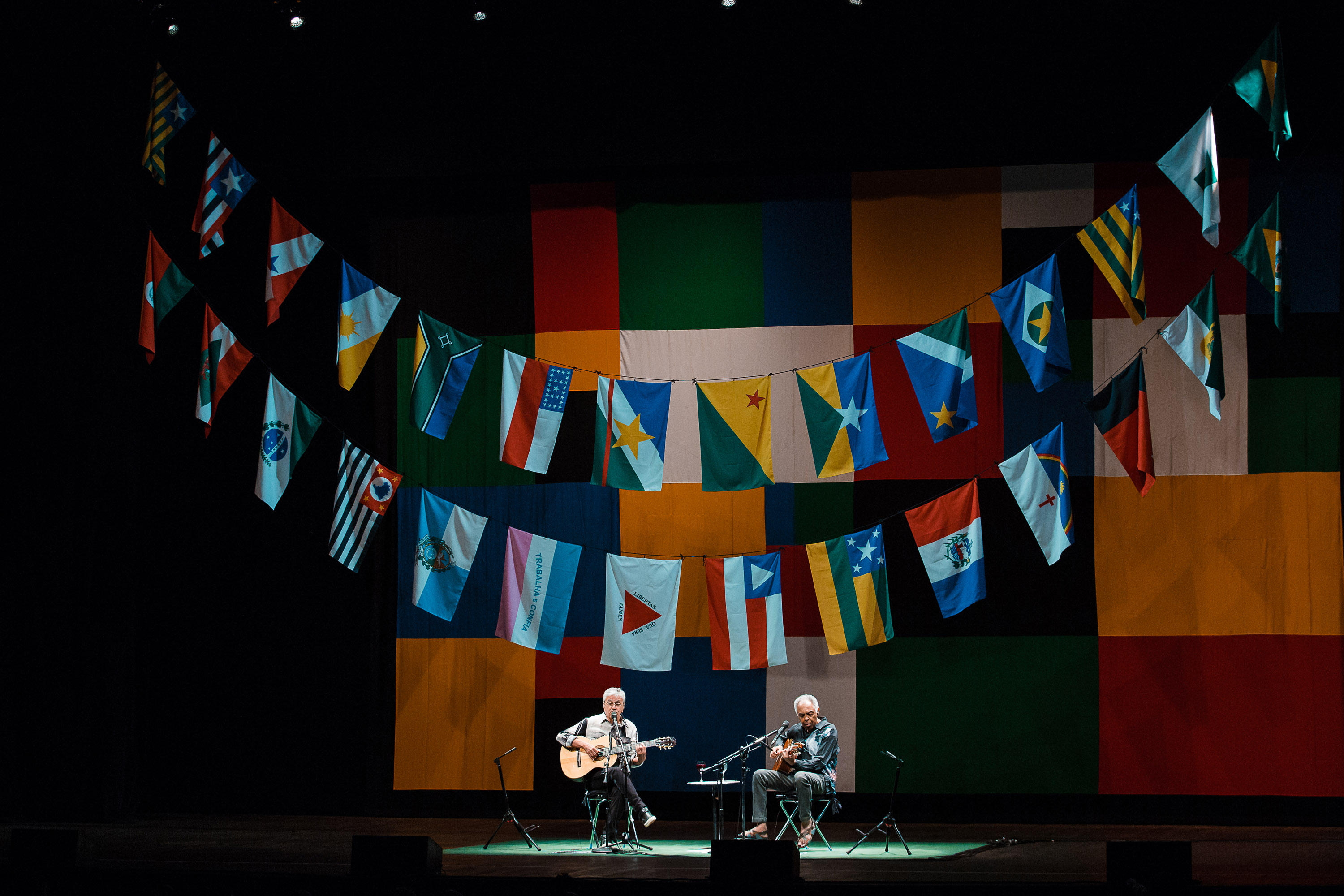 In late April, a haze falls over New York City. 4/20, the day that our nation's most mellow fellows dedicate to enjoying marijuana in all forms, generally doesn't prompt its practitioners to ever even leave the couch. It's a passive holiday for those who celebrate, I'm told, a festive ritual that involves marathoning Comedy Central and consuming the traditional food, Doritos.
New York celebrates a little differently, though; not by staying at home but by going out. Brooklyn's own Prince Rama chose the date to play a hometown show at Rough Trade , celebrating the final night of their tour with the rest of their trippy fans.
But further south into the borough, two legendary musicians and heralds of a psychedelic Brazillian art form called Tropicália came to the Brooklyn Academy of Music, casting good-vibes spells on an audience of enlightened hipsters, cool dads and party people. Another haze fell over the country, a purple haze, as we bade goodnight to our sweet Prince. But it's still apparent now, one week later that the songs of Caetano Veloso and Gilberto Gil have powers far beyond the fleeting potency of a stoner holiday.
Heading toward Downtown Brooklyn, the day sure didn't feel like anything. Pushed against a crowded car of drunk Islanders fans, who had pre-gamed on their commute from Long Island and were jonesing to see their recently relocated hockey team play at Barclays center, I couldn't help but feel reminded at how diverse of a borough we live in.
These beer-bellied schmucks are good for our economy, I reasoned internally, reminding myself that their love of The Islanders would hopefully offset some of the massive debt Barclays Center had incurred under former owner Jay Z's shakey financial hand. The future of Barclays means more large arena shows, you see, something our borough doesn't need often but I'm nonetheless grateful for when artists like Neil Young, Arcade Fire or Radiohead roll through town.
Upon getting off the train, a decidedly chiller lot filtered out of the jersey-wearing, Barclays-bound townie throngs. We walked our two blocks down to BAM's Avery Fisher Hall in earnest, bound for the immaculately ornate Howard Gillman Opera House contained therein. Though the show was sold out, a line snaked away from the box office window and out into the street, eager fans of the Brazilian legends hoping for an extra seat to materialize. One such hopeful found himself sitting next to me, a young man from Long Island who had been waiting outside the box office since three that afternoon. He told me that the music did something to him; I applauded his decision to reject the Islanders herd in lieu of some good fucking music.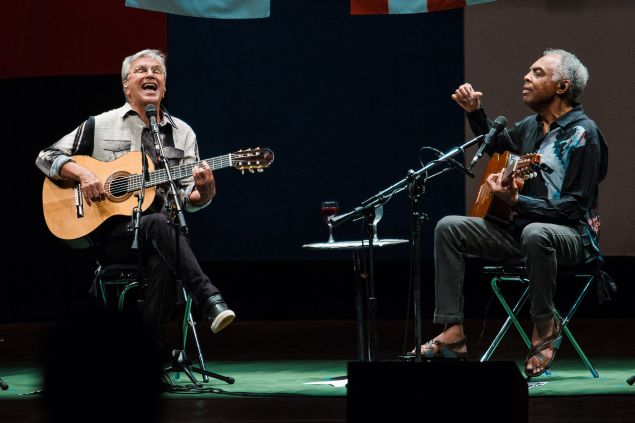 As musicians with both solo albums and collaborative projects, Caetano Veloso and Gilberto Gil wittingly gifted Brazil with a new movement of art, poetry and song called Tropicália in the late '60s.
Born out of the Bossanova sound, Tropicália took smoother sounds and rhythms celebrated nationally by Brazil and made them strange. Augmenting the smooth, hushed sounds of Bossanova, Mr. Gil and Mr. Veloso mixed electric guitars, animal sounds and other foreign sonic elements into their music. The two men were inspired by the writings of Brazilian poet Oswaldo Amarande, who wrote in his 1928 Manifesto Antropófago that Brazil's greatest cultural asset was its history of cannibalization, of eating other cultures and ideas to make them part of the country's identity. Mr. Gil and Mr. Veloso took this idea and applied this to the music they loved, fusing foreign genres like reggae, psychedelia and even The Beatles with the traditional Brazilian music of the time.
Brazil was pissed. Upon the release of their musical manfiesto, 1968's Tropicália: ou Panis et Circencis, the men and the movement they created was far from mainstream. The government hated them, as their protest of the 1964 coup d'état that saw the armed forces oust then President João Goulart was openly opposed to the current regime. But the leftists hated them, too, as their Marxist views on what Brazil needed were Nationalist to the point of despising any imposition of foreign cultural appropriation onto traditionally Brazilian milieus. They were exiled to England in 1969 by the dictatorship.
All of which is to say, these two old dudes onstage, duetting with their acoustic guitars in perfect harmony against a panoply of Brazillian flags, are and have always been punk. Their arrangements have mellowed a bit—gone are several of the jarring sonic pastiches of samba and rock 'n roll  that typify their late-'60s and early-'70s recordings. It's a testament to the compositional daring of these songs, then, that such turns of phrasing and tempo changes could never sound ubiquitous. Like all good art, the music of these men is a wholly intentional pastiche, and the final creations are greater than the sum of their parts.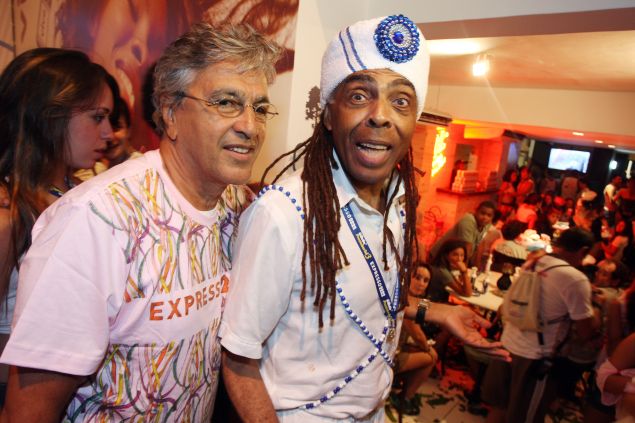 Mr. Gil and Mr. Veloso played the majority of this year's split release live album, Dois Amigos, Um Século de Música, which documents their early concerts around Brazil that first featured these current musical arrangements. Though these songs exist in identical structural and sonic form on record, something happens in a live space to their pronunciation of syllables, the gentle percussive tapping on the body of their guitars, and the inevitable call and response between audience and performers. It's a triumph for them, for sure, when a huge room full of New Yorkers will blissfully sing along in Portuguese without provocation.
Mr. Veloso led a gorgeous rendition of "Terra," which originally appeared as the opening track to his 1978 album Muito. Written after his 1972 return to Brazil following a forced exile, "Terra" is one of Mr. Veloso's most tender moments even in its original form. Mr. Veloso begins the song by describing coming across pictures of someone while he sits in a prison cell, and the person is covered by clouds. "Terra, terra, Por mais distante o errante navegante," goes the chorus, loosely translating to, "Earth! Earth! However distant The wandering navigator Who could ever forget you?"
[youtube https://www.youtube.com/watch?v=O90yMPaFRd0]
Holding his hand out from his ear to prompt our chiming in, this chorus became a green lullaby for the room, poignant in its unwavering relevance and all the more powerful in it's hushed, understated delivery. Though "Terra" was the first barnstormer of the night, the entirety of that two-hour-plus show, with no openers or set-breaks and two encores, felt like a spiritual experience.
Gilberto Gil's standout came in the form of "Toda Menina Bahiana," a subversive samba from his 1978 album Realce, the last in his "Re" trilogy. Alluding to the girls of Bahia, the song drops heavy lines out of nowhere about god giving us magic and primacy before declaring, "first, we carnival." The call and response between the audience and Mr. Gil was thunderous throughout, complete with hand claps and hip grandparents dancing in their seats.
[youtube https://www.youtube.com/watch?v=XgQLOSpG4EM]
After the show, a man on his way out of the venue recognized the matron of a Brazilian family occupying the row behind me. "Oh Julia, I thought I'd find you here!" he shouted flamboyantly. "How did you find me?!" she beamed at him facetiously, doing a quick turn in her reflective silver-sequined dress. "I'm going to a party at your house later," he said, "will you be there?" The woman confirmed that she knew about the party, parted ways with the man and rejoined conversation with her family as the crowd filed out.
This woman, partying well into her later years as an unrepentantly proud and garish pastiche of styles and cultures, was living the very lifestyle that Mr. Gil and Mr. Veloso championed with their cultural cannibalism all those years ago. It might not be as jarringly political anymore, as language barriers and mellower arrangements have given even the most critical and heavy songs a great heir of joy. But this is how the function of art and celebration are similar, to create a communal meaning and work through the facets of our world that we don't understand together. Through this lens, that lady and her mirror dress were punk, and still trippy to boot.
A heady haze to swallow, for sure. Who else but Caetano Veloso and Gilberto Gil could close their second encore with a song like Bob Marley's "Three Little Birds," done to death in every dorm room across this land, and infuse into it a new sense of vitality? Mr. Gil took the lead on that one, as when he recorded it in 2002, elevating the aphorism "don't worry about a thing" to its rightful power as a lifestyle decision. For on that evening of April 20 in Brooklyn, there was indeed nothing to worry about, and every little thing was going to be all right.