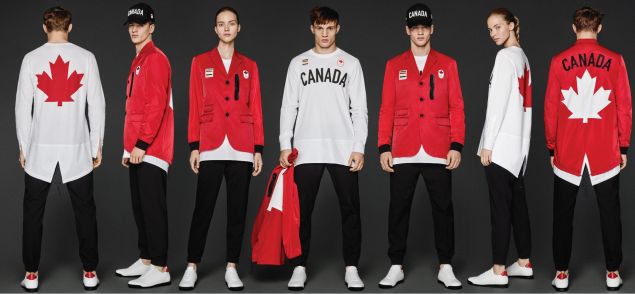 Do they hand out gold medals for the most avant-garde athletes at the Olympics? If so, the Canadian team would surely be the recipient of such an aesthetically pleasing award.
In Rio this summer, our most athletic neighbors up north will be donning DSquared2 for the Opening Ceremony of the Olympics. The iconically risqué label has partnered up with Canadian retailer Hudson's Bay for the outfits, which include red satin jackets that appear to be a hybrid between a bomber and tuxedo. The uniforms also include a very street style savvy long sleeve T-shirt with a split back hem. The finishing trendy touch is a pair of white leather sneakers, à la the classic Stan Smith style, but updated with a black sole.
"We are constantly inspired by Canada, so it is an honour to partner with Hudson's Bay in dressing Team Canada. The Opening Ceremony look is made with our passion for our birth country mixed with the energetic spirit of Dsquared2," said the brand's founders, Dan and Dean Caten.
Oh, Canada.