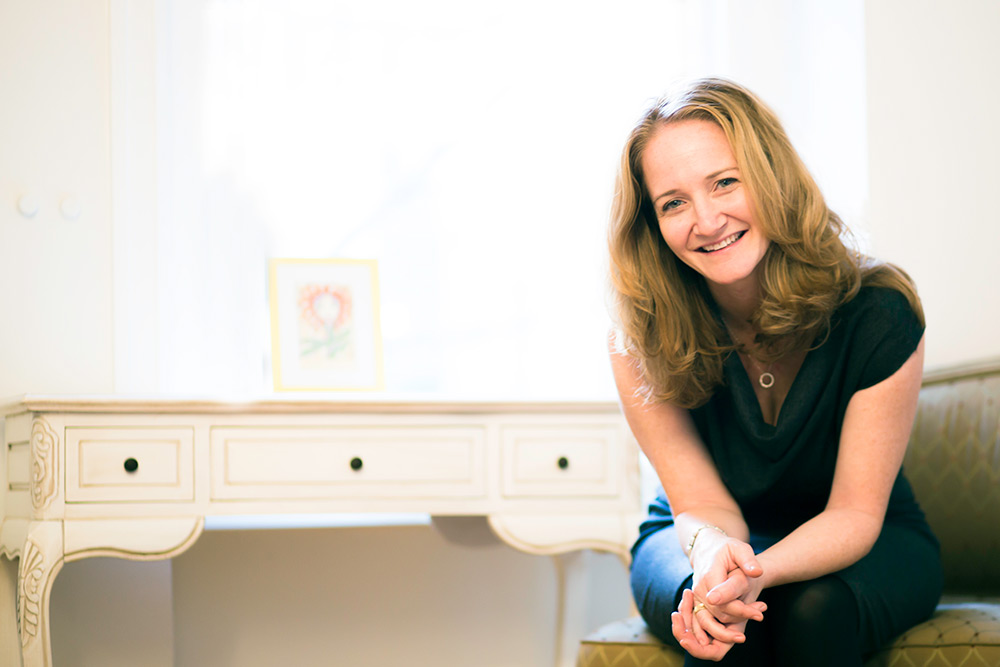 Last week I had the great fortune of trying one of the only water tables for Vibroacoustics (vibration and sound) therapy that are located here on the East Coast, at Tournesol Wellness in midtown Manhattan. In fact, before last week I hadn't even ever heard of vibroacoustics. It's a naturopathic therapy– helpful for things like anxiety and stress, arthritis, symptoms of Parkinson's, insomnia, migraines, and more– that led to some of the most immediate and intense physical relaxation and peace that I've experienced.
When I stood up from the water table– which is like a thin water bed laid atop a hard table– after a half hour, I felt as though I'd taken a deeply restorative yoga class and had a massage concurrently. The buzzing, energetic feeling stayed with me straight through until nighttime, which I noticed especially when I laid down that night to sleep; it was as if tension I hadn't even realized I was carrying in my lower back had suddenly dissipated.
Below, some of my conversation with Carey Davidson, the founder and CEO of New York City-located integrated health center Tournesol Wellness, which she sold her house to create after finding frustrations within the modern healthcare system.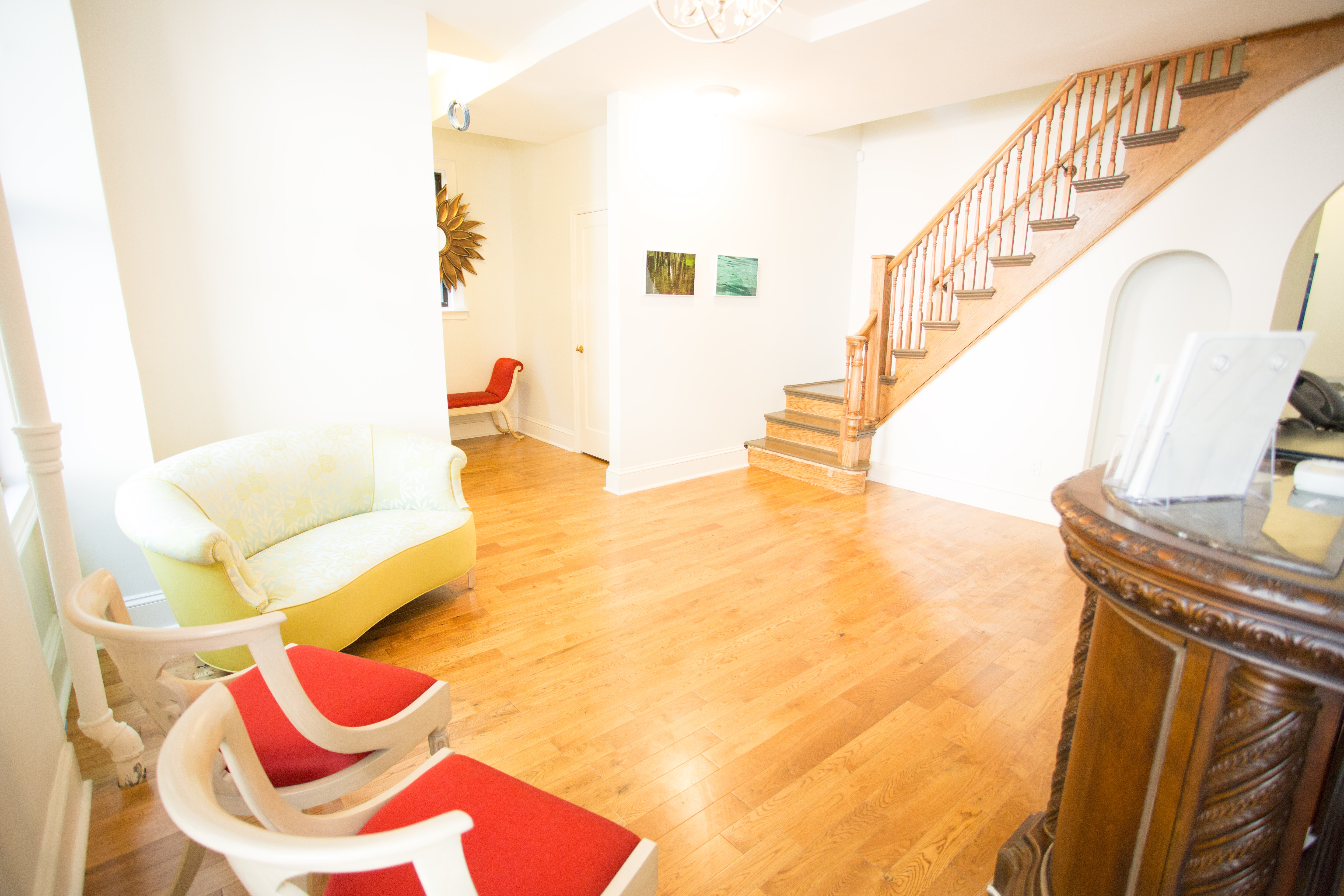 Tell me about what led you to found Tournesol Wellness.
I was working at Columbia Presbyterian Hospital as the head of a nonprofit where we did art therapy for children at risk. I saw how these beautiful kids who needed help would come in for their one hour a week of therapy and how they would glow. Their eyes would shine, their load would lighten. You could see that the burdens were lifted just by being in this very healthy, beautiful environment, and then they would go back into the environment that reinforced all the reasons why they were coming to us in the first place. That started to get my wheels turning; it was frustrating for me to [wonder]: "Why don't we address all the pieces of this child's life? Why isn't one person managing that conversation?" 
And then I started to see this need not just in these little kids lives, but in my own life and in the lives of other people who were coming in to the hospital, and my family and friends… our primary care didn't really address all of our primary needs. So I amassed a group of friends and colleagues in alternative medicine fields [as well as those in] the conventional medical field who wanted to see things change, and decided to open a center that was a home. For me, it needed to feel like a home, a place where people felt like they were coming for a joyous experience. 
Our primary care didn't really address all of our primary needs.
What kinds of treatments or programs can people come to you for?
We start with integrative primary care. It's a 360-degree holistic health assessment where you'll see an MD, an integrative doctor; a naturopath; and an integrative nurse coach. [So] you're going to have your full, regular medical work up and family history. Then you'll also have a naturopathic intake that [looks at] what your sleep is like and how you're eating and how what you're eating impacts everything else that's going on in your system. And the integrative nurse coach is a psychiatric nurse practitioner who will look at the emotional, mind-body, social, and environmental components of why you may not be feeling well. The three of them then get together and they collaborate on each person's case and design a custom plan for each person based on their current health, their preferences, their goals, how motivated they are to make change in their life. Really considering factors of how much time and energy and money someone wants to spend on their health… Some of our clients have diabetes or autoimmune disorders, some just want to prevent the onset of chronic illness as they age. It's very highly customized and individualized based on each person's case.
So those are the three core practitioners who will assess each person, and then their prescription pad, per se, is our whole center. We have 20 different modalities, our biggest one being vibroacoustics, and we also have flower essences and Jin Shin Jyutsu, nutrition, naturopathic medicine ongoing, integrative nurse coaching ongoing, EFT, private yoga and meditation, group yoga and meditation, we have astrological coaching… 
[We believe that] when you work with a team of practitioners to collaborate on a case, the outcomes are always better.
For us, it's really important to see someone actually achieve sustainable health and happiness, and for that you have to address what's going on in the mind–energy, spirit, whatever you want to call it–and in the body.
Okay, now to Vibroacoustics. Why had I never heard of this before? I know we discussed how it is a practice that's somewhat more popular on the West Coast, but hasn't really permeated here yet.
I think there are certain [geographic] areas where people are more progressive in terms of their approach to holistic health, where they're more open and they explore different possibilities. Certainly there are areas where people are more interested in sound healing, and with sound healing you'll find more people who know about vibroacoustics. But there's not a lot of money in, and so not a lot of advertising dollars available. It's not like Xanax or Viagra— there's a lot of money in erection medication, right?– a lot of people know about that because there's a lot of money to be made, there's a huge marketing budget.
For me, I researched it. I found [vibroacoustic sound therapy] at the top integrative hospital in the United States and then found that the National Institutes of Health (NIH) had been studying it for so many years and there's so much good data on it, I wanted to make it available for people. 
What type of person might be interested in testing out this technique? Is there anybody that it's not for?
Vibroacoustics is not for people who have no stress in their lives (laughs).
It's great for people who want to mitigate the side effects of cancer treatments, like neuropathy and nausea. Anybody with stress. Parkinson's, MS, Fibromyalgia, arthritis pain… Really our big pockets are stress, pain management–a lot of back pain–and sleep. People who are having trouble sleeping because they can't shut off their brain, or jetlag, things like that.
The contraindications would be anyone with a pacemaker because there are magnets in the transducers, or anyone who's had a recent surgery and has an open cut. Vibroacoustics speeds up circulation and blood flow which aids in healing, but if you have an open sore you want it to clot.
Are there any other health care practices that might enhance or complement its effects?
We do have practitioners who like to use the table for their sessions. Acupuncturists love using the table– you can lay on it for 10 minutes to relax before they start the needle insertion. I do reiki energy sessions with clients on the table. We have craniosacral done on the table, some massage therapists like it.
We believe that when you work with a team of practitioners to collaborate on a case, the outcomes are always better.
What are some of the most common misconceptions or frustrations you still find, even in an open-minded city like New York, about holistic/naturopathic approaches to healthcare?
I think we're just not educated about it, people really just don't know a lot about what is true integrative medicine. If you look up 'integrative healthcare' or 'integrative centers,' you'll find different medical offices [that have] a lot of different specialists within the office, and they'll refer you internally. But integrative, or integrated, healthcare is not happening really well in the United States yet. The idea of it is simply that we're not just our blood work and we're not just our GI tract, and we're also not just our thoughts and fears about childhood trauma. Everything is interconnected and you can't address just one piece of the pie and expect that everything is going to get better. For us, it's really, really important to see someone actually achieve sustainable health and happiness, and for that you have to address what's going on in the mind– energy, spirit, whatever you want to call it– and in the body.
The reason that we have the healthcare system we do now is because back in the early 1900s, I think it was the Rockefellers, they commissioned a study on what defined "true medicine." They defined true medicine as pharmaceuticals and surgery, [and] anything outside of that as quackery. What remained in quackery was homeopathy, naturopathy, chiropractic… anybody whose business is to return the body to it's natural state of health and to boost up our own existing brilliant systems, to allow us to heal. We're made to heal, and what we've come to now is cutting out the problem with surgery (which sometimes is absolutely necessary to do) or masking it with medication (and sometimes we do need medication, it has been life-saving throughout the world). But there is a point at which our bodies can also do the healing on our own if we adjust our lifestyles.
We've moved so far away from understanding what these modalities truly are and how they can help us. It's like a war [sometimes]: Conventional Medicine vs. Other. But all it really is are these wonderful therapies, some of them thousands of years old, that help return the body to its natural state of health without any real major invasive interventions.  I think people just don't know about them, and we're not used to teaching ourselves. 
This post is from Observer Short List—an email of three favorite things from people you want to know. Sign up to receive OSL here.