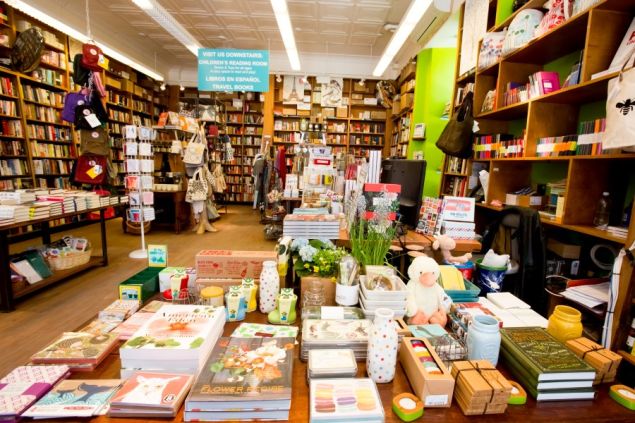 Small-business-loving bibliophiles rejoice: this Saturday, you can celebrate Independent Bookstore Day in New York and across the country. The initiative was started three years ago by the Northern Californian Independent Booksellers Association and continues to grow. This year, 435 indie bookshops in the US will be participating.
If you're on the Upper West Side, check out the festivities at Book Culture's Columbus Avenue location. Beginning at 10 a.m., booksellers and community members can collaborate by coloring an oversize poster outside the store. In the afternoon, from 4 to 7 p.m., the shop will sample two literary libations from Tim Federle's cleverly-named Tequila Mockingbird. Downtown stores commemorating the day include the famous Strand and Books of Wonder, which specializes in children's literature.
Meanwhile, a bevy of Brooklyn bookstores are also participating―quel surprise. Fort Greene's Greenlight has the most going on. Those with a sweet teeth can nosh on mini Doughnut Plant pastries for breakfast―complimentary with any purchase―starting at 10 a.m, and throughout the day, authors such as Elissa Schappel and Rob Sheffield will play DJ.
You can also get your picture taken in Greenlight's "literary celebrity photo booth"―such celebs include Buzzfeed books editor Isaac Fitzgerald, journalist Ashley Ford and poet and writer Eileen Myles―and learn to draw with children's illustrators such as Abby Denson and Dave Roman, and Tumblr-famous artist Kate Gavino. The packed day winds down with a wine reception at 7 p.m.
Additionally, Park Slope's Community Bookstore will offer free beer in the afternoon and a reading by Felix Harr, Bill Corbett, and Paul Auster at 7 p.m. Over at Word in Greenpoint, you can hear Douglas Watson, Vanessa Mártir, and Mark de Silva.
Last but not least, at Queens' Astoria Bookshop, youngsters can play Kids Team Pictionary at 11:30 a.m. with local illustrators Isabel Roxas and Angela Dominguez. At 6 p.m., older guests can participate in literary 20 Questions. Other incentives include an in-store scavenger hunt and giveaways from local businesses such as Astoria Coffee and the florist Petals & Roots.