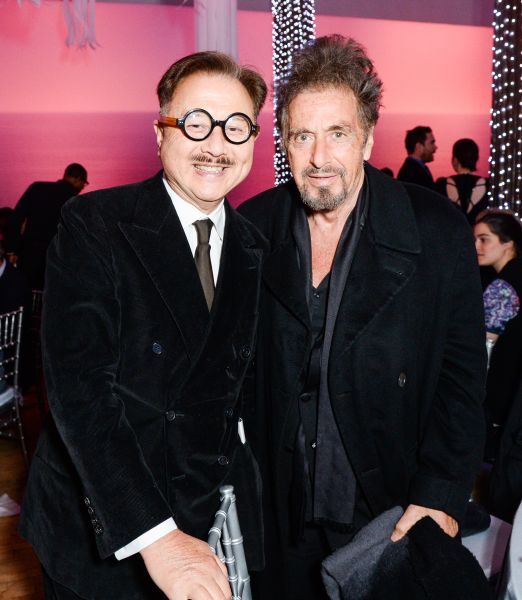 Monday night, after a dreary day of non-stop rain, the "seven seas" theme at the New York Academy of Art's annual Tribeca Ball seemed very appropriate. For guests wandering off Franklin Street into the academy, the cocktails, performances and hors d'oeuvres were a welcome reprieve.
Upon entry, two women in sparkling turquoise two-pieces and lipstick beckoned the partygoers toward the elevator. As they lifted wings of shiny turquoise fabric, each woman looked like a cross between a mermaid and a bat. The aquatic theme extended into the elevator where two guests discussed an acquaintance's timeshare in St. Martin.
From the elevator, guests drifted onto four floors of artists' studios where the artists themselves waited, poised to discuss the work they'd hung earlier. Joe Griffith showed off new paints he'd developed that combine the way that light mixes, and George Rue welcomed guests into his large-scale multimedia installation about his experiences hiking the Appalachian Trail.
Musicians, magicians, bartenders and waiters wove themselves around and through the studios. On the top floor, lithe models in a wide, blue-lit hall showed off Van Cleef & Arpels jewelry. Performers on stilts navigated their way through the bar area, and one grabbed a gougère from a silver platter on the way out. Elsewhere in the building, guests painted and pressed their own monotypes in a printmaking studio, posed for photo ops on themed sets and drew on provided materials.
Though not everyone dressed to theme, Eileen Guggenheim, one of the benefactors of the event, wore an elegant, light salmon top with sheer, cream-colored sleeves and shells on the front. About the Van Cleef collaboration, she said, "they're about the finest craftsmen on the planet, and the [New York Academy of Art] is about the handmade. They encourage us and bring out the best in the students." The collaboration came about through academic circles—one of Ms. Guggenheim's former students, when she taught at Princeton, worked at Van Cleef and introduced her to the company.
Ms. Guggenheim's friend Elizabeth Franklin Sechrest, said that her husband bought a gigantic bicycle at last season's Tribeca Ball. "It's his prized possession. The artist came over and helped him position it properly in the sunlight. It's way different than just buying art at a gallery. You truly feel like you're helping the artist get to the next stage in his life." By buying art this way, Ms. Sechrest says "you really develop a relationship with the artist." She mentioned how a couple of years ago, Bill Clinton brought something like five girlfriends to the party. Behind her and Ms. Guggenheim, someone knocked a glass of champagne over the welcome desk.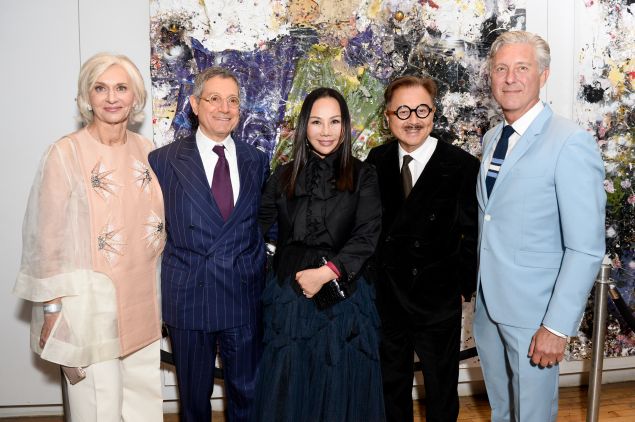 Arden Wohl—self-described "philanthropist, filmmaker, pastry chef, and socially conscious activist" as well as junior chair of the event—wore one of her signature headbands and a floor-length flowered dress. She was enjoying herself, snapchatting for W Magazine for the first time. She lifted her dress to show me her shoes. "They're vegan shoes," she said. "You can see them on Instagram." No doubt.
Naomi Watts, whose entrance caused a flurry of attention, wore a long-sleeved, light blue dress with flower sequins. She had little time for questions as she ardently strode through the young artists' studios, engaging them about their work and occasionally purchasing their pieces. "I've just bought a woodcut etching," she told me. "I'm in the stage of buying beautiful paintings rather than dresses." On the same floor, Marina Abramović leaned in to hear a student working in performance discuss her practice. I spotted artist Eric Fischl patrolling the studios and dealer Jeffrey Deitch taking the stairs. Also in attendance were André Balazs, Brooke Shields (one of the dinner chairs), Vera Wang, and of course Michael and Eva Chow, the dinner honorees.
Ebon Moss-Bachrach arrived with Yelena Yemchuk. Mr. Moss-Bachrach wasn't about to give anything away about upcoming surprises for his character, Desi, on Girls. "Maybe an interesting new girlfriend," he shrugged.
After the festivities, some of the guests filtered into the dining room for dinner, where faux jellyfish and streamers hung from the ceiling. The rest flooded back into the street where, finally, the rain had stopped.