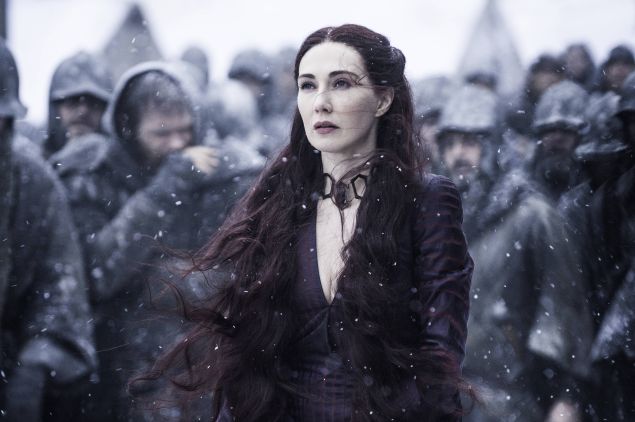 Welcome to our TV Fashion column, where TV Ate My Wardrobe's Emma Fraser discusses the trends in television apparel. This week: The beautiful, deadly power of necklaces on Game of Thrones, The Good Wife, and Sex and the City. 
Ornate jewelry on Game of Thrones comes in all shapes and sizes; some possess hidden powers, others conceal poison and then there are the symbolic pieces. A necklace can spruce up any outfit for a big fancy occasion, reinforce who has the power or simply be a vital part of everyday attire. Similar attributes apply on The Good Wife even though the setting is very different and magic/poison is not part of the equation.
When thinking about significant necklaces on TV one immediately springs to mind and that is Carrie Bradshaw's 'Carrie' chain on Sex and the City. Mystical powers exist in a different form her as it does act as a good luck charm of sorts; when Carrie loses this talisman in Paris it symbolizes just how off kilter she is feeling in this new city and how her big (not Big) romance isn't quite what she thought it was.
When Melisandre undressed for bed in the season 6 premiere of Game of Thrones she revealed a few things about her bedtime routine and who she actually is; she takes her clothes off before her trinkets, she sleeps naked and oh the necklace she is wearing conceals her real face and body, which are far older than the one she shows to the world. This brings new meaning to covering an aging décolletage with what you wear.
The ruby gem glows as we see her removing it and we have seen this before way back in season 2 when an attempt to poison Melisandre failed. The extent of power this jewel possesses is unclear at this point, but it clearly has glamouring and life preserving attributes.
The only other time Melisandre has been sans necklace is while she bathed in front of Selyse Baratheon in the season 4 episode "Mockingbird." This could either be a continuity related error or Selyse can see what the audience could not, which might explain some of her awkward reactions. Well, that and walking in on anyone in the buff who is this confident and is also sleeping with your husband might make you look a bit uncomfortable.
Regardless, the timing of this reveal is important as it shows Melisandre at her most vulnerable as she doubts what she saw in the flames as both Stannis and Jon Snow are dead. Mystical abilities aside, the necklace is also a symbol of Melisandre's faith; something she now questions.
The dragon piece that Daenerys is still wearing at the start of season 6 makes a statement about her heritage and her role as Mother of Dragons. This is what Daenerys was wearing when Drogon made his well-timed return to rescue his 'mother,' but now she is back in the clutches of a group that is both old friend and foe; a Game of Thrones frenemy situation has arisen.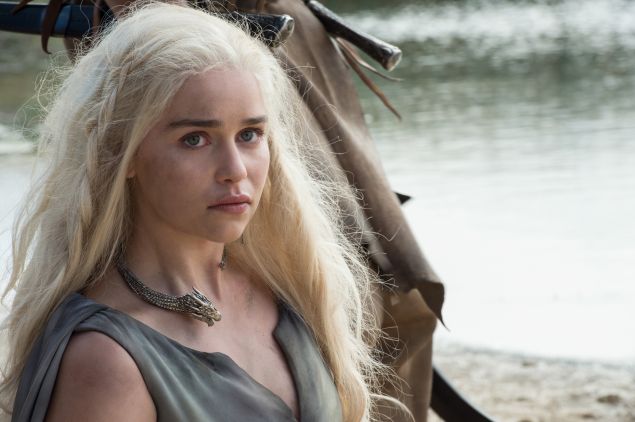 Unlike her first experience with the Dothraki she knows how to handle herself and there is no meek and mild here. Even though Drogon has flown off once again to parts unknown, by wearing this necklace (or more accurately neck sculpture) Daenerys is not giving up hope that her best weapon will come back to save her from a life of hanging out with other Khal widows.
The hand-carved dragon necklace by Yunus and Eliza is an intricate piece that demands your gaze and it is hard to look elsewhere when it is on screen. Attention to detail in all parts of costume design – this season sees April Ferry take over from Michele Clapton – from clothing to jewelry makes Game of Thrones a visual treat and while it might be hard to pull off dramatic flowing gowns in a non-Westeros setting; accessories are the ideal way to spruce up any outfit and embrace your inner Khaleesi (or whichever one of Daenerys' many titles you most identify with). Etsy was made for this.
A courtroom in Chicago is a far cry from a fighting pits arena in Meereen, but Diane Lockhart knows a thing or two about how to wield power through not only her words but her style. Diane is rarely without a statement necklace or eye-catching brooch/pin – never both at once – and she has a penchant for chunky link chain pieces that conjure up images of Chanel and the notion that she is unbreakable. This was particularly striking when after Will died she wore a signature piece and in this moment it was especially important to give this signal of strength while grieving for her friend and partner.
Earlier this month I discussed courtroom attire and power moves through clothing; Diane Lockhart is a very different lawyer to Marcia Clark beyond the obvious fictional/portrayal of a real person pointers. For starters, she is a defense lawyer and a named partner which puts her earnings at a much higher level and business attire for women has evolved for the better since the mid-90s. Diane also has an air of old money and she dresses accordingly; she is not hiding her wealth or status under a bushel and her accessories reflect this.
In a recent episode guest star Megan Hilty played Holly Westfall, an old student of Diane's husband Kurt and she tried to pull a classic 'mean girl' move by telling Diane "I like your necklace. I have one just like it, but smaller." Don't come for the statement piece in an attempt to undermine because you will be hit with legal red tape and a death stare that is equal parts terrifying and awe-inspiring. Please teach me your ways, Diane.
A name necklace is as synonymous with Carrie Bradshaw's iconic look as Manolo Blahniks, the opening credit tutu and over-sized flowers. This is a signature piece that spells out the wearer and unlike a lot of Carrie's clothes it barely cost a thing, but when she loses her Carrie necklace in the two-part series finale in Paris it reads as an omen for the life changing move she has made. After taking an embarrassing and monumental spill in Dior, Carrie scoops all her stuff back into her purse and somehow misplaces her necklace. When she realizes it is missing, boyfriend Alexander Petrovsky's level of shit giving is low at the significance of this lost memento.
To Carrie this necklace means everything even though it cost nothing and it quickly becomes the thing that points to her bad decision; she feels lost in this new place and she has no support system here. When Carrie calls Miranda she mentions the misplaced trinket and focuses on the memory of when she bought it; at a street fair when all four of them were together. The seeds of doubt have been fully sown and when Carrie later discovers the necklace in the lining of her bag – I have lost/found things in this way but usually, it is just packs of gum – she sees this as a sign to leave her lonely post as supportive girlfriend and instead go to the dinner that is being hosted by fans of her writing.
By the time she gets to the restaurant, they are gone and all that remains are empty glasses and a wine-stained copy of her book. It doesn't matter as the seeds of doubt have been sewn and by getting her necklace back she is reminded of who she is. And not just because it has her name on it.
Personal identity is what lands Sansa with the weapon that will kill Joffrey on his wedding day. After politely declining Dontos Hollard's necklace gift, he tells her the sun is setting on his family name and if she was to wear this heirloom it would be one last moment of pride for this soon to be forgotten name. What Sansa doesn't know is one of the jewels is actually the poison that will kill Joffrey and as she is wearing the murder weapon it is probably best she gets out of King's Landing sharpish. Only on Game of Thrones can jewelry double up as something pretty to wear and also conceal the thing that will kill your tormentor.
Whether it is to cast a spell, spruce up an outfit with the symbol your family name or make you an accomplice in the death of a king necklaces on Game of Thrones play a significant role in the high-stakes accessories game. On The Good Wife and Sex and the City, circumstances are less fraught, but jewelry also has a role to play here; exuding power in an overt stylish manner and on a deeper personal level. Whether it is a chunky chain link, your name or dragon there are plenty of options and style inspiration to be garnered from characters on TV no matter what realm or city they live in.
Emma Fraser is the creator of TV Ate My Wardrobe and spends most of her time writing about TV, fashion and costuming; Abbi and Ilana's Broad City style, the wigs on The Americans and Mindy Lahiri's pajamas are just as vital as talking about '90s/'00s teen shows. Emma has a MA in Film and Television and she probably holds Angela Chase responsible for this path. You can find her on Twitter @frazbelina.