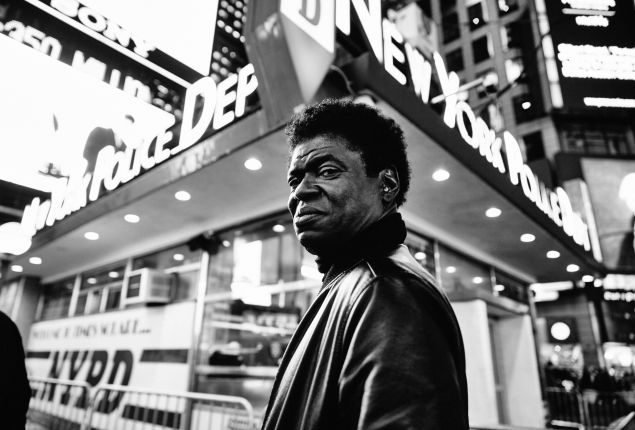 In a time when so many sounds are recycled, regurgitated and poorly imitated, leave it to a former James Brown impersonator to be the most authentic soul singer in the game.
Brooklyn's throwback soul label Daptone Records has been working with older singers for years, fortifying their talents with a record deal and a backing band. Like Lee Fields and Sharon Jones before him, 67-year-old Charles Bradley was no different when Daptone started releasing his songs on vinyl in 2002. But as we started to learn more about this man, who had spent time living homeless on the streets and lost a brother to senseless violence, who had come to Daptone with passion to spare, we knew America heard him loud and clear.
"It's not only the ladies, it's the souls that I listen to and hear to."
In 2011, when his first LP No Time For Dreaming was released, the singer was already selling out The Bowery Ballroom with his voice (and a pristine soul cover of Neil Young's "Heart of Gold" sealed the deal) and hence, The Screaming Eagle of Soul was born.
Five years later, much has changed. Mr. Bradley, now 67, has grown more comfortable in the spotlight, though his story of perseverance through life's hard licks has kept his perspective grounded in faith, community and bringing folks together through song. His third album, Changes, named for the only-slightly re-contextualized Black Sabbath cover at the album's center, is in many ways a continuation of his prior two records. But here Mr. Bradley further widens his scope, pulling away from his personal pain to spread his love to the world at large.
The Observer caught up with Mr. Bradley over the phone recently, moments before he took the stage in London. His candid reads on faith and love are not dogmatic, divisive or filled with judgement. Much like his music, such lessons are universal, the collected faith-based wisdom of a man who's lived life both in the dregs and out on top, reminding us all of music's tremendous power to fill us with purpose.
[youtube https://www.youtube.com/watch?v=UD1eaRDY-q4]
Hey Charles, how are you?
How you doin'?
I'm good, man. I saw you and the band at the Village Voice party and it was incredible—you handed out roses to every lady in the front row! 
[Laughs] Justin, it's not only the ladies, it's the souls that I listen to and hear to. I tell peoples who they are, you know? When I'm entertaining I'm not only entertaining to the ladies but the gentleman, all of em, to let them know that I'm for real.
I think that's really beautiful. We're all really the same. But you're in Europe right now, and I know you love playing back here in the States, you even sing about it on "Good to be Back Home." You don't really have that much time back home these days, do you?
No, I don't.
How do you manage that while keeping your roots here? While keeping your Brooklyn intact?
I honestly feel like this beautiful planet that the creator gives to us, [where] I have a chance to go all over the world, know who I am as an artist and a person, [and] open my heart that I always want to give. I've always been a giving person. When I do get some time, I like to go to my quality time. I like to be to myself, more to listen to things of nature.
Have you ever been to the Brooklyn Botanical Garden?
Oh, yes. When I was a kid I used to play hooky there. I played hooky there a lot of times, because I knew my mom would never come over there. And Prospect Park was like the country. I never knew [of] the country at the time, so Prospect Park was like the country.
[youtube https://www.youtube.com/watch?v=xi49yirJiEA]
Well listen, I wanted to send my condolences, because I know you and your mother were very close and she's very important to you. And I wanted to ask, because I remember in your film [Charles Bradley: Soul of America] you stress how important it is to take care of your family. I think that's a value that America doesn't really share with other countries in the world. In Japan, culturally they take care of their parents later in their lives, and it's a cycle. I can't imagine what you're going through, but I wanted to express my condolences, but also know where you see her light and where you see God acting now.
You know, my grandmama and my mama always told me, "How do you know God exists?" God says, "If you know that I exist, go out and show your love to all humanities. I am the father of all of you, and by you showing your love to humanity God will hear you in heaven." That's what I always believe in.
So your mom is hearing you.
I did a sold-out concert [at Music Hall of Williamsburg] the day she passed away, and I did not want to do that show.
But you did it anyway.
Yes, because I would have physically hurt myself. I ran out of the basement and into the streets, I didn't know how to deal with my emotions. Because I looked in her eyes—when my niece called me I ran upstairs to her room and her eyes were just shaking a little bit. I saw her eyes when they went still.
"By you showing your love to humanity God will hear you in heaven. That's what I always believe in."
It probably meant a lot to her that you're performing, that you're spreading your love and your family's love and your love of God. On the new record you take the Black Sabbath cover ["Changes"] and really make it your own, it sounds like you singing up to your mother in heaven. Daptone takes classic songs and gives them a fresh life as soul music, but to re-contextualize them. Back in the '60s the hippies were taking black soul artists like Otis Redding and playing his songs in rock 'n roll contexts, so I guess I wonder how you can tell when it's O.K. to do that to a song, to put Charles Bradley into a song that someone else wrote. 
It's got to be the lyrics that my soul can accept. Sometimes I know Gabe [Roth] gave me a song to do and my soul could not accept it. But "Changes" I was learning to the depths as my mother got sick, and we were bonding as she was telling me about her experiences. When she closed her eyes on me I remembered the last verses, "it took some time to realize, I can still hear her last goodbye, but now all my days have turned to tears, I wish I could go back and change these years." So that song stuck to my brain. When I was singing the song, I always tried to skip the first verses. But one day I got on the stage and said, "Charles, you've got to sing the whole song. Stop trying to push this outta your brains."
You talk about the chapel on "Victim of Love", but the idea of "taking" an audience to church…the idea of creating a community of people, and light and humanity…
You understand me. I hear you're listening to me well.
Well, I've followed your music for many years. I think I first saw you around No Time For Dreaming when Sixto Rodriguez opened for you at Bowery Ballroom. I like Daptone a lot and I follow them, but I feel that what's special about you is you're not just a Daptone records story. You're a New York story, you're a man who's transcended the tremendous socioeconomic, institutionalized, systematic division of big cities—the urban dividing lines—and you've made your own way by just believing in your own music and your own voice.
You know what made me so grateful? Going to Rikers Island to sing for the prisoners, and man, the security guard and captain told me, "You can sing, but you can't go past that line." But the spirit hit me so deeply, I went past the line and I went and hugged them. The captain came to me, he called me "young man," and said, "Young man, I thank you for this. I don't know how you did this. I told you not to do that." That's just the way I am, you know. When I do my omen onstage I want to do that, but when the spirit hits me I just open up and let my soul free.
Speaking of community, too, I hear this as a much more collaborative album than Victim of Love, is that fair to say? I hear Naomi Shelton very high in the mix, the warmth of the piano. Is this more of a community process than the past records?
All I was trying to do is show there are some real peoples on this planet that wanna save the world and make this world a better place. That's all I'm tryina do, you know?
***
Charles Bradley plays the Beacon Theatre in NYC on Saturday, April 23. Tickets are $35-$45.