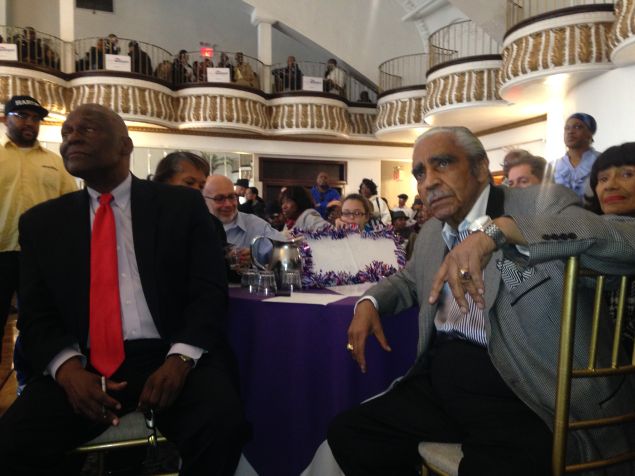 Retiring Congressman Charles Rangel officially anointed Harlem Assemblyman Keith Wright today as his chosen heir—and slammed two of the other top candidates attempting to take over his Upper Manhattan and Bronx-based district.
Mr. Rangel announced his long-known hopes to bequeath his seat to Mr. Wright, a longtime ally and protege of his, at a party this afternoon at Alhambra Ballroom on Adam Clayton Powell Jr. Boulevard. The congressman praised a number of the candidates running to replace him as decent, but less qualified than Mr. Wright.
But he tore into the credibility and credentials of two of Mr. Wright's top competitors, State Senator Adriano Espaillat and former White House aide Clyde Williams, both of whom unsuccessfully sought to unseat him in past years.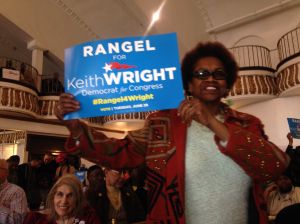 "We have a fella named Clyde Williams. Now he worked for William Clinton. Nobody knows President Bill Clinton better than me. And I never heard of him. I don't know what he did. But, what the hell, a lot of people must have worked for Bill Clinton," he said.
The congressman also highlighted that Mr. Williams, a D.C. native, has drawn nearly all of his campaign cash from downtown financial firms and from figures in and around the nation's capital. He made a similar dig at the candidate's fundraising in more veiled terms at a debate in March.
"I don't see community organization, or a community planning board, not anything to tie him so that, if I say 'well I don't know him as well as I would,' I should be able to find somebody that knows him better than me. And for several years I've been trying to do that and I can't," he said. "So I checked the Federal Election Commission, as relates to campaign donations, for most of us that is, I guess. And I saw a lot of money coming in. The remarkable thing is, not one nickel came from anything outside Wall Street."
"The money's coming from Washington, D.C., and he comes from Washington D.C.," Mr. Rangel continued.
The congressman also reiterated his favorite criticism of Mr. Espaillat: that the lawmaker has sought re-election to his State Senate seat after both his failed congressional bids. This, Mr. Rangel insinuated, showed a lack of commitment to running for the House.
"Now you got to have some credibility in this business. There's just certain things you can't mumble in and get by with," the congressman. "All I'm saying is, to Senator Espaillat, I'm willing to take another look at what I'm doing today, if you'll just say that you're not running for the Senate, and you're only running for the Congress."
Mr. Rangel famously embarrassed Mr. Espaillat in a televised debate in 2012 by presenting a electoral petition to get on the ballot for State Senate with his name on it. The senator has refused to commit this year to not running again for the State Legislature if disappointed in his congressional ambitions.
Mr. Williams, like Mr. Rangel and Mr. Wright, is an African-American living in Harlem—a demographic that makes up a shrinking percentage of the district's voters. Mr. Espaillat hails from the area's blossoming Dominican-American population.
Mr. Wright, who chairs the Assembly's Housing Committee, has taken criticism for receiving large donations from real estate developers. The assemblyman today committed to forfeiting his Assembly seat no matter the result of the June Democratic primary.
The Williams and Espaillat campaigns slapped back at Mr. Rangel and Mr. Wright, without directly addressing the congressman's critiques.
"This seat is not an inheritance to be passed on. Our communities don't need more of the same—no more displacement of neighbors and small businesses," said Espaillat spokeswoman Katharine Pichardo. "Adriano Espaillat has been a change agent all his life and we can count on him to keep fighting for change when he is our next Congress member."
Mr. Williams similarly dismissed the longtime Harlem legislators as anachronisms.
"I can understand how threatened the establishment feels by the prospect of losing power," the candidate said in a statement sent to the Observer. "But inevitably, that power must be returned to the people – and my campaign is all about elevating the voice of this community."
Harlem Councilwoman Inez Dickens, another close associate of Mr. Rangel's, is running for Mr. Wright's job in Albany.
The endorsement celebration was a boisterous affair featuring speeches from top Rangel allies like former Mayor David Dinkins and Manhattan Assemblymen Denny Farrell and Daniel O'Donnell, as well as a bevy of electeds from the Bronx. Many in the room carried glossy new signs reading "Rangel for Keith Wright," which are sure to soon find their way into store windows across Harlem.
Mr. Rangel vowed to lobby House Minority Leader Nancy Pelosi and the Congressional Black Caucus to back Mr. Wright, and raise money for him across the country.
Updated to include comment from the Williams and Espaillat campaigns.