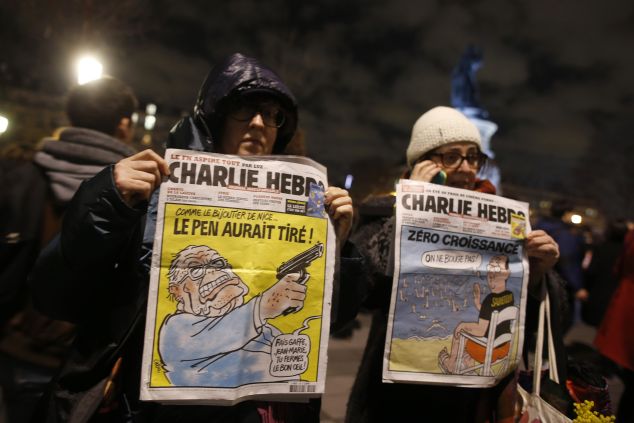 Usually, the debate revolving around provocative French magazine Charlie Hebdo—particularly since the shooting inside its Paris offices in January last year that killed 11—is about whether its satirical content is cutting parody or hate speech.
Now, however, a non-satirical, English-language editorial in the publication has generated fury for suggesting normal Muslims contribute to a cultural climate that produces terrorism.
The editorial, titled "How Did We End Up Here?", comments on secular society's relationship with Islam in light of the recent Brussels bombings.
"An incompetent police force? Unbridled multiculturalism? Youth unemployment? Uninhibited Islamism?" the article begins, listing common explanations for extremism. It then introduces its main line of argument, that "[terrorist attacks] are the last phase of a process of cowing and silencing long in motion and on the widest possible scale."
In Charlie Hebdo's view, Islamist extremism is the consequence of secularism's refusal and fear to discuss or deal critically with the religion.
To illustrate its point, the article describes a "veiled woman" and a Muslim baker who refuses to sell pork products. It then jumps to the trio of "delinquent" young men making their way to Brussels airport on March 22nd. "In this precise moment, no one has done anything wrong," the article states, "and yet, none of what is about to happen in the airport or metro of Brussels can really happen without everyone's contribution."
Islamist terrorism, according to Charlie Hebdo, is simply "the end of the philosophical line that has already begun."  This "philosophical line" deflects criticism by inciting fear of "contradiction or objection"and "the dread of being treated as an Islamophobe or being called racist" among wider, secular, society. The editorial deems this "really, a kind of terror."
On social media, the editorial received wide-spread condemnation. Nigerian-American writer Teju Cole wrote in a Facebook post about the "frighteningly similar" logic of the Hebdo piece and anti-Semitic Nazi propaganda. "Such categorization of an entire community as an insidious poison is a move we have seen before," he writes. Mr. Cole argues the piece shows Charlie Hebdo has "finally [stepped] away from the mask of 'it's satire and you don't get it'" to expose the publication's unabashed prejudice.
On Twitter, commentators expressed similar sentiments, with some taking issue with the specifics of the argument:
Others, like Murtaza Hussain, a journalist for  The Intercept, suggested that Charlie Hebdo's direct exposure to terrorism produced their line of reasoning:
But the response was not entirely negative. British journalist Toby Young described the editorial as "powerful," while Julia Ebner, writing in The Independent, took issue with Cole's Nazi comparison. "Charlie Hebdo's latest editorial does therefore not depict Muslims as enemies, but as necessary partners," she argues, going on to defend the publication's commitment to free and open speech:
"[The magazine] wants more debate, rather than less, and more tolerance, rather than less – by using pens instead of guns and laughter instead of tears."
Nesrine Malik in The Guardian agreed that "the editorial asked some of the right questions," but stressed the editorial "drew the wrong conclusions."
Ms. Malik stresses that the French magazine's position speaks to a wider phenomenon in the world today. She writes there is danger in enabling pent up "anger, confusion or prejudice" to be unleashed on a "clear target."