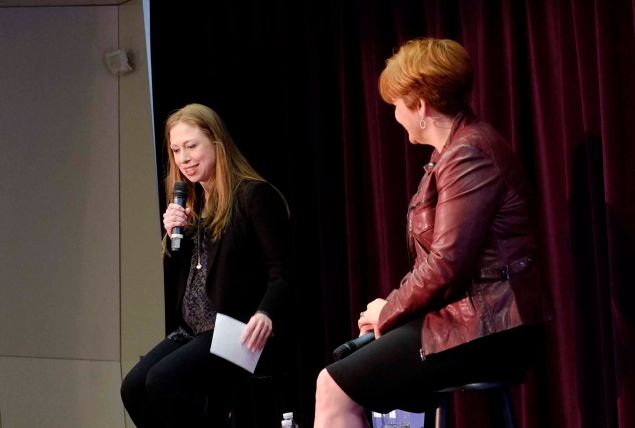 Asked about her experiences learning about LGBT issues at a forum in downtown Manhattan, Chelsea Clinton struck a deeply personal note.
"I think the first time I heard the word 'gay' was when one of my mom's law partners killed himself because he couldn't figure out how to come out to his family," Ms. Clinton said, adding that she was 7 years old at the time.
Ms. Clinton, who is in New York stumping for her mother's presidential campaign, was speaking at the LGBT Community Center alongside former City Council Speaker Christine Quinn.
She went on to explain that she had first heard of mental illness when a neighborhood friend and her family had been killed by the friend's father in a murder-suicide; the first time she had heard of H.I.V. was at a women's shelter that her mother supported in Little Rock, Ark.; and the first time she heard of transgender issues was when an 8th grade classmate had come out as transgender.
Hannah Simpson, 31, a transgender woman and writer, had asked Ms. Clinton about when, "around the dinner table," she had first heard the words 'gay,' 'HIV,' and 'transgender,' and how her own family's conversations had evolved. Following the forum, she told the Observer that the answer showed "insight that I wouldn't have gotten otherwise."
Though she was glad trans issues were being discussed at the forum, Ms. Simpson lamented that candidates that "wanted to win the general election unfortunately couldn't" focus on the kinds of LGBT issues that "mainstream voters just don't think about."
In addition to gay and transgender rights, Ms. Clinton and Ms. Quinn discussed city homelessness, civic education, and government experience.
Ms. Quinn lambasted "New York tabloids" for leading the debate over homelessness in the city. "What homeless people is Rupert Murdoch putting on the cover of the New York Post? Single men" – of color, added Ms. Clinton – "pictures of people who are designed to frighten. He thinks we're going to see that and be terrified, and think of them as 'them,' who don't deserve any help," she said.
Ms. Clinton also drew on her own experiences to illustrate the need for a "greater social and civic awareness of how government works." She recalled that, during a period when recycling had been suspended in the city, a woman had stopped her on the subway "so angry at the president that he'd stopped recycling" without realizing that "the president had no legislative or statutory or budgetary authority over recycling."
There was one question, however, that Ms. Clinton preferred not to answer. When Bryan Ellicott, a transgender man who sued the city in 2014 after getting kicked out of a Staten Island pool, asked Ms. Clinton how people could "help you, or your mom, bring that [reproductive and trans rights] conversation to life," Ms. Clinton passed the question back to him.
"Bryan, I would say you know how best to do that… I'm willing to own that I didn't start thinking about this until a few years ago, when I had a friend who was navigating similar issues. So I don't have 20 years of thinking about it," she said.