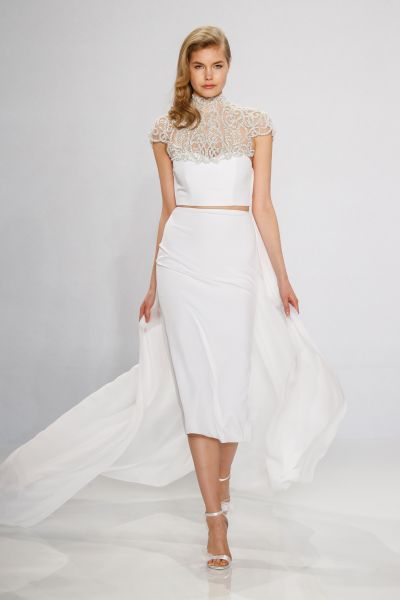 Christian Siriano has built quite a business for himself. With a Lane Bryant collaboration debuting on April 28 in a runway show at the United Nations and a bridal line that bowed yesterday in partnership with Say Yes To The Dress retailer Kleinfeld Bridal, the creative is continually outpacing any other Project Runway alum.
"[Christian] has been the most amazing partner to all of us through every part of this," Mara Urshel, the owner of Kleinfeld, said before the pair's runway show. In the past Ms. Urshel has tapped designers like Dennis Basso and Mark Zunino for partnerships. "He came to us and said he wanted to do bridal so [at first] we bought a few pieces from his evening wear that we thought would fit. He came here for his trunk show and he did really well! That really gave us an indication that he was the perfect one to do a line for us."
That line's debut brought out fans of the brand like Coco Rocha as well as press like Brides editor-in-chief Keija Minor. What they were in for: a bevy of styles from frothy tulle ball gowns to sleek sheath dresses and even a few short options.
"You know there's a lot of women out there that are all looking for different types of dresses," Mr. Siriano told the Observer after the show. "It was really important to me to give them a lot of elements."
In the show notes Mr. Siriano cited Monet and Degas as inspirations. For this writer, those words instantly brought to mind a trio of ballerina dresses (easily mistaken for bridesmaid attire) that the designer closed his Charleston Fashion Week show with three years ago. This, that was not. But that's not to say the range was wholly disappointing.
A pearl embroidered tulle overlay dress was a stand out, as were a few of the column gowns that, rendered in any other color, could have easily slid back into evening territory. A sequin jumpsuit was another winner for the range.  A few of the looks came with barely there spaghetti straps or were off the shoulder altogether which conjured thoughts of Madame X, which was created by John Sargent, a friend of Monet. It was a vibe that read more sexy than romantic, underscored by the sheer feather illusion gown and the spattering of nude looks.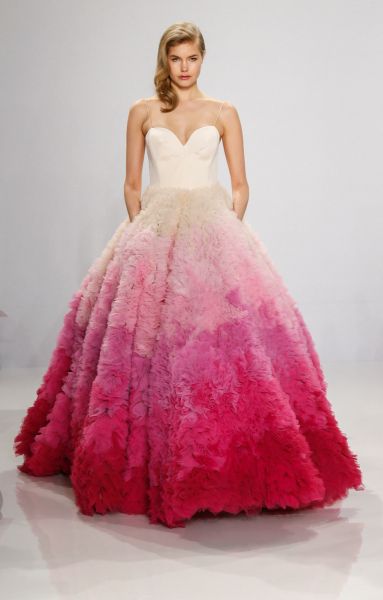 The look that brought out iPhones in excess? The ombre ball gown that closed the show with a sweeping train. Its folds instantly brought to mind the bottle for Mr. Siriano's Silhouette fragrance (that bottle is also done in an ombre). Backstage the CFDA member admitted that some of the designs were based off of past work he'd done for Sarah Jessica Park and Taylor Swift.
Where the line didn't hold up was mostly in the fabrics, more specifically the lace. Sadly lace appeared in quite a few looks. Initially, it was easy to assume that had to do with price point but the designer's team said the line will start at $3,500. At that amount, one would expect a little more allure than what was presented.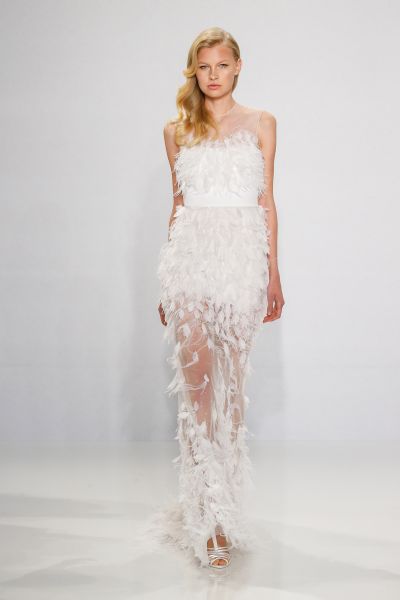 All said, this is the beginning of a three-year exclusive contract. While it seems clear that the quality of Mr. Siriano's design is on par with his mainline (the designer himself admitted bridal was a bit more challenging than ready-to-wear), it'll be interesting to see if the fabric can be made to match that.