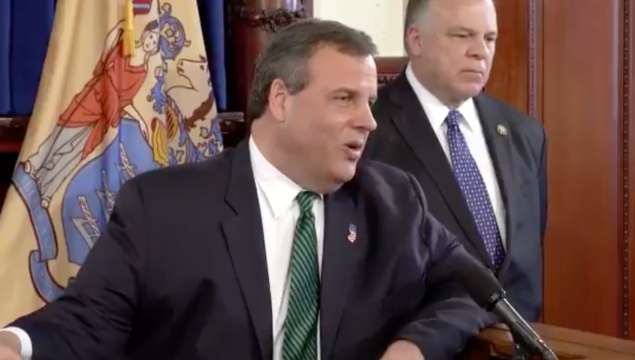 Governor Chris Christie and Senate President Steve Sweeney (D-3) refuted Atlantic City Mayor Don Guardian's claim that he was not told the full extent of the state takeover of his city when Sweeney and Christie approached him in January. At a Monday press conference at the state house, Christie said that Guardian knew that controversial measures like giving the state authority to break union contracts would be in the bill.
"The fact is that the mayor knew exactly what he was agreeing to when he stood out there at the microphone," the governor said. "I understand he's in a tough position, he's running a city that's running out of money. What I care about is making sure Atlantic City is safe, but safe in a way that is right for the long term.
"I'm not going to get into any more back-and-forth with the mayor. I've had enough," he added of the last few weeks' war of words between himself, Guardian and Assembly Speaker Vince Prieto (D-32). "He should spend his time running his city while he still can."
"Sweeney assured us it would be a partnership with benchmarks," Guardian said last week. "The governor either provided misinformation or his chief of staff provided misinformation."
"What the mayor said wasn't true," Sweeney said. "We handed it to him. Not once, but twice. So unfortunately the mayor is either forgetting the conversations that he's had, or unfortunately isn't being honest."
"We have in hand to [memoranda of understanding] we gave the mayor in July and October that he denies he ever saw," Sweeney said of that accusation. "You don't stand here at the podium with the governor and the Senate President and not know what you're standing there for."
The governor pointed to his administration's failure to secure a swift and favorable ruling in its lawsuit against the city. As the city ran out of cash last Friday, a judge moved to hold an additional hearing this week rather than freeze the city's funds and force its government to render a late payment to its public schools.
"I'll do the job that needs to be done when I'm given the tools to do the job the right way," Christie said. "The court ruling on Friday is a perfect example of the fallacy of the speaker's position that I have the authority I need to do whatever it is I want to do. Well, I wanted them to make the school payment which they now will be unable to make at all in the month of April.
Asked about the ongoing stalemate between the houses on taking over Atlantic City, Sweeney offered a terse reply. Speaker Prieto declined to post Sweeney's Senate bill in the Assembly last week, and instead floated his own takeover bill in committee. Sweeney offered that he and Prieto had not spoken in several weeks.
"I'd be happy to talk to him," said Sweeney.