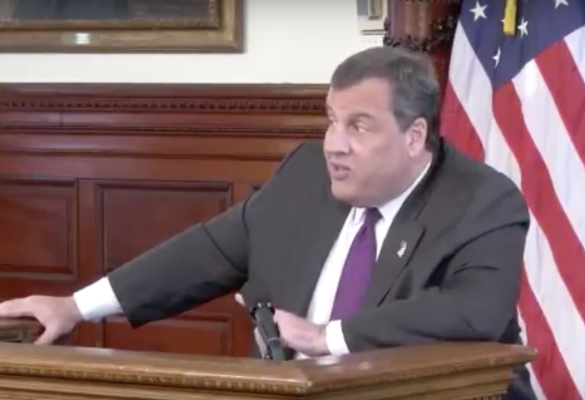 Governor Chris Christie said that he will refuse to authorize any supplemental spending to address lead contamination in public schools' drinking water Tuesday during a press conference in which he announced plans to devote an additional $10 million from the state's existing 2016 budget to lead remediation for low and middle-income homes. The announcement comes after last month's revelations that more than half of Newark public schools tested positive for contamination due to lead pipes.
New legislation to potentially mandate filters or additional testing for Newark schools, he said, should wait until experts have weighed in on the best course of action. When that time comes, Christie said that extra-budgetary spending will not be an option. Christie pocket vetoed a bill in January that would have set aside that same sum for the state's Lead Hazard Control Assistance Fund.
"I just want to caution everybody not to have a knee-jerk reaction to this," Christie said, pointing to the $12 million the state already spent on lead abatement this year. "My point to everybody is there is no danger in Newark at the moment. The children have been given alternate water sources and no one is drinking at this time, and from the time that the testing was done, any water contaminated at all."
"I would rather rely upon the experts to decide that, and not the politicians quite frankly," he said of the state's next steps in addressing the schools' water systems. "And if experts say that filtering is the right way to go, then we should be able to help the Newark school system supply the filters. If there's something more extensive that needs to be done, then we need to consider to do that. But we shouldn't be assuming that we already know the answer to this question.
"What I'm doing today is taking FY '16 money that has otherwise not been spent, and spending it on this. And it's consistent with us not approving supplemental spending bills, which I won't do. Because that's what gets us into budget deficits. We budget for a certain amount of money, that's the amount of money we should spend in a year absent some catastrophe like Hurricane Sandy."