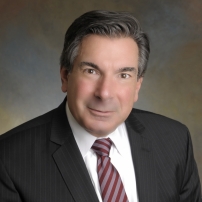 In hopes of resolving a six-year standoff with Democrats, Gov. Chris Christie this afternoon will submit the name of attorney Walter Timpone as a nominee for the state Supreme Court, sources say.
Christie plans to withdraw the name of Judge David Bauman, whom he nominated earlier this year – for a second time – and instead nominate Timpone.
Timpone's a Democrat.
Bauman's a Republican.
Bauman failed in his first attempt to ensnare a Supreme Court seat, payback by Senate President Steve Sweeney (D-3) for Christie's decision no to re-up Judge John Wallace.
Wallace's seat has remained vacant since 2010 amid backroom wrangling between the senate and the front office.
A partner at the firm of McElroy Deutsch Muvaney and Carpenter, Timpone served as the first Federal Election Monitor in Passaic County where he was charged with ensuring the voting rights of the County's Hispanic citizens and the County's compliance with Federal and State consent orders, according to the fim's website.
He has also served, at the appointment of N.J. Attorney General John Farmer, on the panel charged by Governor Whitman with investigating problems surrounding the Department of Motor Vehicles Inspection Program, and acted as ombudsman to the United States Department of Defense overseeing a Defense Department contractor who entered a guilty plea concerning failed parts prepared for inclusion in Patriot missiles.
Timpone presently serves as a Commissioner on the New Jersey Election Law Enforcement Commission ("ELEC"), and recently became a fellow of the American Bar Association.
Christie nominated Bauman in December 2012, but the Senate refused to give him a hearing. The governor pulled the nomination, then reintroduced Bauman in February – only to apparently pull him again.
He's donated to the campaigns of numerous Democrats, including President Barack Obama and the late U.S. Senator Frank Lautenberg. He's also given to Republicans, Gov. Chris Christie and state Senator Kevin O'Toole (R-40) among them.
One source close to the Timpone nomination said the nomination would likely have a ripple effect, and include a stepped up alliance between Sweeney and Christie on the Atlantic City crisis. By giving the Democrats Timpone on the Supreme Court, the governor conceivably increases his leverage over Sweeney and those Democrats who top this point have not picked a side.
The Middlesex Assembly delegation, for example, has not budged in support of the Atlantic City state takeover bill supported by Christie and Sweeney. A source said the tentacles of a Timpone nomination might help persuade Middlesex to go with Sweeney over an alternative Atlantic City bill presented by Speaker Vincent Prieto (D-32). Hopeful of Christie's support for a judgeship of his own, state Senator Peter Barnes (D-18) of Middlesex has been in a holding pattern for months.
When Christie made the announcement about Timpone this afternoon, Sweeney appeared with him, and the governor touched on the AC issue in a Q and A with reporters. "The plan the senate president and I agreed upon is the best plan for Atlantic City," the governor said. "One does not necessarily impact the other.
"I trust his judgement," Christie said of Timpone. "Whenever you nominate someone to the Supreme Court it's always a crap shoot. You look at Eisenhower. He nominated Earl Warren and he said two of the greatest mistake he ever made – he nominated Earl Warren and William Brennan, because they didn't turn out the way he thought they would."
He and Timpone don't agree on everything, Christie said. But he knows him and trusts him and trusts his judgement and said he has "extraordinary integrity."
Sweeney jumped in at the press conference. "If we thought he'd be a yes man we wouldn't put him up," said the senate president. "It was easy for me to go forward with this after I did my own research."