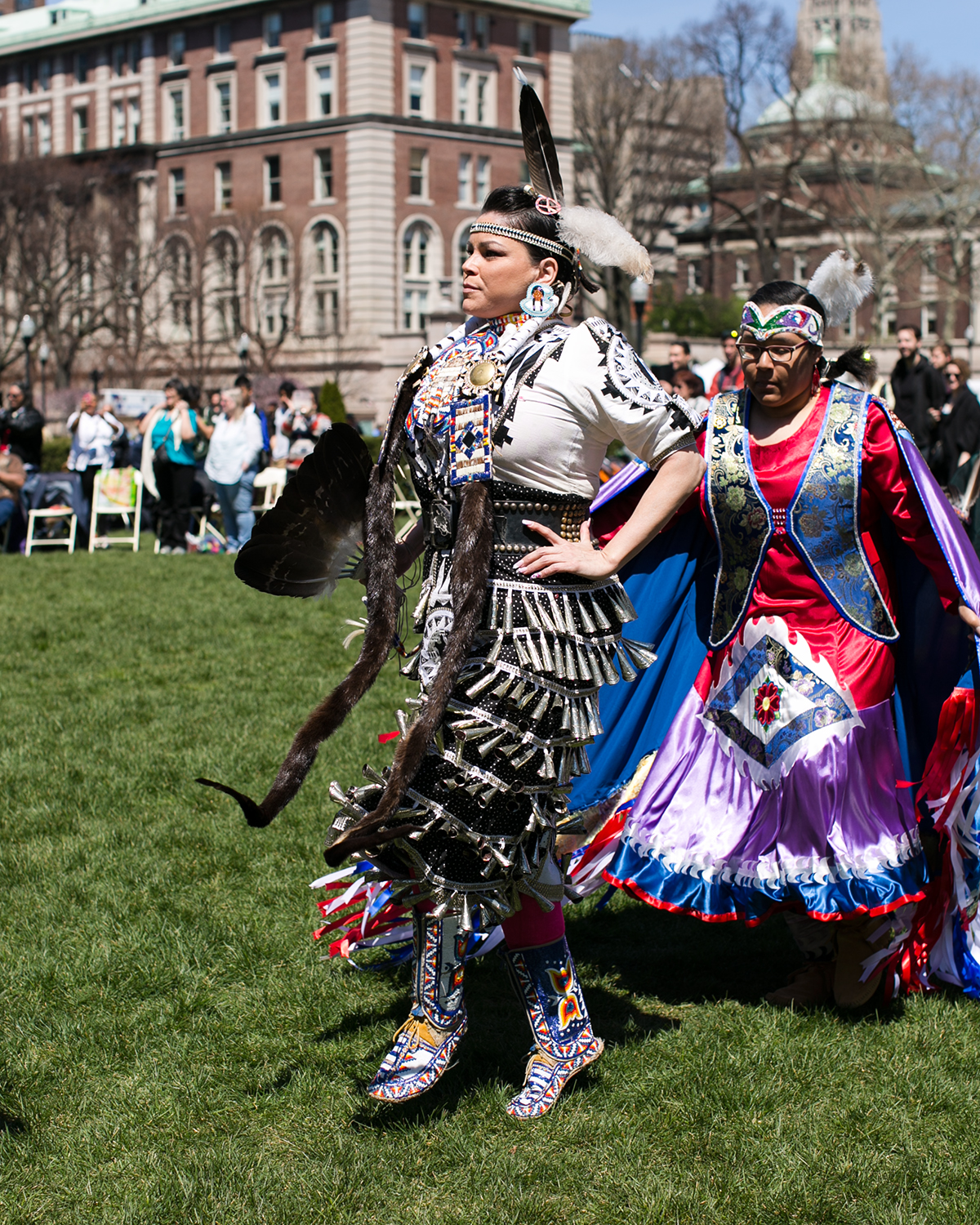 Blue skies, a spacious green lawn and the first 70-degree day of spring: All were auspicious signs for the unofficial opening day of Native American powwow season in the Northeast last Saturday. Dozens of drummers and dancers, some appearing in tribal regalia replete with feathers, beads and bones, gathered on Columbia University's South Lawn.  For six hours they spread their embroidered capes and stomped their tinkling hooves and bobbed their plumed headbands to some fervent beats and impassioned wailing that rocked the campus' stately interior courtyard. No sooner had embankments of crafts vendors set up tables along an adjacent walkway, circles of drummers and dancers formed on the lawn and commenced following the call of the master of ceremonies in a succession of dances, including the Potato Dance and the Fancy Shawl Dance. Soon they were surrounded by thickening knots of onlookers, including a group of sinewy middle-aged bikers in denim vests that read Redrum MC, a number of Earth Mother types enrobed in cloaks of Kaleidoscope colors, young men with bravura hip-hop style and a couple of fleshy but no less edgy-looking dudes with long black ponytails, making chairs disappear underneath them.
During a brief break in the pounding, we were introduced to Cliff Matias, the volunteer emcee of the festivities and the fulltime cultural director of the Redhawk Native American Arts Council, based in Fort Hamilton, Brooklyn. He likened the campus powwow to a spring training exhibition for the greater metro-area professional powwow circuit, of which Redhawk is an active participant. Games start to count in the tristate area in June, first in New Brunswick, N.J., and then in Inwood Hill Park in uptown Manhattan; in July at the Queens Farm Museum, a weekend-long event that will feature the renown Thunderbird Dancers; then the Bear Mountain powwow in Harriman State Park in August; followed by the Shinnecock Powwow in Southampton and another in Westchester's FDR State Park in September. To hear Mr. Matias tell it, dancers, drummers, crafts people, storytellers, cooks, all follow the circuit in a way that loosely parallels the more familiar church-sponsored Italian street festivals, in that the powwows are also part cultural promotion and part entrepreneurial jobs program.
Nearby, a man in his 40s, looking like he just stepped out of a John Ford set, was standing fixed on a spot behind one of the drumming circles for what seemed like hours, so the Observer joined him there and attempted conversation between the waves of pleading melismatic wails by a drummer wearing a Lawrence Taylor football jersey. The man didn't say he'd spent thousands on his outfit, but his carriage said it was strictly his choice. He struck a pose as he spoke. For Native Americans, he said, the powwow season nowadays culminates with Indigenous Peoples' Day, scheduled over the October 10 weekend here on Randall's Island, and concurrently in many other major cities, to make a point about changing public opinion about Columbus Day.
"Columbus didn't discover America, never set foot in America, and neither Spain nor Italy celebrates his so-called achievement," he said. "Why should we?" His point was carried on the back of a fierce drumbeat and the constant interjection of choruses of wordless exhortations.
"You'll notice," said the man who introduced himself only as Desi, "when the dancers dance they don't generally take back steps—they are always moving forward. In fact, the Lakota don't allow dances that call for back steps. It's an insult." He adjusted a metal clamp on his upper arm. "Russell Means was a Lakota, you know."