ClassPass, the go-to for many Manhattanites constantly in search of the perfect workout, is quietly raising prices, yet again. The app offers thousands of fitness classes around the city, making it a convenient way to try new studios. In July 2015 they bumped the monthly price from $99 to $125 in New York and now, they're raising the price in Boston. ClassPass emailed Boston members to announce subscribers will now have to pay $150 per month for unlimited classes, instead of their current rate of $119. New members will have to pay $180, making it even more expensive than New York's current pricing.
With most New York boutique fitness classes priced from $18 to $35, ClassPass can be an easy way to try new studios and find the right fit, or, for some, it's a way to easily sign up for a class, mere minutes before it starts. One popular Instagram user even used ClassPass to learn how to swim. But now, many people are giving up their membership and instead joining tight-knit fitness communities where they're devoted to a certain teacher, preferring a community and teachers who hold them accountable.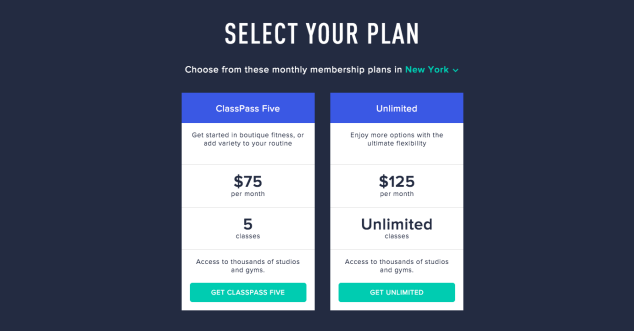 CP will now allow members to take more than their limit of three classes at a certain studio, but they will have to pay a discounted price for them. Each studio will choose their own pricing for this option. ClassPass is also offering 5 pack membership bundles for $65 in Boston, which is something they were already quietly offering in New York. If you asked to end your membership, CP will offer you 5 classes for $75 a month. Now, it's advertised on the front page.
For many people, five classes a month is far more realistic than an unlimited amount, whether or not they're willing to admit it. And, assuming each class costs about $30, it does still make sense…as long as CP doesn't raise prices again, especially in New York.