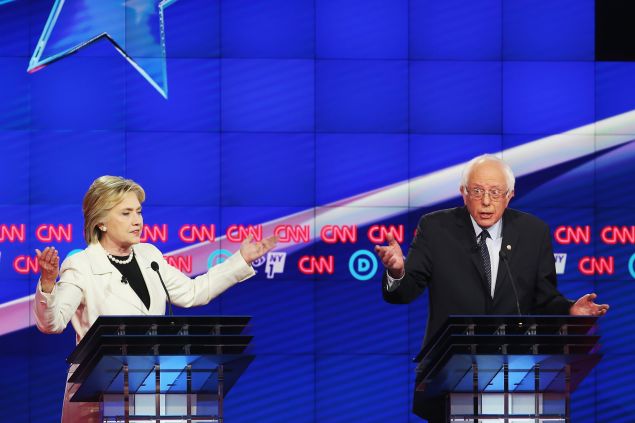 Of course, the lead clip on the highlight reel from Thursday night's Democratic debate in Brooklyn will be the scene when referee Wolf Blitzer scolded Hillary Clinton and Bernie Sanders after they dropped their figurative sticks and gloves for a verbal punch-out about the minimum wage.
"If you're both screaming at each other," Mr. Blitzer said on CNN, "the viewers won't be able to hear either of you."
The audience at the Navy Yard didn't seem to mind, chanting and cheering the liberal combatants constantly and raising the atmosphere to that of a sporting event
Both players rose to the occasion, battling clearly and fiercely over Israel, NATO, gun safety, judgment in crisis, Wall Street banks, trade agreements, Social Security and a dozen other deadly serious issues. Neither promised to build a wall along the Mexican border or ban Muslims.
Little new policy points were introduced and each candidate gave as good as they got in a battle for the right to face either Donald Trump or Ted Cruz of the Republicans in November's peculiar and somewhat frightening election.
"Stand up!" Mr. Sanders told the live audience, the TV viewers and the nation. "Fight back!"
By now, the crowd was responding with cascading applause and shouts that sounded like a big wave crashing the beach during a storm at Coney Island.
As he summarized his positions on health care, paid leave, free college tuition, energy and climate change, a camera showed the cheering crowd. Centered in the frame was his wife, Jane O'Meara Sanders,
Her hands rapidly clapped and her face glowed with a smile, her eyes glistening. This was not the phony gaze of admiration so often seen on the face of a candidate's wife on a campaign stop.
This was admiration for a husband who may have been enjoying the peak moment of this campaign, his political career and his entire life. At age 75, the Independent-Democratic-Socialist Senator from Vermont was standing on the very soil of his native Brooklyn, enunciating in the special accent of the borough.
"I live 50 miles from Canada," he said. "Ya know, it's not some kind of Communist, authoritarian country. They've got a health-care system that guarantees health care to all people… We can do the same!"
On Thursday night, he came over as a blend of Eugene Debs, Franklin Delano Roosevelt and Lyndon Baines Johnson. He spoke up for workers striking at Verizon.
"This is a perfect example of the corporate greed that is destroying the middle class," he said. He said the man who runs the company—Lowell C. McAdam—is making $18 million a year.
"This gentleman is now negotiating to take away health care benefits of Verizon workers," Mr. Sanders said.
When Ms. Clinton's summation was delayed by chants of "Bernie! Bernie! Bernie!' she smiled and waited patiently  for the fans to fall relatively silent.
She seemed to sense—even though she is a former U.S. Senator from New York—that this was a night to celebrate Mr. Sanders, to let him have his brief moment.
"I love being in Brooklyn," she'd said earlier.
Although well-liked by most Democrats and admired by the young, Mr. Sanders is likely to get clobbered in next Tuesday's New York primary and, for all practical purposes, his quixotic effort to win the nomination will move from unlikely to impossible
And it won't matter. As much as Mr. Trump has pandered to right-wing resentment, Mr. Sanders has appealed to left-wing ideals and wears without shame the labels of liberal and progressive.
The post-game show on CNN got a little giddy, especially when the Democrats were offering analysis.
"Tonight, I think that the Democratic Party won," Bakari Sellers said. "Tonight was our night to shine… It was a substantive debate. I'm just proud to be a Democrat tonight."
Donna Brazile said the party would benefit from seeing Ms. Clinton and Mr. Sanders illuminate legitimate differences over serious questions of policy.
"I mean, let's be honest, I know it's uncomfortable for a lot of people to see two of their wonderful, courageous warriors go after each other," Ms. Brazile said. "But for Democrats, especially New Yorkers… this was an opportunity to get some clarification on the issues and also to see their candidates spar."
S.E. Cupp said "We're just not used to seeing Hillary Clinton get scrutinized by other Democrats," she said. "To see Bernie Sanders do that was jarring."
Not to mention refreshing. He was an able sparring partner to prepare her for what may lie in wait from Mr. Trump or Mr. Cruz.
Disclosure: Donald Trump is the father-in-law of Jared Kushner, the publisher of Observer Media.