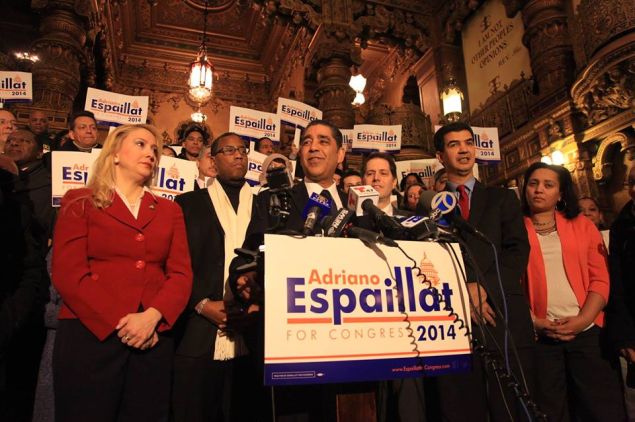 State Senator Adriano Espaillat has created a new campaign committee for his third bid to replace retiring Congressman Charles Rangel—even though his old committee is $100,000 in the hole, including money owed to a donor at the heart of a scandal swirling around Mayor Bill de Blasio.
The latest Federal Election Commission filings show Mr. Espaillat's new account, "Espaillat for Congress 2016," has raised some $302,000 toward electing him to Mr. Rangel's soon-to-be-vacant Upper Manhattan and South Bronx-based seat. But his old committee "Espaillat for Congress," which raised and spent cash towards his unsuccessful 2012 and 2014 challenges of Mr. Rangel, is still almost $69,300 in debt to consultants, fundraising firms and creators of campaign literature.
The federal filings also show Mr. Espaillat is supposed to pay back some $31,500 to 16 donors whose contributions exceeded the legal limit—including $5,000 owed to real estate developer Jona Rechnitz, the owner of JSR Capital. Mr. Rechnitz is now at the center of a federal probe into whether he gave improper gifts to NYPD brass, and into the $50,000 he gave to the mayor's now-defunct political nonprofit Campaign for One New York.
The Upper West Side-based multimillionaire, who sat on Mr. de Blasio's inaugural committee, also bundled some $40,000 for the mayor's 2013 campaign. Mr. Rechnitz's attorney did not respond to requests for comment.
Also among the over-the-limit contributors to the old Espaillat for Congress committee are former Gov. Eliot Spitzer and his late father, Bernard Spitzer—who the campaign is supposed to reimburse a combined $5,000.
Among the old committee's biggest uncompensated contractors are the MirRam Group consulting firm and its affiliate, Metro Strategies, owed a total of $35,645.66 for literature, ads, surveys and phone banking. The list of the unpaid also includes Red Horse Strategies, owed $22,000 for a primary day field operation.
Red Horse declined to comment, while MirRam did not respond to the Observer's queries.
Jonathan Reznick, who Espaillat for Congress is supposed to pay $1,295 for digital consulting, said the campaign has not responded to his requests for compensation, nor has it acknowledged his change of address. He expressed incredulity when told the candidate had created an all-new committee.
"If Espaillat does not wish to be spoken of as a campaign deadbeat in the community, he has to stop acting like one," Mr. Reznick said in an email. "I look very darkly on his use of a new committee when he has debts to pay on the old one. I anticipate a clear statement from the senator on when he intends to pay the little guy."
Federal election law does not require candidates to pay off their debts until they file to terminate the committee. But if they raise money to bring their campaigns into the black, contributors must designate their donations for the election cycle in which the debt was incurred.
Mr. Espaillat's camp did not respond to requests for comment.