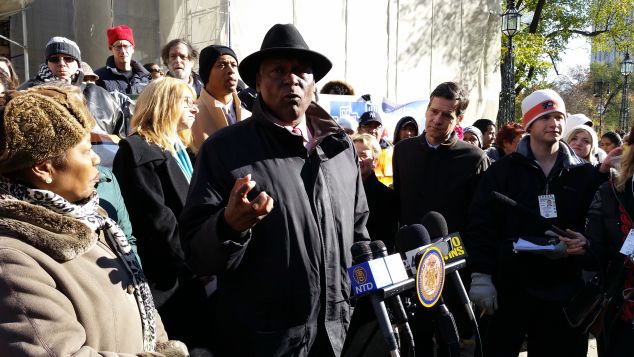 A state legislator looking to replace retiring Congressman Charles Rangel has fundraised for his campaign off the passage of new minimum wage standards in last month's budget—but advocates remember the candidate as far from friendly toward a similar measure proposed in 2014.
Harlem Assemblyman Keith Wright, regarded as Mr. Rangel's favored successor, has blasted several emails to supporters touting the new pay hike as "his big win" while requesting donations for his congressional run. The new rules will phase in a $15 hourly minimum pay rate in New York City by the end of 2018, and in Long Island and Westchester by the end of 2021.
Upstate, the floor will rise to $12.50 an hour by December 2020.
"The #FightFor15 and working families just got a huge win—Keith's leadership in Albany made sure the new state budget is prioritizing economic justice with $15/hour minimum wage," a recent Wright campaign missive imploring for funds reads.
The statement is odd for several reasons. Mr. Wright has not sat on the Labor Committee, which typically handles wage issues, since 2013, when he took over the Housing Committee chairmanship. Moreover, the state budget is really a consensus agreement between Gov. Andrew Cuomo, Assembly Speaker Carl Heastie and State Senate Majority Leader John Flanagan.
Additionally, when city-based unions and liberal groups in the "Fight for $15" movement sought to increase the wage—and accommodate the different costs of living across the state—in 2014 through a bill that would hand the authority over to local governments, Mr. Wright was not among the supporters. Mayor Bill de Blasio had called for passing the measure in his first State of the City address that February, and indicated he might support a local wage as high as $13 an hour, while Council Speaker Melissa Mark-Viverito had indicated she believed the wage should be $15 in the five boroughs.
But Mr. Wright's name is noticeably absent from the list of 62 Democratic sponsors of the Assembly bill that would allow for local control.
A lobbyist for a left-wing organization that pushed the bill described Mr. Wright as " dismissively hostile" toward the 2014 legislation. When a large group of activists and low-wage earners traveled from the city to the capital to advocate for the measure, the source said the assemblyman refused to meet with them. When one worker approached Mr. Wright about the bill outside the Assembly chambers, the lobbyist said the lawmaker brushed him off, saying "I'll consider it."
When the worker persisted, the lobbyist recalled Mr. Wright reacting angrily.
"He turned and said 'what didn't you understand? Let me tell you what I think of your bill. That's like having a different allowance for your children. Do you know how long it's been since we had a raise?"" the progressive advocate remembered. "They were in each other's face. It was the oddest thing I'd ever seen. Normally a legislator standing in the chamber with a lot of people watching would show a lot more poise."
Mr. Wright earns a $79,500 base salary, plus per diem reimbursements, for the six months out of the year that he commutes to Albany for the legislative session. His chairmanship carries an additional $12,500 stipend.
The assemblyman's office noted he had co-sponsored a measure that would peg the then-$8 hourly minimum wage to the urban inflation rate, which has increased by an average of 1.7 percent annually over the last five years (and only increased by a tenth of a percent in 2015)—which would have resulted in a far more modest rise in the pay floor. Mr. Wright denied having any recollection of the encounter the lobbyist described, and insisted he was not opposed to the local control bill, but did not believe it went far enough.
"I wasn't fully convinced that all municipalities were as like-minded as New York City and I saw benefit in fashioning something that would cast a wider net and benefit all communities," he said. "This year, we saw such an increase and the lives of millions will now be improved. I wanted to make it better, and we did."
Mr. Wright's stance on the wage has largely mirrored that of Mr. Cuomo, with whom he has long been close. The two are so entwined that the governor deployed the assemblyman as proxy to an endorsement meeting of the Village Independent Democrats club that year—only for the group to endorse Mr. Cuomo's long-shot primary opponent Zephyr Teachout, and cite the minimum wage bill as a reason.
Mr. Cuomo initially opposed the local control measure, arguing it would be "chaotic," before declaring he would support it as part of a deal to obtain the Working Families Party endorsement in his re-election campaign—only to later claim it was a "non-starter" after winning a second term. Then, as the legislative session came to a close last year, the governor came out fiercely in support of a $15 wage, roughly when Mr. Wright began participating in "Fight for $15" protests and actions.