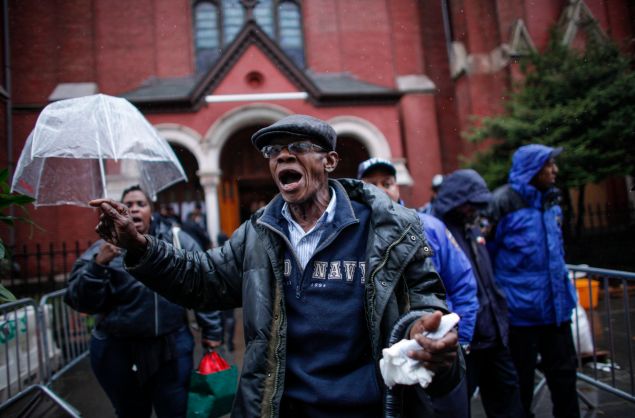 Several African-American members of the City Council ripped into Brooklyn District Attorney Kenneth Thompson and Judge Danny Chun over the sentencing of former NYPD Officer Peter Liang—who avoided jail time for the 2014 killing of black Brooklynite Akai Gurley.
Brooklyn Councilwoman Inez Barron, Queens Councilman Donovan Richards, Brooklyn Councilman Jumaane Williams and Bronx Councilwoman Vanessa Gibson all hit Judge Chun for deciding yesterday to downgrade Mr. Liang's conviction from second-degree manslaughter to criminally negligent homicide. They also insisted that the penalty the jurist assigned Mr. Liang, five years probation and 800 hours of community service, was inadequate for his crime.
"The life of a black man was valued less than that of a cat or dog," said Ms. Barron, whose district covers the public housing development where Mr. Gurley lived. "Peter Liang took a life. He should now lose his liberty."
Mr. Liang had been patrolling with his gun drawn in violation of police protocol, and shot Mr. Gurley when the unarmed 28-year-old father startled him in a darkened stairwell of Brooklyn's Pink Houses. The shooter fled the premises without offering assistance to Gurley, who died from the bullet wound.
Mr. Richards recalled that Giants wide receiver Plaxico Burress received a two-year sentence after accidentally shooting himself in 2008 (the charges were in fact for criminal possession of a weapon and reckless endangerment).
"I remember a Giants player shot himself and go two years in jail. Here we have a young man who was killed unarmed in our city, and the officer is not facing any justice," he said. "It's a shame this young man's life was not valued."
Mr. Thompson has already announced his intention to appeal the judge's reduction of the sentence. But he did not escape the criticism of the Council members, who attacked him for recommending last month that Mr. Liang undergo house arrest and probation instead of a prison sentence.
"I believe what D.A. Thompson did was wrong. It set a precedent saying this person should not be held accountable," said Mr. Williams. "No jail sends a terrible message to black people across this city and, indeed, across the country."
Ms. Gibson agreed.
"Recognizing, while it was not intentional, your actions cause a death of someone who was completely innocent," she said. "I would have thought the D.A. would have recommended some level of jail time, and the judge would have upheld that."
Mr. Thompson, his borough's first African-American district attorney, became a hero to many in the Black Lives Matter movement for obtaining an indictment and conviction of Mr. Liang. Activists interpreted the Gurley homicide as part of a larger pattern of cops killing unarmed blacks, including Staten Islander Eric Garner and Ferguson teen Michael Brown.
Prosecutors failed to convince grand juries to charge the police involved in previous deaths with any crime, but Mr. Thompson was careful to insist that the Liang case had "nothing to do" with the Missouri and Staten Island homicides.
In his recommendation to Judge Chun last month, Mr. Thompson argued that Mr. Liang's crime was an act of recklessness, not murderousness, and that he had been in the Pink Houses working to keep residents safe.
The Brooklyn D.A.'s office did not immediately respond to requests for comment. Mr. Thompson's mother was one of the first female officers to serve on the NYPD.