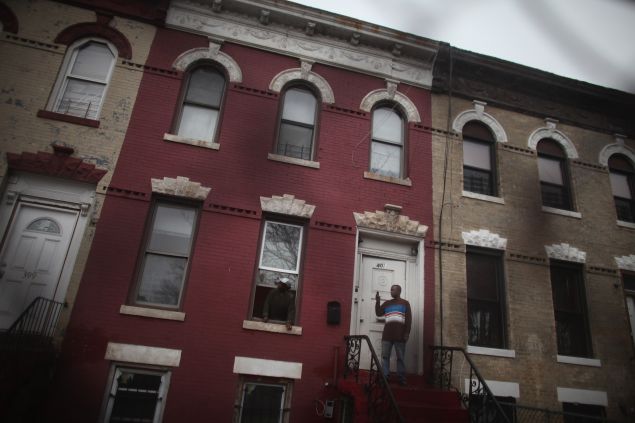 The City Council today passed the first of Mayor Bill de Blasio's 15 proposed neighborhood rezonings—this one designed to turn Brooklyn's East New York into a mixed-income neighborhood, while keeping it affordable to many of its current residents.
The vote follows several months of negotiations interspersed with outraged protests, and preserves the bulk of the mayor's original vision: loosening height and density restrictions on major thoroughfares to encourage greater development. Councilman Rafael Espinal, who represents the bulk of the area impacted, argued that the changes are necessary to boost housing stock and contain rents as East New York becomes a refuge for tenants fleeing costlier parts of the borough.
"Gentrification is already knocking on our door. And if I stood here today and denounced this plan, current market pressures would continue to push people out," the councilman said. "This plan is an anti-gentrification plan."
The Council typically defers to the wishes of the local representative when voting on zoning issues.
The final version of the plan combines the mayor's recently-passed citywide Mandatory Inclusionary Housing plan, which obligates developers to set aside 20 to 30 percent of new apartments for lower-middle to middle-class tenants, with additional requirements to create space for the poor. It calls for the construction of 6,500 new units of housing, half of them allocated to below-market rate tenants.
Of those, the administration projects seeing 1,300 new units built in the next two years, all subsidized and targeted to low-income earners.
New private projects on the revamped corridors will have to set aside 45 percent of their floor space to below-market-income tenants. Of that, 10 percent will go toward households earning $23,350 or less a year for a family of three, 15 percent to those bringing home as much as $31,080, 15 percent to those earning up to $38,850, and the remainder toward those in the $39,000 to $70,000 range.
Developments on several public properties in the rezoned area will have similar requirements, only that they will have to reserve 15 percent of units for households in the lowest bracket—an adjustment from the mayor's initial plan. The city will commit $267 million to improvement projects to local schools, parks and infrastructure, an addition of $127 million from the original proposal.
As sweeteners, the administration agreed to also shut down three homeless shelters in the neighborhood, and help convert them to permanent affordable buildings. It will also allocate funds for increased assistance to tenants facing eviction, small businesses and struggling private homeowners.
Median income in East New York is $34,000 annually.
Brooklyn Councilman David Greenfield, chairman of the Committee on Land Use, argued the compromise will be the high watermark of affordable housing. He claimed that affordable housing nonprofits had informed him "we simply can't go any lower" when it came to income brackets.
"We literally have done as much as we could," he insisted. "This literally is the best affordable housing plan for a community in the history of the City of New York."
Not everybody was convinced. Objectors filled the balcony seats in the Council chambers, only to have Council Speaker Melissa Mark-Viverito eject them when one woman had a seizure.
Council security did not re-admit them after the woman recovered, even though protesters continued to thunder "let us in" from behind the closed doors. Voicing their concerns in the discussion was Councilwoman Inez Barron, who represents a small sliver of the area in question.
"This plan is not going deep enough," she said, noting a quarter of East New York residents earn less than $15,000 a year.
The de Blasio administration intends to pass similar rezonings in East Harlem, the South Bronx, Long Island City, Staten Island and in Flushing, Queens.