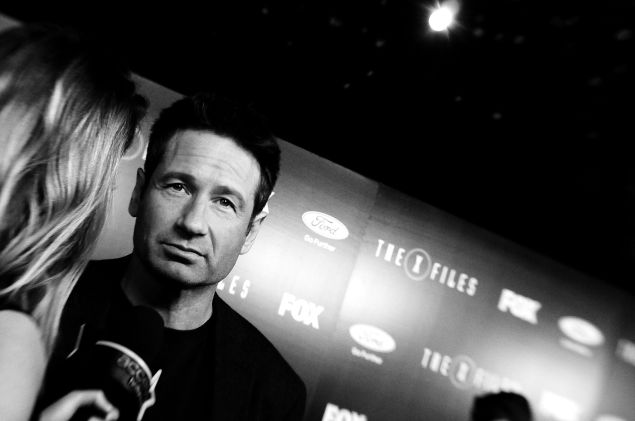 Do you want to see eyes roll? Mention an actor whose desire to be taken seriously has led him to write a novel. It would be an unendurable cliché in David Duchovny's case except that Bucky F*cking Dent, his new novel about baseball and fathers, is so f*cking good.
The book tells the late 70s era story of Ted Fullilove, who is squandering his Ivy League education by vending peanuts at Yankee Stadium while he struggles to write the Great American Novel. When Ted learns that his father, Marty, is dying of lung cancer, he moves back into his childhood home to ease Marty's transition to the great beyond and also repair the damage that years of absenteeism have wrought. The hook is that Marty suffers when the Red Sox lose so Ted engineers a scheme, aided by the dishy Grateful Dead-tattooed Mariana, by which the Red Sox appear to erase the curse of the Bambino and win all of their closing games in 1978 (instead of, as all New Yorkers deliciously remember, choke down the stretch, with the title Yankee providing the death blow).
If it's annoying that Mr. Duchovny, who's already a phenomenally successful and painfully good-looking actor is also a funny and natural writer – his last book, the animal allegory Holy Cow, also earned high praise from skeptical critics—then at least give him some points for self-awareness. Like his character in Californication, Mr. Duchovny knows how he comes off and doesn't mind if you resent him. He just wants a fair shake.
Mr. Duchovny spoke to the Observer about writing, acting and the shocking demise of the wondrous Garry Shandling.
"Is it weird to be thought of as a writer?' I would be like no, I've always thought of myself as a writer who is doing some acting.
As I was reading this book and preparing to interview you, I thought of a scene in Californication where your character is giving a reading and the audience kind of boos the Hollywood figure who enters and you say, 'my people.' I wonder if that's a sense of yourself that you have, a sort of a literary-minded guy that these really are your people.
I think maybe so. I mean obviously that was more from the mind of Tom Kapinos who wrote and created the show, and I think he would think of himself more as a literary person than as a Hollywood person, but I think you're right for me as well. I grew up reading. I grew up being taught and told that books were a way to become more fully yourself and to become an adult. My father was a writer. My father published his first novel when he was 72. But when I was growing up he identified himself as a writer, even though he had a 9 to 5 job to support the family. So it was always part of my life and I would say, you know whenever I had to fill out those forms in school that asked you what you're going to be I would always put writer, whatever that meant. I would put lawyer too because it seemed like they made decent money. It was always kind of just part of my identity, so when I finally got to it the last couple of years and people would ask me, "Is it weird to be thought of as a writer?' I would be like no, I've always thought of myself as a writer who is doing some acting.
The last time I saw you in person was at Comic-Con when the X-Files was being rebooted and you and Chris Carter were on a panel. I felt such a tenderness toward these kids who really seemed like mostly outsiders wherever they live and they get to kind of come together. Your writing has a little bit of that feel. This guy Ted can't find himself, so talk to me about how strongly you identify with your character.
I think I probably fit in better growing up than Ted does in the book, but I think if you're a writer, that means that you're an observer. You observe people, and that means that you have a mind that wants to do that. You have a mind that wants to observe more than it wants to engage in many ways. And you're already outside because you're looking in. That's the nature of someone who desires to write. So I think temperamentally I've always been an observer, even though it might appear from the outside that I'm active and being included.
The writers you mention in the course of the book— Wallace Stevens and Walt Whitman and Shakespeare—are sort of $10 reference points. Are they influential on you and what about some contemporary writers other than your father who have influenced you?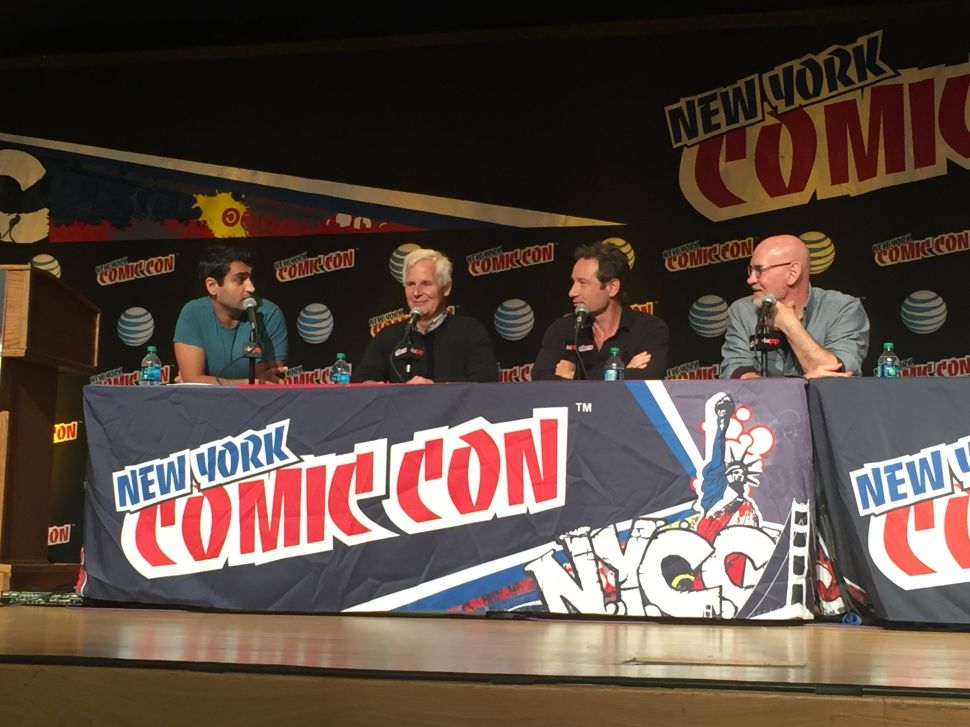 I did major in English Literature, so I've read these people that I'm quoting. If you took it person by person, I mean Stevens is the more philosophical if not a stylistic influence on me. There's the poet who is constantly going back to the idea that there is no reality, but the one we're making up, we're making it up with our poetries and all imaginative ways of trying to understand the world. For Stevens, poetry is probably the most honest because it's constantly reinventing every time you start a poem, you're reinventing the world as you saw it. So I think philosophically I really, not having grown up with any strong background in religion or any strong beliefs in any institutionalized religion, t.he idea that I could make the world make sense through art, through words, in this case through poetry, was very seductive to me. I haven't said anything like that for years. I don't even know if I've ever put it into words like that, you know, but that's the truth. Stevens is a poet, so I don't know stylistically how he affects me, but contemporary, I think Philip Roth is one of the greatest novelists of the last 100 years. To me, American Pastoral is the great American novel of the 20th Century.
Human Stain is the only Philip Roth movie that's been a good movie. There have been other of his books that have been made into movies but none of them have been good, but Human Stain is actually an excellent movie.
I think they are making American Pastoral or they have made it. I dated a girl here in New York in my 20s whose mother was good friends with Roth, and as a little girl of 8 or 9 he told her to call him "Uncle Famous."
I'm a gigantic Larry Sanders Show fan.
I am also, yeah.
With Garry Shandling's sudden, mysterious and upsetting death, I went back and watched every minute of that show and your episode is really a turning point in that show, because it showed for the first time, I mean the whole shtick of the show is like you're saying about poetry, that the fictionalization of the talk show is sort of more real than any David Letterman or whatever. And the discomfort that Larry Sanders experiences when David Duchovny, I don't want to say with "you," I don't even know how to talk about it, which is your point…
Well, it's funny because when we were doing that …I had one of those stars given to me on the Walk of Fame, you know that cheesy thing they do? And it's cheesy but it's totally cool. I don't want to play it off. I mean I was like oh my God, this is kind of cool but it's totally cheesy at the same time. But Garry came and he did like a 2-minute speech. This is all you can give at those things, and he talked about, "You realize that you're playing a character that has your name," you know. I said, "Yeah, but I'm playing the character name. I'm not playing David Duchovny." He said, "Well you realize people aren't really going to know that or understand that." I said, "Yeah, but we understand it, we know it, so it's okay." And then he just went from there. We had become friends because I was such a huge fan of the show and I was able to get on it the year before. I begged my agent. I said, "Whatever you do I want to do that show." I was up in Canada shooting the X-Files, so whatever, I'll do anything, just can I get on that show? So he got me on and I did a little bit where I got bumped from my spot.
Right. You said there had better be a big fucking fruit basket waiting for me….
Right! So we did that, and Gary and I just became friends. Like we exchanged numbers. I was living in Vancouver and he was in LA, but he had a basketball game that he hosted every Sunday and he invited me to come play in it and I did and we just became really the best of friends. You know his loss to me is very great and very personal, but if I can be gratified by anything it's that I see a real outpouring of love and beyond that appreciation for his work, you know. I use that word 'work' because he was a very serious artist. He was a guy that was constantly questioning himself and trying to evolve and took acting very seriously, and took comedy very seriously and was always changing and questioning. And beyond that, so generous. I think what you're getting from people who are stepping forward and telling their stories about when Garry helped me with this, helped me with that. He was extremely generous and influential. You know it's like I say about music, I think about Hendrix. If you go back and you listen to Hendrix and you're like where have I heard that before? It's because everybody has done it, and Garry is like that. It's like you go back and look at Garry and what you have to realize is Garry is doing that for the first time. Garry was doing that before everybody else was doing it, and that's the truth.
Even your description of how you became friends is exactly on that reality TV line, because in the show you become friends with him later on and almost lovers because of you being booked on the show. You're saying in real life you and Garry Shandling became friends because you wanted to be booked on his show.
Well, that's what happened. I would play in this basketball game, and I think we talked about like a DVD for when The Best of Larry Sanders was released, and he did a lot of very interesting interviews. I was saying we went down to his basketball court to talk about it and the way I remember it happening was we were playing, we were having this game and I said, "Wouldn't it be funny if I had a crush on you but it's a heterosexual crush on a man it's like this weird kind of crush." He was like, "Yeah, you want to do that?" I was like, "Yeah. I just want to do something funny. I think we could make that funny."
That's so good.
And then it just happened that one weekend, you know this sounds so show-biz and I will have to be guilty of sounding show-biz, but I came down for the Golden Globes and I guess I was still in Vancouver for X Files so I stayed in a hotel in Los Angeles before flying back. And after the ceremonies I invited Garry to hang out in my room before I went back, and he came over and I was in my robe, and I said, "When we shoot this it will be funny if I'm in a robe and we do the whole Sharon Stone thing." Garry was constantly open to someone else's ideas. I think I told him how much I appreciate him while he was alive. I'm pretty sure that I did, but I don't know that I ever thanked… You never feel like you thanked somebody enough when they're gone.
Are you as big a baseball fan as I believe you would have to be to write this?
I grew up as a passionate baseball fan. I wouldn't say I'm still that kind of a baseball fan. You know I don't follow the Yankees anymore, but as a kid, my big fan days would have been the ages of 7 to 12-13, and that's 1967 to 1972 and those are horrible Yankee years. …right after my Mantle retired and before Steinbrenner came.
Bobby Murcer was their big celebrity signing.
Well to me Mel Stottlemyre was the guy. Actually when Mel Stottlemyre would lose, you know he was the one all-star that they had, and he had a great name. You can't get much better than "Mel Stottlemyre."
Mr. Duchovny is appearing tonight (April 12) at the Barnes and Nobles in Union Square and will be interviewed by Budd Mishkin at the 92nd Street Y next Tuesday April 19. His new novel, Bucky F*cking Dent, was published this month by Farrar, Straus and Giroux.