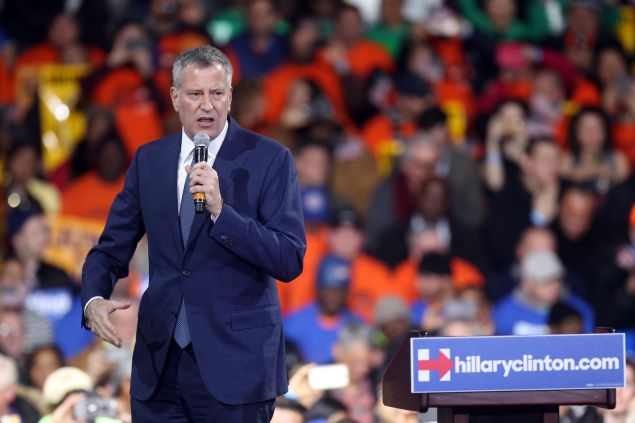 Mayor Bill de Blasio took aim at one of his favorite politicians, Sen. Bernie Sanders of Vermont, accusing the Hillary Clinton rival of making unbecoming attacks on the former secretary of state's climage change record.
In a conference call with reporters organized by the Clinton campaign, Mr. de Blasio, a Democrat and Clinton supporter, said Mr. Sanders, who claimed she has "relied heavily" on funds from lobbyists working in fossil fuel industries, recently made "flat-out false" and "inappropriate" assertions.
"The allegations here just don't hold water, just don't make sense," Mr. de Blasio, who managed Ms. Clinton's 2000 campaign for a New York Senate seat, said today. "It's quite clear the notion that small numbers of individuals who gave [her money] would somehow sway her judgment just doesn't hold water."
"This attack is not becoming of him and not becoming of that movement to bring about more progressive change," he added.
After dallying on making an endorsement last year and undertaking a peculiar trip to Iowa to knock on doors for Ms. Clinton, Mr. de Blasio, a proud progressive, appears to be finally coming into his own as a Clinton surrogate ahead of the pivotal April 19th primary in New York. Ms. Clinton, a former New York senator, is trying to fend off Mr. Sanders, a native of the mayor's home borough of Brooklyn, and build a lead in delegates that will effectively be insurmountable. Ms. Clinton is the unquestioned front-runner, despite recent wins by Mr. Sanders in Washington State, Alaska and Hawaii, but the self-described democratic socialist is still electrifying his progressive base and outraising her. At an ecstatic rally in the Bronx last night, Mr. Sanders drew more than 10,000 supporters, dwarfing any campaign event Ms. Clinton has held in New York.
Today's conference call was about fighting climate change, which Ms. Clinton and Mr. Sanders are about equally committed to. But a Greenpeace activist raised Ms. Clinton's ire at a campaign event yesterday when she confronted the former secretary of state over donations she's received from people in the fossil fuel industry. Ms. Clinton told her she was "sick" of the Sanders campaign "lying" about her.
No political action committees of oil or gas companies (corporations are legally barred from donating money to candidates) have donated to Ms. Clinton, but she has received $307,000 from employees of fossil fuel-producers, according to the Center for Responsive politics. Mr. Sanders has received $54,000.
What rankles Clinton allies most is the assertion that these contributions have fundamentally altered her environmental platform, which calls for cutting down on coal production, ending tax breaks for fossil fuel companies and reducing carbon pollution. Mr. Sanders has made a similar argument about the large contributions Ms. Clinton has taken from the financial sector.
Mr. de Blasio said Ms. Clinton shouldn't necessarily ask for an apology—"I think that's an overused approach"—but exhorted Mr. Sanders to take the "high road," even if it was unclear what the Vermont senator directly lied about.
"If he and his team make allegations that don't hold water, it actually undercuts what I presume he wants to get across," Mr. de Blasio said.