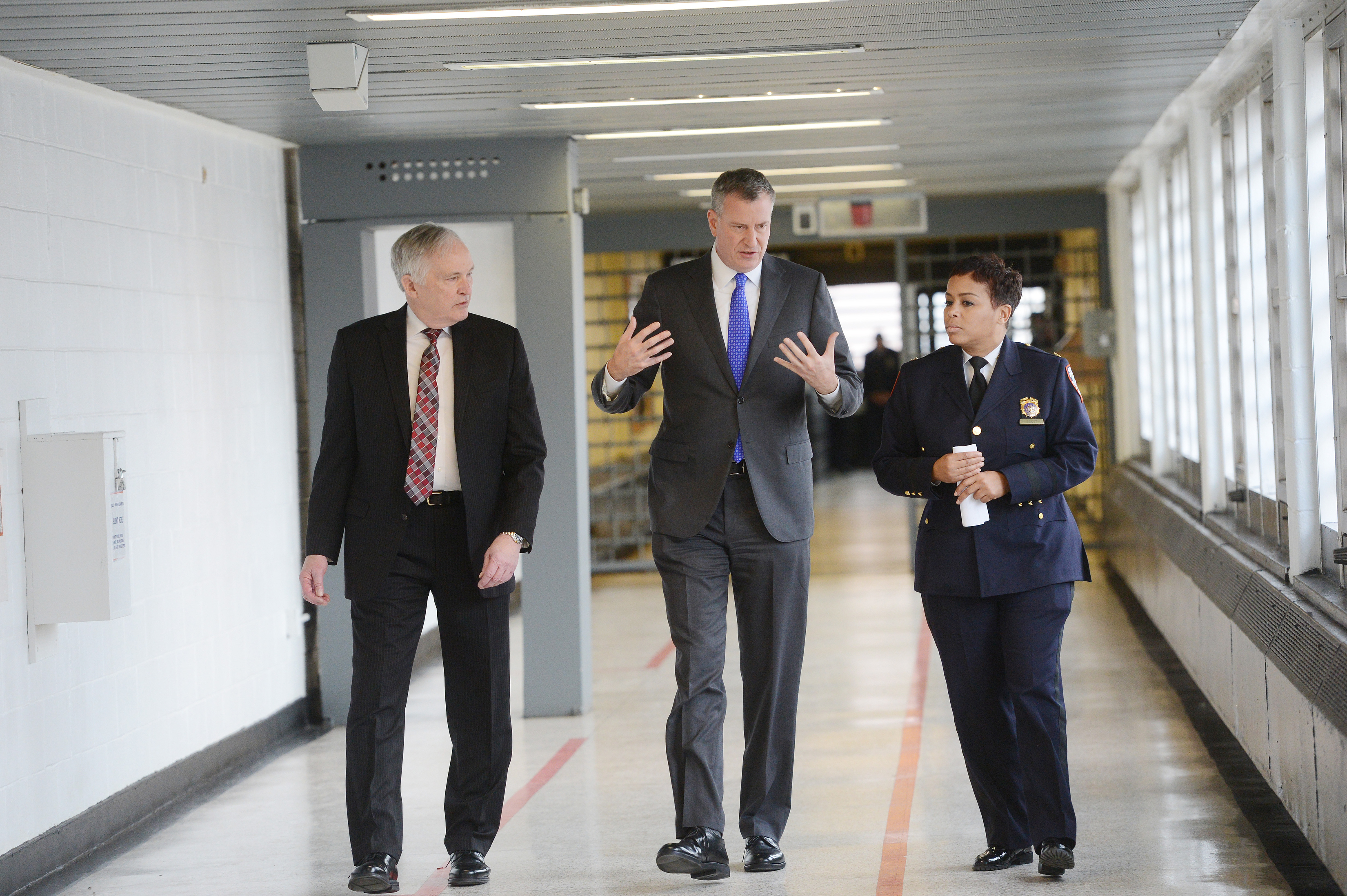 Mayor Bill de Blasio will triple the number of intensive-care units for mentally ill inmates at Rikers Island as part of his executive budget, to be announced today, the Observer has learned.
The expansion of the program comes amid increased attention on conditions at Rikers Island, particularly for the 40 percent of inmates there who are classified as mentally ill. The units, dubbed PACE—or Program to Accelerate Clinical Effectiveness—serve inmates with "serious mental health issues"a nd are staffed by both Department of Correction employees and clinical staff like nurses from NYC Health + Hospitals, which recently took over city correctional health services.
"Today's expansion of intensive-care mental health units for inmates in our city's jails is an important step toward making sure every New Yorker receives the mental health care they need," Mr. de Blasio said in a statement provided to the Observer. "This administration is taking aggressive steps in our city's jails to increase therapeutic interventions, strengthen healthcare, and improve the safety of officers and inmates alike—and today's expansion of PACE units will help us improve the health and safety of those in Department of Correction custody."
Rikers Island currently has four PACE units; the executive budget will include a new allocation of $8.7 million in expense funding to add and staff eight new PACE units in fiscal year 2017; that will ramp up to $24.2 million in fiscal year 2020.
"These units really have provided a great example to everybody about how we can effectively co-manage or cooperate in the co-management of patients meeting both security needs and health needs," said Dr. Homer Venters, the chief medical officer for the Division of Correctional Health Services at NYC Health + Hospitals, formerly known as the Health and Hospitals Corporation.
For years, cooperation—or lack thereof—between staff at the correction and health departments has been a problem when it comes to providing health care to people that correction officers view as inmates and health workers view as patients. The entire process was made more difficult by the structure of health delivery: it was the responsibility of the city's Department of Health, but DOH used a vendor, Corizon, to provide the actual care on Rikers. The for-profit company was dumped last year after many reports of shoddy care, and healthcare is now overseen and provided directly by Health + Hospitals, which runs the city's public hospitals.
"NYC Health + Hospitals is committed to the health and well-being of all New Yorkers, and we are proud to be able to provide enhanced care in the City's jails for some of our most vulnerable patients," NYC Health + Hospitals CEO Dr. Ram Raju said in a statement.
Correction Commissioner Joseph Ponte called the units "one of the best examples" of collaboration between his department and Dr. Raju's—and said the units would help reduce negative outcomes for the people in his agency's custody.
"Safety is my number one priority and NYC Health + Hospitals has been an essential partner as we work to better support and manage those in our custody and keep them safe from harm," he said in statement.
Dr. Venters said that collaboration is the most important part of the PACE units.
"The most important part, the staff will tell you, is that before we open these units we identify a group of correction staff and health staff, and they train together for about a week before the unit opens," Dr. Venters said.
That means both sides understand the purpose of the unit and one another's jobs, and then work together every day—"so they are a team." That's an important development for the patient, but it's also "important for the rest of the jail setting," Dr. Venters said, offering a good example of collaboration.
"We've invested in these teams the ability to work together—and what's great about these units is you have both sides of the team," Dr. Venters said. "That's something we haven't achieved very well in the past."
The city has touted the PACE units it already has, all of which were opened under Mr. de Blasio's tenure. The number of inmates adhering to their medical regimen is up 40 percent in the units, and in PACE and CAPS units (a separate but similar clinical unit for mentally ill inmates who are also violent) the number of uses of force was 52 percent lower than in other mental health units in 2015, according to Mr. de Blasio's office.
Dr. Venters said injuries are also down in PACE units compared to general mental health units—but that injuries in those general units were falling, too. The jails are doing a better job of managing the sickest patients in PACE units, he said, and as such are "relieving the stress" elsewhere.
The units each have a capacity of 20 to 25 inmates, varying a bit depending on where they are located. The plan, Dr. Venters said, is to open two of the units a year, helping between 50 and 75 people each year.
"We're really enthusiastic about this development that we're talking about here with this new commitment of further programming for our patients," he said. "It is a really important development for our patients that we can identify their clinical concerns and then bring them the level of resources."
Mr. de Blasio's executive budget will also include $2.7 million in fiscal year 2017 to expand pre-arraignment screening in Manhattan, and $2.5 million in fiscal year 2017 to expand treatment for Hepatitis C in jails. There is also $1.9 million in capital funding in the budget for "tele-health" and 12 new "mini-clinics."
Mr. de Blasio's executive budget will kick off a new round of City Council hearings, and the council and the mayor will have to reach an agreement on the budget by a June 30 deadline.