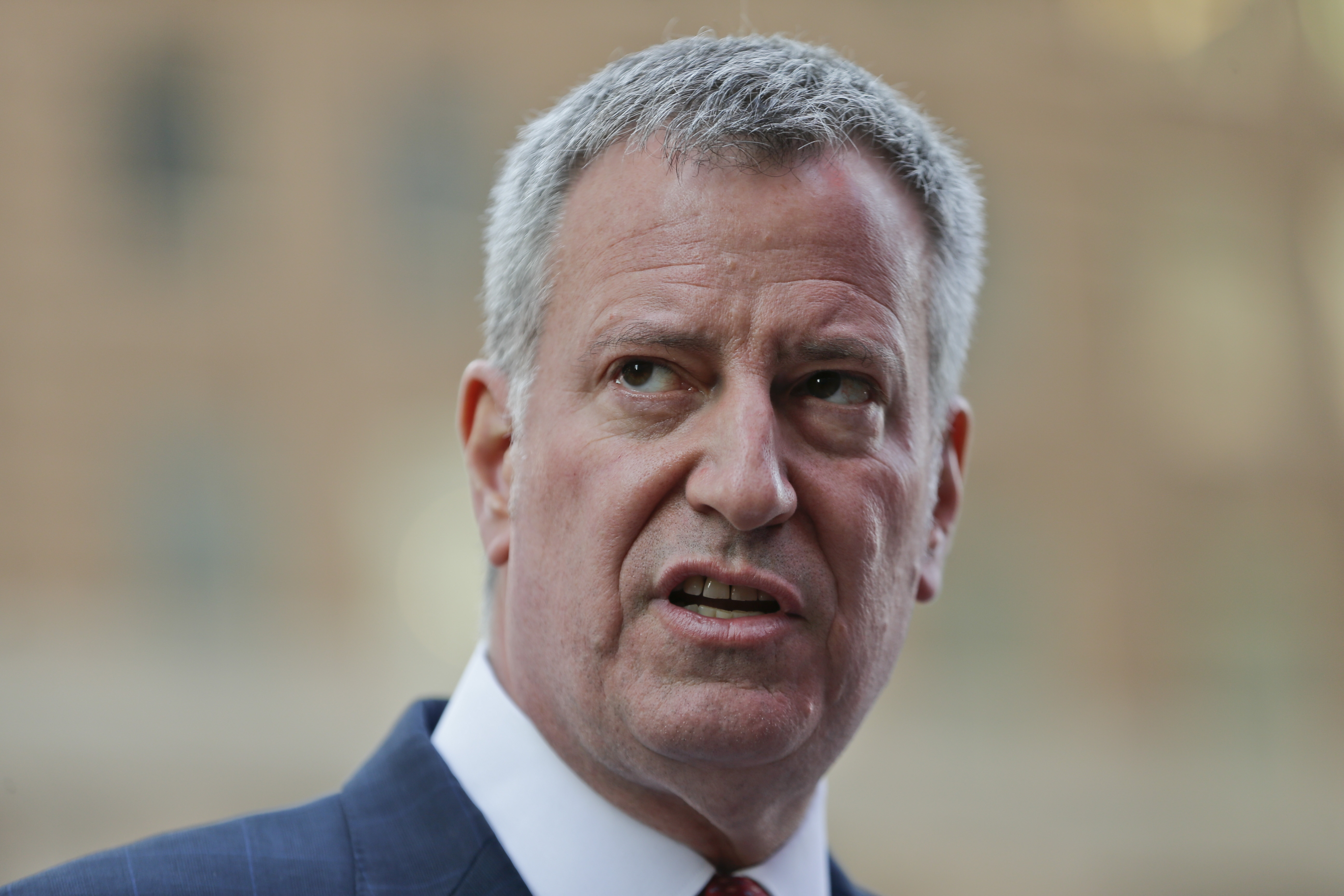 Weeks after a victory on affordable housing, days after he rolled out his budget and a year-and-a-half before he faces reelection, a fundraising scandal is probably not what Mayor Bill de Blasio hoped to be talking about.
But it's all anyone in New York City political circles seems to be talking about.
"I feel fine," Mr. de Blasio insisted to a crush of reporters who had followed him to an event in midtown today. "I feel fine because everything we've done is legally appropriate."
Of course, Mr. de Blasio isn't the final arbiter of what's legally appropriate: that's a job for U.S. Attorney Preet Bharara and Manhattan District Attorney Cy Vance, who have issued subpoenas to several people in Mr. de Blasio's inner circle regarding his fundraising for Democratic candidates for state senate in 2014.
"City Hall has been subpoenaed by the New York County District Attorney's Office and the U.S. Attorney's Office for the Southern District and we are fully cooperating with the investigation. The Mayor has not been personally served," Mr. de Blasio's counsel, Maya Wiley said in a statement.
The subpoenas were served to Emma Wolfe, Mr. de Blasio's director of intergovernmental affairs; his fundraiser, Ross Offinger; and his outside consultant Jonathan Rosen of BerlinRosen, according to the Wall Street Journal, which first reported them yesterday.
"This is a big problem for the mayor," said Dick Dadey, executive director of the good government group Citizen's Union. "It's going to become an unfortunate distraction."
Much of the details of the investigation came to light in a memo from state Board of Elections Chief Enforcement Risa Sugarman, which was leaked to the Daily News last Friday. Ms. Sugarman found that there was cause to bring criminal charges against people involved in Mr. de Blasio's Senate fundraising for "willful and flagrant" violations of state law. (Ms. Sugarman was appointed to the board by Gov. Andrew Cuomo, no friend of Mr. de Blasio's—and Mr. de Blasio questioned the "motivations" of whomever made the memo public.)
The document alleges that Mr. de Blasio and his "team" to deliberately evade limits on how much a donor can give to a candidate for state office. A donor can only give $10,300 to a candidate, but they can give $103,000 to a county political committee, which can then pass on unlimited amounts of money to individual campaigns.
Giving, or soliciting, large donations to county committees isn't illegal—nor is it unprecedented: former Mayor Michael Bloomberg donated handsomely to keep Senate Republicans in power.
But Mr. Dadey said there's a difference between donating to a committee with the knowledge that the committee will use the cash to support candidates from their party, and donating to the committee specifically so they can then move the cash to a particular candidate.
"Was this a seamless transaction from a large contributor to a candidate where the political committee only served as a pass-through and not as a decision point?" he asked. "That's the crux of the issue."
"Our campaign finance laws are riddled with loopholes and could be interpreted one way or another, but there are some bright lines," he added. "And one of the bright lines is that contribution limits for candidates are not meant to be evaded."
Mr. de Blasio insisted today—as he has "many times," he noted—that his administration holds itself to "the highest standard of integrity."
"Everything we've done from the beginning is legal and appropriate. There is an investigation going on, we are going to fully cooperate with that investigation and we look forward to the speedy conclusion of it," Mr. de Blasio said. "But since there is an ongoing investigation I can't go into any details, because that's an ongoing process."
Mr. Rosen, too, said in a statement that the law had been followed: "We're proud of the work we do for our clients. We have acted appropriately and in accordance with the law at all times."
The legal ramifications of the investigation of course remain to be seen—a subpoena is a request for information and does not mean the person who is issued one has done anything wrong. But the investigation has been relentlessly covered in the press, gracing the covers of the New York Post and the Daily News for days on end.
"It certainly moves the narrative away from the narrative the mayor had been planning," Kenneth Sherrill, a professor emeritus of political science at Hunter College, told the Observer.
Mr. Sherrill noted that he didn't know who had leaked the memo—but that it was released shortly before Mr. de Blasio presented his budget. And the scandal first hit the press shortly after the mayor had his affordable housing plan approved. 
"If this were calculated, this is the kind of time when you would want to do it—to distract from any good news that he might have been preparing about himself," Mr. Sherrill said.
But beyond stealing the narrative, the question of "how bad is it?" is an open one, Mr. Sherrill said. What Mr. de Blasio is alleged to have done "sounds like what almost everybody in elective office does," Mr. Sherrell said, which likely has plenty of other politicians worried. Beyond being typical, much of the activity, to Mr. Sherrill's eye, "appears to be legal."
"These are bizarre rules. Everybody who is in elected office has learned to play by those rules in order to get into power and to stay in power, and they're not interested in changing those rules. On the other hand, they're also not interested in being put on trial," Mr. Sherrill said. "If it is the choice of putting the rules on trial and putting the elected officials on trial, I think they'd prefer to have the rules on trial."
Beyond possibly spurring some changes to election law—something advocates like Mr. Dadey are hopeful will happen—there will of course be political fallout for Mr. de Blasio.
"It makes the re-election campaign much more difficult. It puts him on the defensive and it takes people's attention away from the substance of what's been achieved in office and onto scandal," Mr. Sherrill said. "And honestly, scandal is easier to understand than the complexities of governing. It's easier to it's often easier to run against someone who appears to be a crook than it is to run against someone whose policies you disagree with."
While it's never a good time for a subpoena, if there's anything in Mr. de Blasio's favor, it's time, said Christina Greer, a political science professor at Fordham University.
"I think he has plenty of time to bounce back and also scare off any potential challengers who are thinking about getting in the water," she said.

The defense of business as usual—used by the now-convicted former Assemblyman Sheldon Silver—may not be the best way to bounce back, and didn't end well for Silver. It certainly hasn't quieted the press corps, which has zeroed in on the scandals eager for a new story after the excitement
What might be better, Ms. Greer said, is to "get in front" of the scandal—and that could end with having to "give up" somebody else.
"Either you feed the beast," she said, "or you are going to be on the menu."