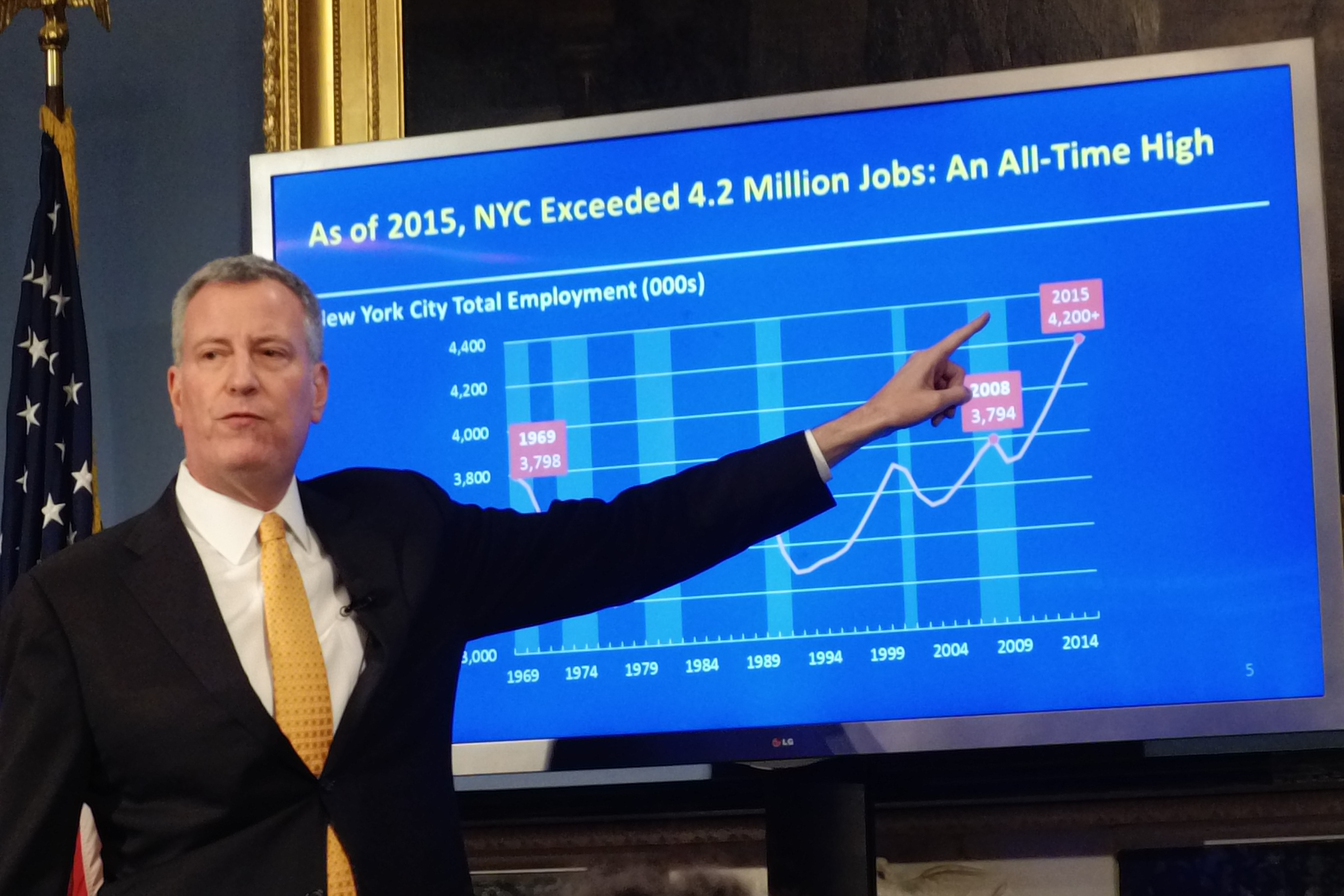 Mayor Bill de Blasio proposed a $82.2 billion budget today—an increase of $100 million over the preliminary budget he proposed in January.
The budget includes new funding for additional ambulance tours, efforts to treat opioid addiction, school funding and increased cash for the NYC Health + Hospitals, the city's public hospital network that is in dire financial straits.
Mr. de Blasio's office sought to paint the hike as a small one—a press release used the figure "just $0.1 billion, rather than $100 million—and the budget does include savings to offset some of that new spending. There will be $1.25 billion in new savings for fiscal year 2017, according to City Hall, after Mr. de Blasio asked agency heads to identify efficiencies.
The budget also continues a tradition of adding money to reserves the city maintains in case the economy takes a downturn.
The financial plan lacks the marquee items of some of Mr. de Blasio's previous budgets, like the addition of new police officers last year. But there is money for a slew of his priorities: $4 million for ambulance tours in Queens and the Bronx; $5.5 million for treating opioid addiction; $161 million in Fair Student Funding; $17 million for the mayor's "Equity & Excellence" education initiative; $66 million, offset by $38 million in savings, for a homelessness plan; and $8.7 million to triple the number of units for the severely mentally ill on Rikers Island, as the Observer previously reported.
The funding picture for NYC Health + Hospitals is a little more complicated—some of the cash cannot wait for the next fiscal year. For the second time, Mr. de Blasio is giving the public hospitals an infusion of funds to get them through the year: this time, a $160 million addition to the agency's fiscal 2016 budget, which ends June 30. He previously added $337 million to the public hospital network's current year budget in January.
Going forward, the city will boost the Health + Hospitals budget by $180 million by forgiving that amount of debt service in fiscal 2017 and in the out-years.
The agency, headed by CEO Dr. Ram Raju, is facing a financial shortfall that the mayor's office said would reach $600 million by next year and could grow to $1.8 billion by 2020. Mr. de Blasio announced a plan today intending to address the problem. He's also met with U.S. Secretary of Health and Human Services Sylvia Burwell about the challenges facing the city's public hospitals, including reduced reimbursements from the federal government for treating uninsured patients. (Mr. de Blasio has referred to this as an unintended consequence of the Affordable Care Act—with fewer people uninsured, the government aimed to reduce its payment for them. But in New York, many patients at public hospitals are undocumented people who are not eligible for insurance though the ACA.)
Overall, the city will spend about $2 billion on Health + Hospitals—which acquired that plus-sign in a November re-branding that ditched the old name Health and Hospitals Corporation—in the next fiscal year.
Mr. de Blasio also rolled out his capital budget, which is separate from the $82.2 billion expense plan. It includes $21 million for snow removal equipment, $685 million to finish a water tunnel that garnered a great deal of attention when funding for it was briefly diverted. There's also $276 million slated for reconstruction of four bridges; $42 million for the mayor's five-borough ferry plan; $70 million for a police precinct in Queens and $50 million for a new indoor swimming pool in Staten Island.