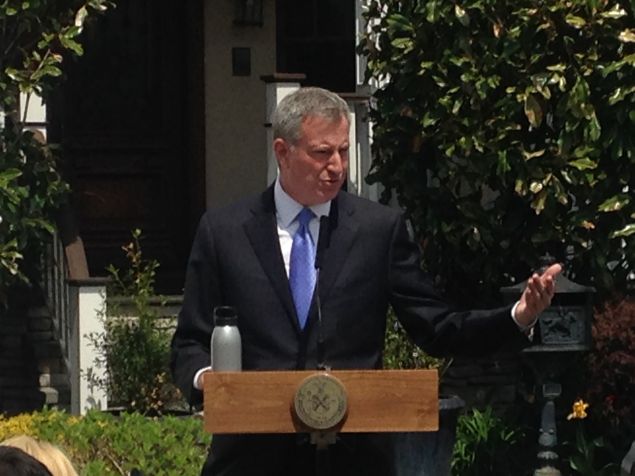 Mayor Bill de Blasio today went on a tirade against claims that he and his allies participated in "willful and flagrant" violations of state election law in 2014—and against the "motivations" of Cuomo-picked Board of Elections counsel who recommended bringing a criminal case against the mayor.
Mr. de Blasio launched into the diatribe following an unrelated press conference in Brooklyn. The target of his ire was BOE Chief Enforcement Counsel Risa Sugarman, and an internal memo she wrote in January that got leaked to the Daily News on Friday.
The document alleged the mayor and several unions and wealthy donors conspired to circumvent state campaign donation limits in their effort to flip the State Senate to Democratic control—a move "warranting prosecution," Ms. Sugarman wrote.
"When you see something done in this kind of fashion, when you see an inappropriate leak, when you see the law being misconstrued in such an obvious way, of course it begs the question of motivation," Mr. de Blasio said. "There's an obvious question mark around that memo that was leaked to the press, and real questions about motivation, and obviously huge questions about accuracy in terms of the law."
The mayor's remarks follow a letter that his campaign attorney sent to Ms. Sugarman and members of the media over the weekend.
"Beyond the legal and regulatory issues implicated by your office's memorandum being improperly leaked to the press, your memorandum reflects either a shocking lack of understanding or a complete disregard of the most fundamental aspects of the state's election laws," lawyer Laurence Laufer, who represents several other parties named in the memo, wrote.
The core of Ms. Sugarman's accusations was that Mr. de Blasio and his allies flouted limits on the donations to individual Democratic State Senate candidates by funneling money into county Democratic committees, which enjoy much looser spending rules. The committees, which Ms. Sugarman claimed functioned as "straw donors," then pumped the funds into the candidates' election efforts.
Ms. Sugarman and the BOE began investigating Mr. de Blasio's coordinated donations to Democratic candidates after complaints from upstate Republicans.
Mr. Laufer, however, noted that giving money to party committees in order to help elect specific candidates is a common practice—one that former Mayor Michael Bloomberg, once the largest donor to the State Senate Republicans, took part in. Mr. Laufer  accused Ms. Sugarman of "politically-motivated" behavior and filed a Freedom of Information Act request to obtain the text of all of Ms. Sugarman's email correspondence, and threatened her personally with civil action.
Gov. Andrew Cuomo, Mr. de Blasio's bitter rival, nominated Ms. Sugarman to her post in 2014. She served four years under Mr. Cuomo while he was state attorney general.
Mr. de Blasio largely echoed his attorney's assertions, but refused to speculate as to what the BOE counsel's real intentions might have been.
"I think what Mr. Laufer laid out is straightforward. That any government watchdog is supposed to be very, very careful in the work they do to follow the rules, follow the laws and to scrupulously be independent, and nonpartisan," the mayor said today. "It's outrageous, and, again, I don't know what's motivating it. I think Mr. Laufer's letter raised a number of good questions about what might be motivating it. But the facts that he lays out about the consistency in our state law, and the fact that my predecessor and so many other people lived by those exact same standards, I think it speaks for itself."
Ms. Sugarman's office did not respond to requests for comment, while Mr. Cuomo's office said it wasn't involved in the investigation.
"The only things we know about the reported investigations by the US Attorney, District Attorney and Board of Elections are what have been reported in the press," Dani Lever, a spokeswoman for Mr. Cuomo, said.
The failed 2014 fight for a Democratic State Senate is a sore point for the mayor and other progressives. The governor agreed to work to elect a wholly Democratic State Legislature as part of a deal Mr. de Blasio brokered to obtain him the Working Families Party endorsement.
Mr. Cuomo subsequently failed to honor the promise, neither campaigning for candidates from his own party nor providing them with resources, despite his own overflowing campaign coffers. The candidates Mr. de Blasio and his supporters helped fund lost, and Republicans took a slim majority in the State Senate.
But the fundraising fiasco, which Ms. Sugarman referred to Manhattan District Attorney Cyrus Vance's office, is just one of several simultaneous scandals threatening to engulf Mr. de Blasio and his administration. U.S. Attorney Preet Bharara is investigating two donors to the mayor's campaign and political nonprofits, and their pattern of allegedly giving illegal gifts to police officers.
The corruption busting prosecutor is also reportedly probing how the city eased a deed restriction on a Lower East Side AIDS center to allow the owner—tied to a consulting firm close to the mayor—to convert it into luxury condominiums.