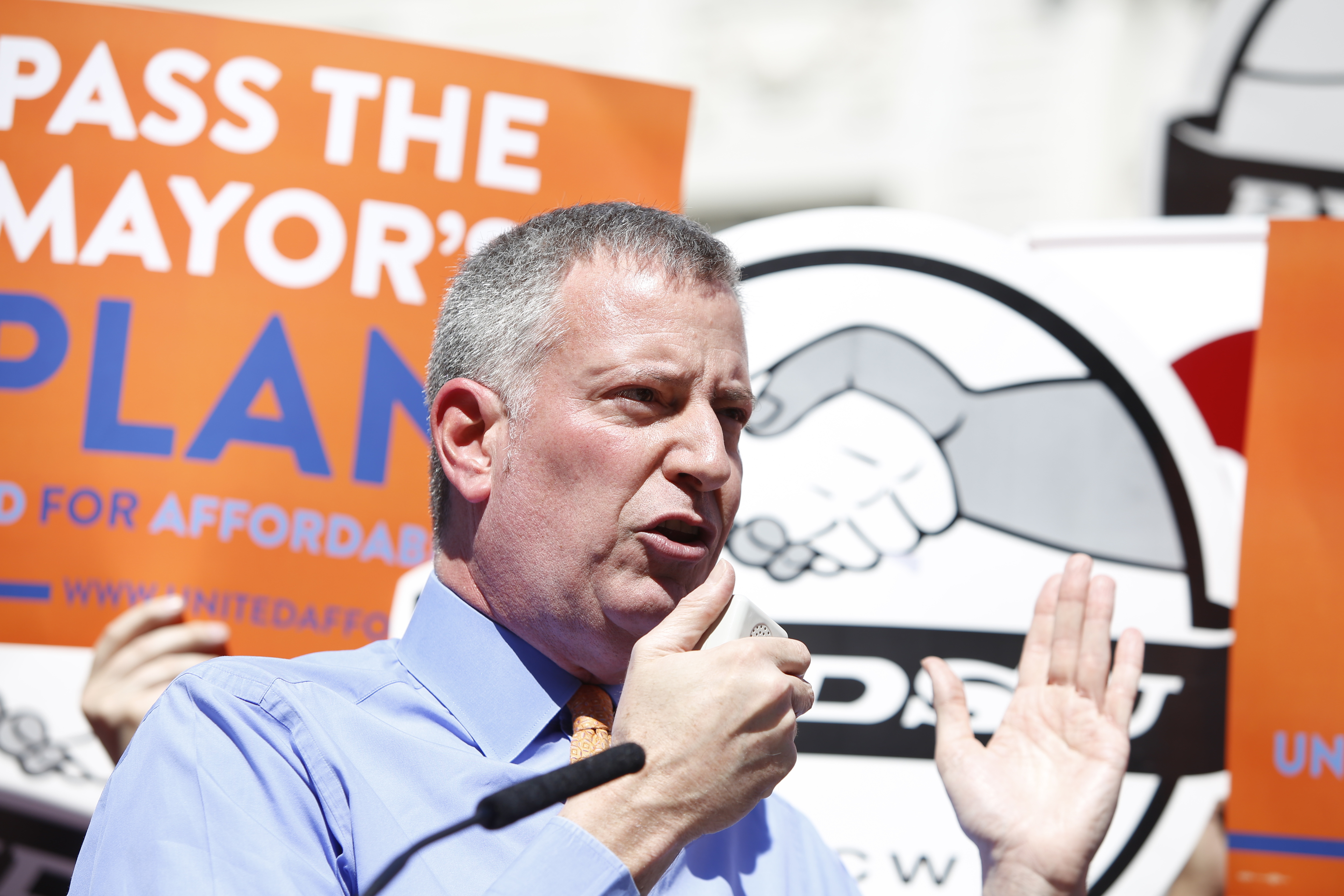 Mayor Bill de Blasio today joined a slew of city politicians to decry President Barack Obama's proposed Trans Pacific Partnership trade deal—comparing it to North American Free Trade Agreement, which he deemed a "disaster."
"There's such passion on this issue because we've already been to this movie," Mr. de Blasio said at an anti-TPP rally in front of City Hall this morning. "We saw it with NAFTA. We saw what a disaster NAFTA was, and we're not going to repeat that mistake in our time."
Mr. de Blasio's opposition to the TPP is not surprising: almost all of the city's Congressional delegation is opposed to the deal, which is hated by unions. The pact would ease trade barriers and a host of regulations between the United States, Australia and several Asian and Latin American nations.
But the mayor's comments come at a time when free trade has become a major issue in the presidential race, and not one that has been particularly good for Mr. de Blasio's chosen candidate, Hillary Clinton. As President Barack Obama's secretary of state, Ms. Clinton was instrumental in creating the free trade accord, though she has since disavowed it.
Her opponent for the Democratic nomination, Vermont Sen. Bernie Sanders, has emphasized his long-time opposition to free trade deals like the TPP, and to NAFTA—which was passed by President Bill Clinton. And while Mr. de Blasio and Republican front-runner Donald Trump have little in common, they've now shared language on NAFTA: Mr. Trump, too, has called that free trade deal a "disaster."
Mr. de Blasio framed his opposition to the president's trade deal in familiar terms—as part of his crusade against income inequality.
"It's a fight we have to win because this goes to the heart of the matter—if we're going to fight income inequality in this country, we have to fight TPP because it will take us backwards, it will take us in the wrong direction," Mr. de Blasio said. "And there is such a powerful coalition that has come forward to make sure that our trade deals actually don't hurt our own people. That's what this comes down to."
He said the country could not "sacrifice the American middle class to the all mighty dollar."
"And NAFTA was that. NAFTA took away almost a million jobs in this country—tens of thousands of them here in New York State. We saw places all over this country—towns and cities devastated. We saw people who had solid middle class lives have the rug pulled out from under them," Mr. de Blasio said. "People who had done everything right, who had played by the rules, who had worked hard, suddenly were left with nothing—that's what NAFTA did, and we have every reason to believe that TPP will do the same. And that's why we have to stand up and fight against it."
The president, with the help of the GOP House majority, obtained "fast track authority" last summer— meaning he has the power to negotiate the act himself, and Congress will get only an up and down vote on the deal.
Disclosure: Donald Trump is the father-in-law of Jared Kushner, the publisher of Observer Media.