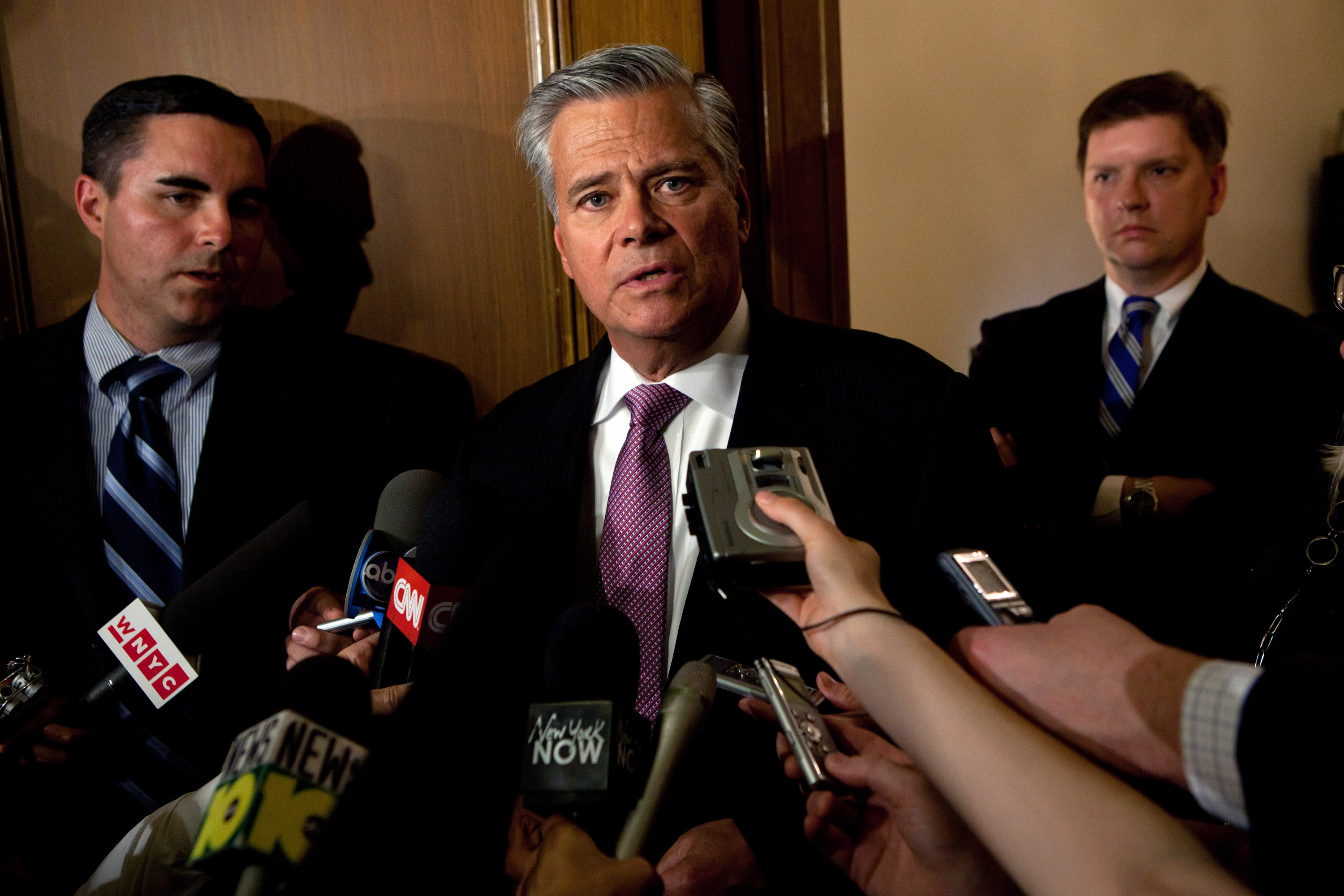 A former corruption prosecutor has claimed victory in the race to fill the vacant seat of former Senate Leader Dean Skelos, who was was ousted by a conviction on corruption charges—but his opponent says it's too close to call.
Assemblyman Todd Kaminsky, a Democrat, has claimed victory over Republican Chris McGrath in the race to fill the vacant Senate slot representing parts of Nassau County tonight. According to the county's Board of Elections, with about 70 percent of the vote in, Mr. Kaminsky leads with 50.2 percent to Mr. McGrath's 38.7 percent.
Mr. McGrath has not conceded in the race; his campaign said in a statement it will be too close to call tonight.
A win for Mr. Kaminsky would mean that Democrats have gained a seat in the State Senate, as Mr. Skelos was a Republican, though the win will not flip control of the legislative body.
The assemblyman has a high profile as a would-be reformer and came into the race with a built-in narrative thanks to his prosecuting past. But in recent weeks, polls had shown Mr. Kaminsky losing the race in the Republican-leaning district. Mr. McGrath had sought to portray the Democrat as a tool of New York City Mayor Bill de Blasio, deeply unpopular in Long Island's suburbs.
Mr. McGrath blanketed television stations with ads decrying Mr. Kaminsky as "Taxin' Todd"—perhaps taking a page from the Donald Trump playbook of nicknaming opponents—and argued that if he won, Mr. de Blasio and New York City Democrats would take control of the State Senate. (Thanks to the complicated makeup of the State Senate, which includes a Democratic and Republican conference, a Democrat who conferences with Republicans, and a breakaway Independent Democratic Conference, the Democrats still will not control the chamber.)
Mr. Kaminsky had the endorsement of President Barack Obama and former President Bill Clinton.
Whoever wins the seat will only have it for sure through the end of Mr. Skelos's term—meaning the winner will have to run again in the general election in November.
This being Albany politics, there was plenty of Albany intrigue to the race. Gov. Andrew Cuomo, a Democrat who was criticized by some for not doing enough to help Senate candidates in 2014, did endorse Mr. Kaminsky—but did not campaign for him. Some critics theorized he was staying out of the race because Republicans had agreed to his minimum wage hike in the state budget.
And while massive labor union 1199SEIU promised in 2014 to stop giving campaign cash to Senate Republicans—in an effort to win back the chamber for Democrats—the powerful healthcare union endorsed the Republican, Mr. McGrath, this week. They union and its president George Gresham, who is close with Mr. Cuomo, played a large role in the "Fight for Fifteen" movement to hike the minimum wage.