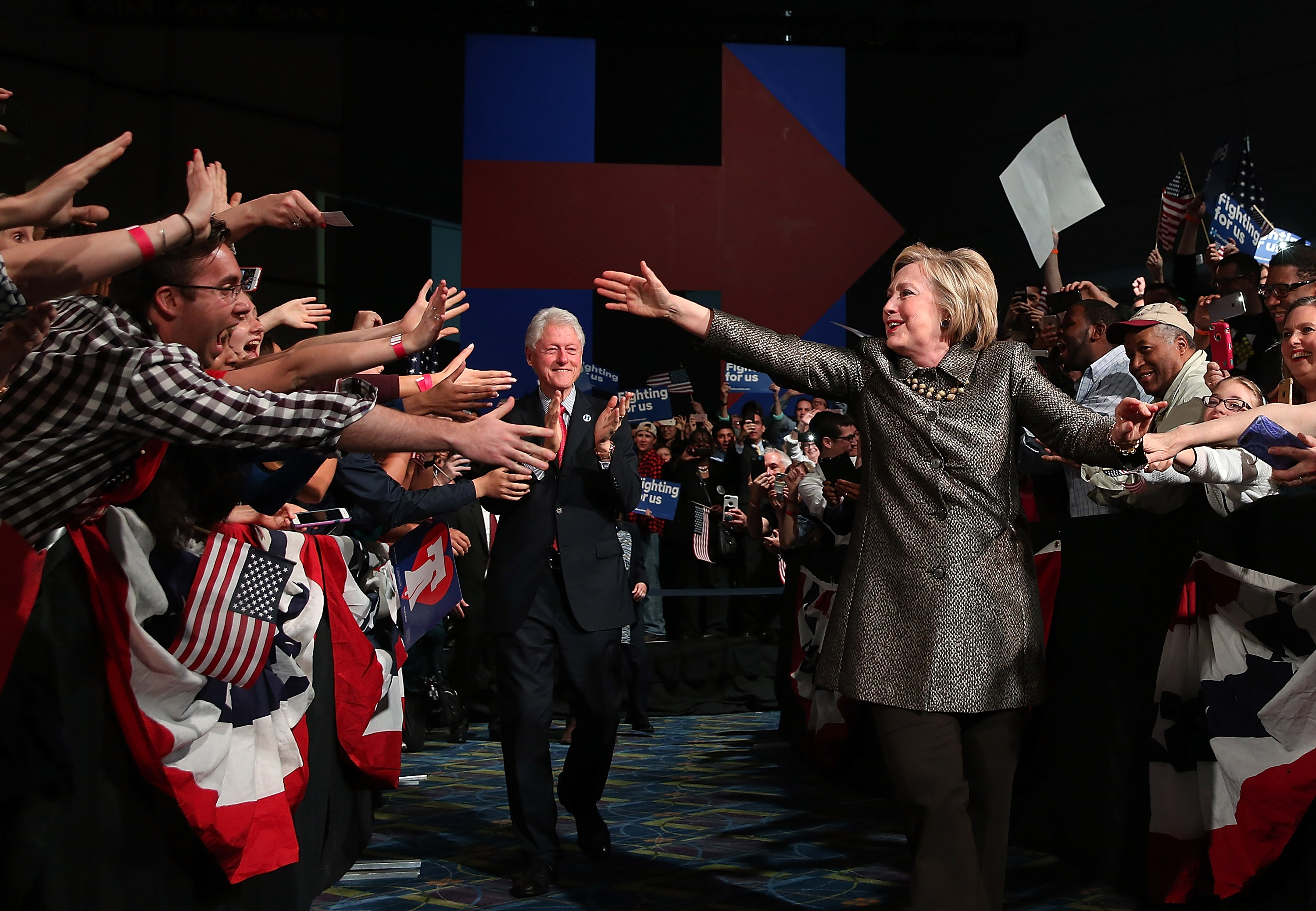 Say what you want about the Republican's "women problem," but Democrats have their own gender problem—and it's bigger.
In every single primary this election cycle for which there are exit polls, more women than men have cast their votes for the Democratic nominee—and the gender gap appears to be getting wider. In all three of the primary states that voted Tuesday for which there are exit polls—Connecticut, Maryland and Pennsylvania—Democrats had a gender gap of 20-points or larger.
The largest I found was in Mississippi, where Democrats had a gender gap of nearly 30 points.
And while Hillary Clinton wins women (except for in states where she loses handily to Vermont Sen. Bernie Sanders), she's not always winning men and not winning them by as large margins. In two of the three states that voted Tuesday night for which there are exit polls—Connecticut and Pennsylvania—Ms. Clinton won over women but lost the men.
In Connecticut, Ms. Clinton won 57 percent of female voters (she also won the state). But Mr. Sanders won 55 percent of the male vote. In Pennsylvania, Ms. Clinton won 60 percent of women but, again, Mr. Sanders won men. Mr. Sanders carried 50 percent of the men's vote in the Keystone State, with Ms. Clinton taking 49 percent (a closer split but still telling).
The disconnect in the Democratic Party among male voters—especially white male voters—has been well documented. But as media outlets and Democrats love to focus on the gender gap among Republicans that favors men, they ignore the massive gender gap on the Democratic Party that favors women. It's due in large part these days to the Party's consistent pandering to women and minorities while ignoring white men.
The Republican Party has also been pandering to women and minorities, which explains much of the rise of New York businessman Donald Trump. Working-class men have seen their jobs disappearing and their issues being ignored or forced to take a backseat to the issues of others—and if they complain they're accused of racism, sexism and white male privilege.
But working-class men are hurting in this country just as anyone else. No one should need to be pandered to, but politicians need to do a better job of telling everyone how they will make their lives better and not ignore any segment of the population.
The pandering has gotten so bad that Mr. Sanders said during a debate, "When you're white, you don't know what it's like to be living in a ghetto…you don't know what it's like to be poor." He completely discounted the nearly 19.7 million white Americans who live below the poverty line, the millions of white Americans who are on food stamps and that some of the poorest counties in America are majority white. Mr. Sanders had to walk back his comments the next day.
Ms. Clinton has become so tone deaf on men's issues that when she wrote an op-ed about criminal justice reform—a bipartisan issue if there ever was one—she focused solely on women prisoners. She even went so far as to imply female criminals are really victims because they can't visit their children.
She completely ignored the massive gender disparities in the criminal justice system that favor women, like shorter sentences (if they're sentenced at all) for similar crimes as men and the advantages women have in family court.
It's this kind of pandering that turns a lot of voters—especially male voters off. When a candidate has to completely discount an entire population in order to try and gain the votes of another population, it's sickening.
Ms. Clinton appears to be the Democratic Party's nominee (it doesn't seem possible at this point for Mr. Sanders to surpass her even in pledged delegates), and if she doesn't start attempting to connect to male voters, a general election runoff between her and Mr. Trump could get uglier than she would have expected.
Disclosure: Donald Trump is the father-in-law of Jared Kushner, the publisher of Observer Media.