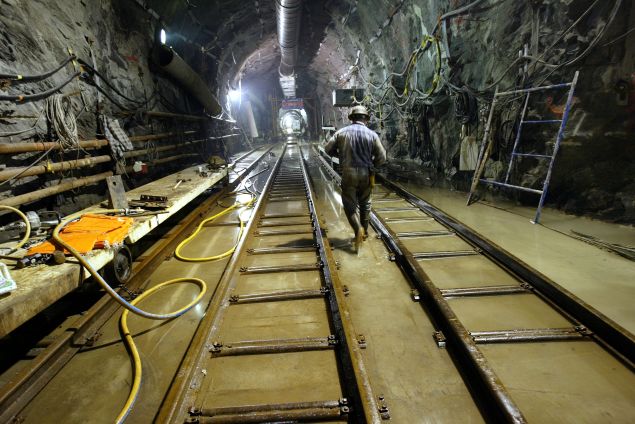 Last week, The New York Times ran a front-page story about Mayor de Blasio's sub-rosa delay in building City Water Tunnel No. 3. The partially completed project—50 years in the making—is already delivering water to the Bronx and Manhattan. But it still needs work to become operational in Queens and Brooklyn. And it is the latter borough that is most in danger of calamity if its one remaining delivery pipe—the 80-year-old City Water Tunnel No. 2—should fail. A serious break from natural calamity, terrorist act or just plain old age would be catastrophic.
The Times reported that the Mayor had diverted more than $300 million from his budget—monies necessary to keep construction on its timetable. Mr. de Blasio's move would delay the completion from 2021 until an unspecified mid-20s date. Confronted with this reporting, the mayor scrambled: He demurred, dissembled and deflected. And in less than 24 hours, Mr. de Blasio declared he was committed to adding even more funds and completing the project a year ahead of schedule. Mr. de Blasio sounded obsessed with proving himself a better friend to Brooklynites than his predecessor, Mike Bloomberg, who had accelerated the long-delayed project. Mr. Bloomberg got the sandhogs working three shifts a day by allocating more funds to the project than our five previous mayors combined.
The current administration believes that capital funds should be concentrated on subsidizing affordable housing, not the long-term health of our city, its workers and residents.
The de Blasio Administration's attempt to delay the third water tunnel is a reflection of its core values: Investing in social policy takes priority over investing in the city's infrastructure. The current administration believes that capital funds should be concentrated on subsidizing affordable housing, not the long-term health of our city, its workers and residents. Mr. de Blasio does not understand that his job is to assure the long-term future of the city; but his timespan is limited to the mayoral election cycle.
New Yorkers have long benefited from a water system that is brilliant in its conception, construction and stewardship. Water is collected and stored a hundred miles north of the city, kept pristine by the foresight of previous generations who purchased tens of thousands of acres of land surrounding the reservoirs and delivered by a gravity-driven aqueduct system. But there are still vulnerabilities that demand constant attention and adequate investment.
The mayor's priorities—and his lack of vision—are not a surprise. He has made commitments to the municipal unions that will burden the city after 2017. Neither he nor his budget director is able to impose cuts on municipal agencies; and he is preparing for tax increases to cover the spending he has promised.
Sadly, Mr. de Blasio may learn the wrong lesson from this experience. First, he blamed the dust-up on his team's failure to communicate the administration's plans and then announced that the money had been there all the time. It wasn't, as the Times noted. Second, he announced that water-and-sewer tax rate increases would be just 2.1 percent—the lowest such increase in 16 years and, to us, insufficient to see the project to completion. Dodging a bullet is not leadership; properly preparing for a potential crisis is.
If there is a serious water main break, an outbreak of a contagious illness transmitted through water, or even an extended drought, people will start to realize that our water supply cannot be taken for granted. Mr. de Blasio has a responsibility to all New Yorkers—and to the future of New York—that must transcend his worldview. He must not play fast and loose with New York's essential infrastructure needs.