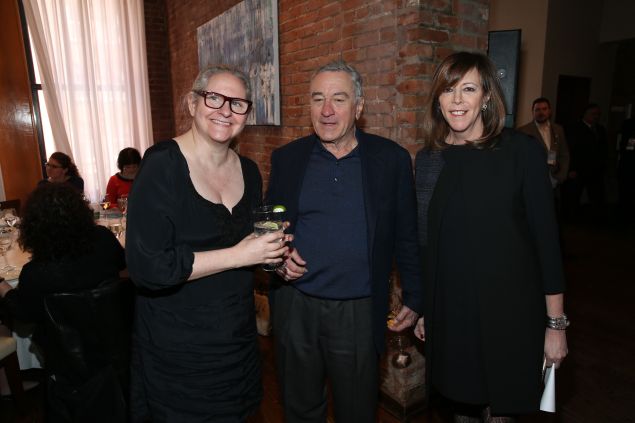 Robert DeNiro is a rock star. But that might not be apparent if you've ever seen him speak in public. At the luncheon launch of the 15th Annual Tribeca Film Festival on Wednesday in a private second-floor room at Thalassa on Franklin Street, the spry seventy-two-year-old dutifully took the podium like a child heading for a vaccination. He notoriously despises public speaking. Even his smallest speeches are meticulously scripted – and if he ad libs, well, he can get into trouble. But that New Yorker on the stage, looking anywhere but out directly into the audience (lacking the populist zeal of a Bernie Sanders), is no more the real Robert DeNiro than Travis Bickle or Papa Focker. Bob, or Bobby, is simply not into selling himself. At the microphone he describes the festival in two words, "Jane Rosenthal," and hands the microphone to his long-time producing and festival partner.
Mr. DeNiro is, I've discovered, surprisingly easy to talk to if the conversation doesn't begin with slavish adoration about movie classics like Taxi Driver, which will get a hot-ticket 40th Anniversary screening with a panel discussion with no less than DeNiro, Martin "Marty" Scorsese, Jodi Foster and Cybill Shepherd at the Beacon Theater next Thursday. He's easy-going and hamish once you get to know him, and a good listener, too. Talk about the kids (we both have college-age sons) or food (he's definitely a meat-eater) or the festival's must-see documentaries, and he's engaged. I'm researching a novel about my great uncle, a schlepper in the Kosher Nostra, and he asks: "Lower East Side?" I answer "Williamsburg and East New York." He tells me that they called that kind of mobster a "button man" or a "zipper man." Who knew?  That's the DeNiro I've grown to love over 15 seasons being involved as juror and journalist since the festival rose from the ashes of 9/11 in 2001, the regular guy in the movie-star skin.
During lunch at Table 2, while Mr. DeNiro fielded questions from the Los Angeles Times reporter — and Ms. Rosenthal helpfully interjected — I talked to DeNiro's long-time publicist and pal Stan Rosenfield, who sat between us. Rosenfield also reps George Clooney who's hosting the big-money Hillary Clinton dinner on Friday in California. Over asparagus spears, I ask if Clooney will ever run for office himself. Rosenfield shakes his head and assures me that's not going to happen. George has "too many skeletons" for a candidate so the politically active actor will just keep on backing those who run, like Clinton. And while Morgan Freeman, another Rosenfield client, has become a voice for Hillary's campaign, yet another, Danny DeVito, who has the short Curmudgeons at Tribeca, is feeling the Bern.
Before the waiters serve coffee and dessert, Bob and Stan discretely rise and exit through the back. On his way out, DeNiro gives my left arm a friendly rub. That's the kind of guy he is: low-key, down-to-earth, a real New Yorker. When night falls, I see him from the audience at the Tribeca Performing Arts Center when Mr. DeNiro introduced Andrew Rossi's lush opening night film about the Met Costume gala, The First Monday in May. Standing beside his outgoing partner Ms. Rosenthal, Mr. DeNiro does his dais duty, an awkward public speaker but loyal to the core.  
For more on the TriBeCa Film Festival and TFI Interactive, click here.
Thelma Adams has been a juror at the Tribeca Film Festival and has written about the festival for Us Weekly and Yahoo Movies.