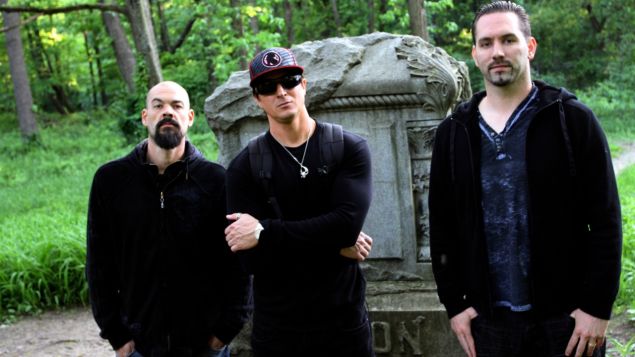 Dispatches from Fringe TV is a new column from Pilot Viruet highlighting the best shows you're not watching, from networks you've been ignoring. 
At some point, television — and the larger world of pop culture — became obsessed with investigating paranormal activity, primarily through ghost hunting. The appeal of these programs is completely understandable: they are a glimpse into the mysterious unknown, they provide "proof" that there is some sort of world after we die, and they're a fun, albeit unsettling, watch. Of all the ghost-hunting programs on television, there is one that stands out: Ghost Adventures.
Currently in its tenth season, Ghost Adventures is arguably the most popular and successful program on the Travel Channel. Granted, this doesn't really sound like an admirable feat — if we're being honest, Ghost Adventures is one of only two shows on Travel Channel that I had ever heard of (Man vs. Food, a program 100x more disturbing than ghosts attacking people, is the other) — but the fact that it's a series that has broken out of a Travel Channel niche to gain some actual popularity is no fluke.
The Travel Channel is a strange little network in its own right. Its lineup boasts odd programs ranging from Airport 24/7: Miami, which chronicles everyday occurrences at Miami International Airport, to Hotel Impossible, featuring hospitality expert Anthony Melchiorri pulling a Bar Rescue on various hotels, to Xtreme Waterparks, which, uh, is self-explanatory. Most of the programming are realistic docu-series, the majority being food-related, which makes Ghost Adventures something of an outlier; it's not a show giving you the facts on sandwiches or rollercoasters, but instead throwing science out of the window to explore the supernatural. Yet it's a show that still fits with the basic gist of Travel Channel: visiting strange locales all over the world. These locales just happen to be full of spirits.
Discovering Ghost Adventures was a fluke: a lazy Sunday of channel surfing led to Chowdown Countdown — a Travel Channel special about 101 places to eat in America — which segued into an episode of Ghost Adventures focusing on Lizzie Borden. Despite my love for all things paranormal, I'd made it a point to avoid the ghost hunting shows mostly out of a) fear that I would become obsessed and never watch any other genre of television and b) fear in general, because I deeply, embarrassingly believe in ghosts to the point where, on more than one occasion, a casual conversation about spirits has led to someone pointing out that I started crying without even realizing. But I'm fascinated by the Lizzie Borden story, so I watched the episode and then kept watching the marathon and then went to Netflix to watch all of the selected episodes that appear there.
The basic premise of Ghost Adventures is simple enough. It's hosted by Zak Bagans, a former wedding DJ who became paranormal investigator after an "encounter with the spirit of a suicidal woman," who is joined by a team of investigators to examine one haunted locale per episode. They provide us with the backstory of the location, talk with people who have encountered the spirits, and do a brief walk-through to highlight the places where paranormal activity has occurred. That night, they do a "lock-down" where the men are locked inside of the location all night (there is no real reason for them to be locked inside, but whatever) and use that time to try to communicate with ghosts, record (audio and video) strange events, and so on.
Sure, it all sounds like your run of the mill ghost hunting experience but what sets Ghost Adventures apart from the rest of the genre are the cast members themselves, particularly Zak Bagans. Bagans is, for lack of a better word, a total bro (and, I'm sure, the source of inspiration for Nick Kroll's Ghost Bouncers). Bagans has five tattoos (including a giant demon on his back that symbolizes the fight between good and evil) and a concealed weapons permit. He celebrates discovering a spiritual presence by high-fiving his friends and yelling "Dude!" He wears shirts that resemble knock-off Ed Hardy designs, crooked baseball caps, and sometimes either thick black glasses or ridiculous dark sunglasses. In one of his two books, Dark World: Into the Shadows with the Lead Investigator of The Ghost Adventures Crew, Bagans says he is a "great wingman" and that his "biggest influences are the deceased people I meet." Zak Bagans is a man I would never talk to in a bar, but because he's a paranormal investigator, I am hopelessly in love with him.
See, the best thing about Bagans–and Ghost Adventures–is that he tends to approach ghosts as if the spirit is a jock at a party making moves on Bagans' girlfriend. There is so much macho posturing on Ghost Adventures that it moves from creepy reality series to wonderful Jersey Shore-like parody. But it's even better than Jersey Shore because this isn't Ronnie fighting a tangible man at a bar but Zak Bagans trying to straight-up fight a ghost. "I taunt and provoke, but you have to understand that I do that for a reason," Bagans writes in his book, "I want to elicit a response. Remember that my mission is to capture on film and digital recording devices evidence of the paranormal. Many times, I can't do that by being nice." So Bagans is mean, antagonistic, and threatening — to ghosts. It's beautiful.
[youtube https://www.youtube.com/watch?v=FsHBT6N2nEo&w=420&h=315]
There are typical ghost hunting show elements — they document creepy voices and marvel at doors opening and closing by themselves, they communicate with spirits by asking questions and reading the answers during EVP sessions they sometimes catch a spirit saying "get out" or "kill them all" on a recorder (I have cried every time this has happened), they discover mysterious scratches on their skins, or Bagans gets possessed (meaning he wanders off looking stoned) — but those all pale in comparison to Bagans' antics. In some episodes, he stands in the middle of a dark room and dares ghosts to make themselves known by pushing him, chopping him with an axe, doing anything to prove that they exist. In a haunted prison, Bagans yells "There's a new guard in here and I'm telling you to get back in your cells!" In a hotel in Death Valley, he dares, "If you're the nasty spirit that likes to push people, I hate bullies. Come and face me! Bring it!" In another episode, Bagans threatens, "I'm going to call his ass out. I'm going to throw him off this damn island."
[youtube https://www.youtube.com/watch?v=T_WEC9pPiiw]
Outside of that, there are some legitimate scary moments happening in Ghost Adventures. It's never so much when Bagans is trying to fight a ghost, but more when the guys are just wandering around alone, jumping at the sound of a drawer opening or footsteps running down a staircase. The creaky-voiced whispering of spirits on the EVP will often give you goosebumps (though, admittedly, they take some liberties: a spirit will "say" something that sounds like "table" and Bagans will interpret it as "get out of my house or I will murder you," or something). In Season 8's "Tuolumne General Hospital," the guys capture video on an X-Box Kinect (oh, yeah, in keeping with the bro theme, Ghost Adventures uses a Kinect camera to detect movement!) of a stick-figure spirit standing at the side of a hospital bed, moving as if he's using the IV bag and stitching up an imaginary patient. If you want an introduction to the creepy amusement of Ghost Adventures, this is the first episode you should check out. And yes, I sobbed that entire scene.
New episodes of Ghost Adventures air on Saturdays at 9 P.M. ET on the Travel Channel.
Pilot Viruet is a freelance pop culture for sites such as The New York Times, The A.V. Club, Vulture, and more. When not watching every bad television show ever, Pilot is usually tweeting about every bad television show ever.