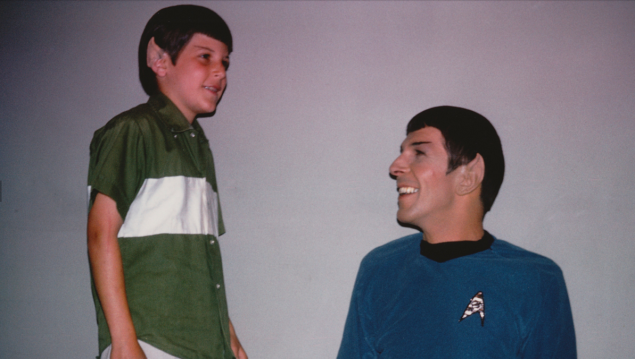 When I first met Adam Nimoy, we were Berkeley students circa 1977. A dead ringer for his father, Leonard, Adam had the touchy sadness borne by the smart son of an American icon –Star Trek's Spock– trying to navigate in his father's shadow. We both attended epistemology class with Stephen Weed, the broken ex of Patricia Hearst, who had searched tirelessly for her when she disappeared only to be dumped when Patty emerged to face trial as the radical Tanya. Years later, in 1994, I met Patty with her prison guard husband in Baltimore at a premiere for John Waters' Serial Mom, in which she played Juror #8.
That means there are only two degrees of separation between myself and Spock – and Divine, too! For Adam Nimoy there's no such separation; no distance between himself and the larger-than-life actor who played Spock in the Star Trek TV series, a number of standalone films and even directed two of them. For the Love of Spock — Adam's insightful, generous documentary premiering at the Tribeca Film Festival — testifies to his accomplished, flawed father, and to a son who has struggled to exorcise his family demons.
Nimoy, who died last year at the age of 83, was also a Jewish icon, his Spock the pointy-eared man of reason, the outsider in an unfamiliar galaxy.  For the Love of Spock traces Nimoy back to Boston, the son of Ukrainian Jewish immigrants who refused to fund his dreams to travel to Hollywood to become an actor. He defied them, went anyway and–until Gene Roddenberry cast him as Spock in 1966–didn't work for longer than two weeks, playing a series of Native Americans, thugs, soldiers and second bananas.
"When there was mass adulation for my father, and I had no relationship with him, that was tough for me." – Adam Nimoy
According to his son, who began the project working in tandem with his father, "The film is primarily about Spock, secondarily about his career as an artist, and thirdly, his family life and his relationship with his son." Despite his filial ambivalence, the younger Nimoy recognized "Spock is a lot of what we aspire to be as a person. He's an outstanding example of a human being even though he's only half human, intelligent, trustworthy and loyal. Spock's got your back."
Coming to that place of acceptance where he made peace with his father's massive fandom was not easy, admitted Nimoy. "I can't pinpoint the exact time and place. The relationship evolved over time. When we reconciled in 2008 or 2009 after the loss of my second wife Martha [to cancer], we became very close. During the estrangement years, it was hard for me….When there was mass adulation for my father, and I had no relationship with him, that was tough for me."
In the film, which features appearances by William Shatner, George Takei, Abrams, and Simon Pegg among many others, Nimoy interviews Zachary Quinto, who plays Spock in the reboot. Their exchanges brim with emotion. Nimoy explained: "Zachary had a father-son relationship with my dad. He lost his father at an early age. Their connection was very close, respectful and loving. We both shared that in common and, yet, at first glance it made me wary and jealous when I saw them together. They had a relationship without all the turmoil of Dad having raised Zachary. But when I saw what they had and how Zachary was continuing Spock's tradition I embraced him."
In the end, For the Love of Spock conveys the extent to which Nimoy relishes his father's connection to Quinto and beyond to a new generation that appreciates the values of Spock: a rational man and a mensch with deep feelings rumbling below a controlled exterior.
For more on the TriBeCa Film Festival and TFI Interactive, click here.
Thelma Adams has been a juror at the Tribeca Film Festival and has written about the festival for Us Weekly and Yahoo Movies.