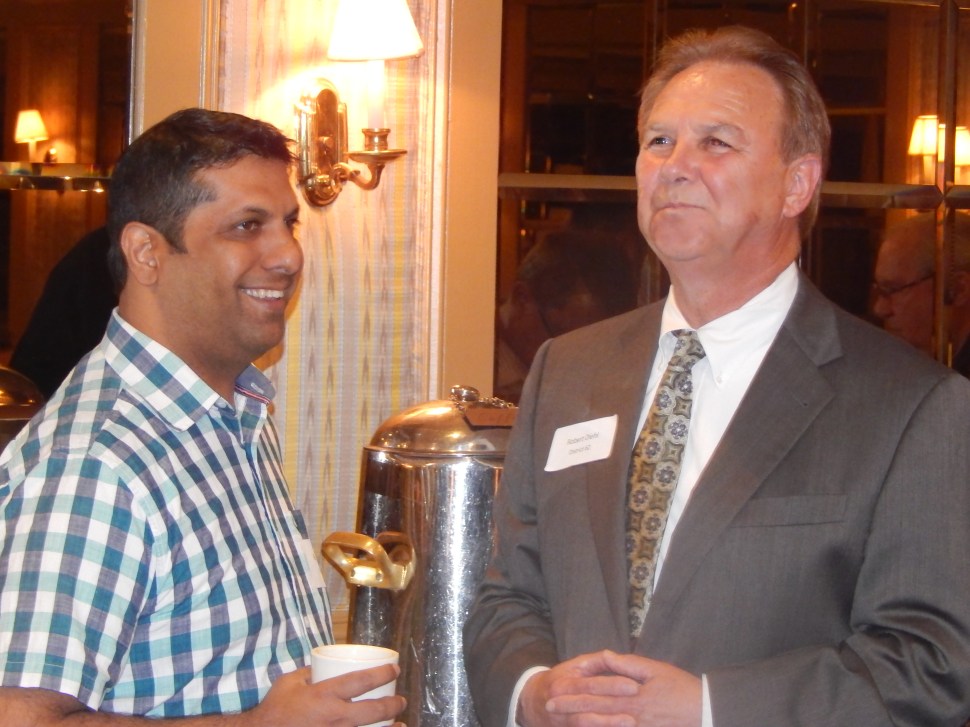 Close to the developing action in volatile LD18, a source told PolitickerNJ that local Democratic Chairman Keith Hahn continues to have discussions with the political people around Mayor Tom Lankey about the vacant assembly seat.
Lankey looked very jittery last year when Hahn beat his political advisor to snatch the chairmanship away from town hall. Sources in the room that night at the Pines discussed the possibility of Lankey's 2017 demise with Hahn installed as the local chair.
But Lankey's henchmen did just enough to make things difficult for Hahn in the aftermath of his chairmanship, brutally chastising him for posing with Republican Donald Trump at one point and riding him hard at every turn with under the radar chatter. Hahn wants to protect himself, and with his ally Bob Diehl hardly a world beater with the 150-odd committee members who will resolve the vacancy, it's possible that the local chairman will save himself in exchange for backing Lankey's reelection.
Diehl's in the mix for the seat in question, along with fellow council people Sapana Shah and Robert Karabinchak. But he's prone to not campaign hard, and people are seeing that again this time as the other contestants make the rounds at events, with Shah and Highland Park Councilwoman Elsie Foster-Dublin routinely also running hand-shaking circles around Karabinchak.
Sources in Edison seem universally convinced that Diehl doesn't have another trick up his sleeve, as he did when he shocked the room last year by announcing his own decision not to pursue the chairmanship and to instead back Hahn, who in turn defeated the long magnetic Anthony Russomano.
"He simply didn't have the votes [to become chairman himself]," one source surmised, making the case for his weakness this year, too.
But Karabinchak may not have to campaign that hard if he gets the right backroom players behind his candidacy, and those people include Hahn.
Earlier today, Lankey threw his enthusiastic support behind Karabinchak.
The possible deal to be had here is Hahn's support for Karabinchak/Lankey in return for the duo's backing for his chairmanship, a source told PolitickerNJ.
If that's the case, Lankey won't have to worry about Diehl or someone else backed by the local Democratic chairman trying to ice him next year; and Hahn won't have to fend off a revenge-seeking Lankey political mechanic Russomano at this year's party reorganization meeting.
It will all be one happy and peaceable kingdom.
Almost.
The big question is what will Russomano do.
For years, he was the guy slaving away to get other people elected, and now he appears to be expected to remain in mothballs, uncelebrated and unappreciated, as Hahn and Lankey protect each other.
Will the excitable Russomano be able to resist staying in the background?