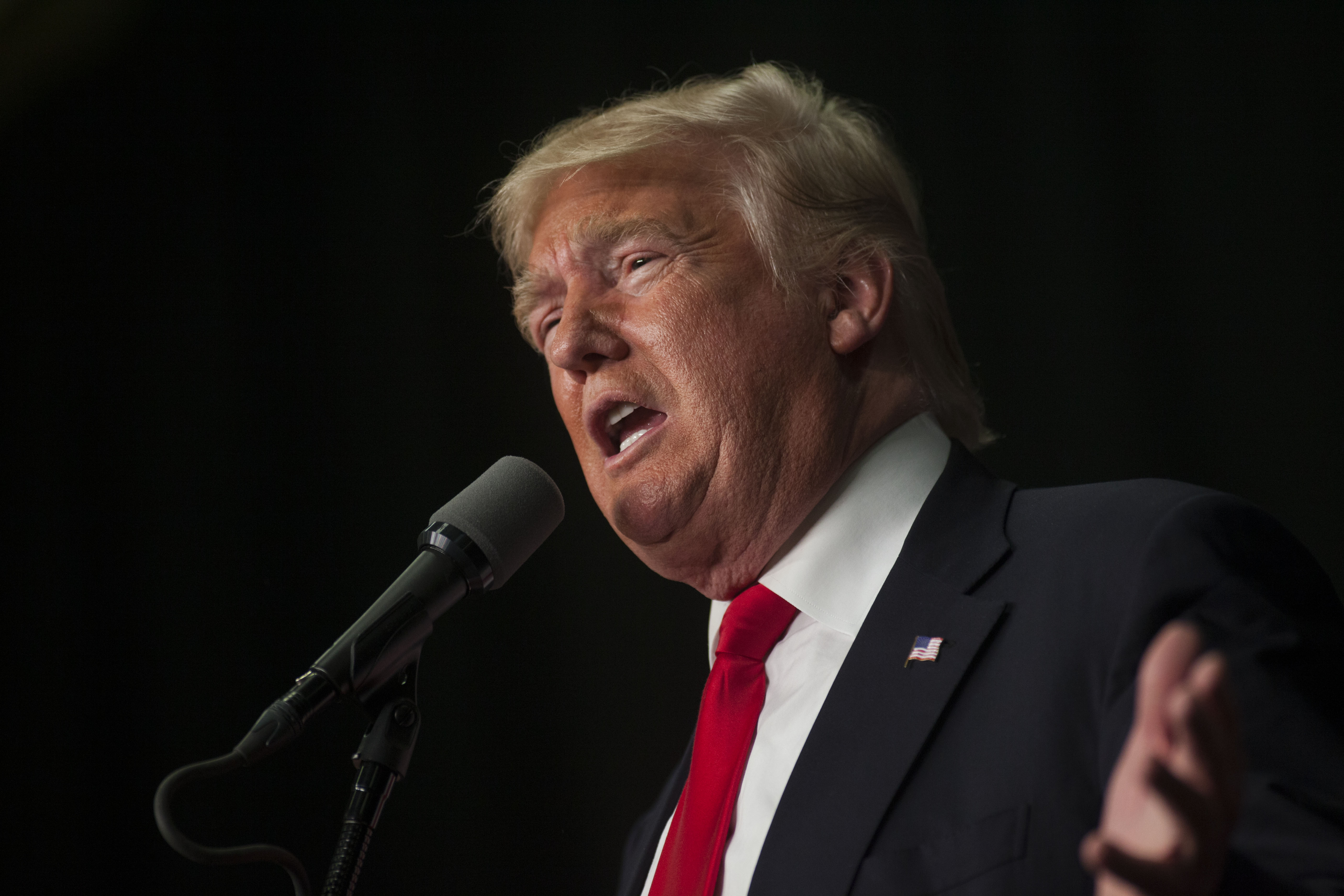 After coasting to victory in five states tonight, Donald Trump crowned himself the "presumptive nominee" for the Republican party—and turned his attention to the Democratic front-runner, Hillary Clinton.
"I consider myself the presumptive nominee, absolutely," Mr. Trump said tonight at a press conference in the lobby of Trump Tower on Manhattan's Fifth Avenue.
Mr. Trump won Connecticut, Rhode Island, Maryland, Pennsylvania and Delaware, defeating Texas Sen. Ted Cruz and Ohio Gov. John Kasich in what's been dubbed the "Acela Primary."
 "Sen. [Ted] Cruz and Gov. Kasich should really get out of the race now," he said. "They have no path to victory."
Mr. Trump stood with supporters including Gov. Chris Christie—who did not speak, kicking off another round of Stockholm Syndrome jokes on Twitter. Rather than make remarks in one of the close-to-home states that actually voted tonight, he instead spoke at Trump Tower, made famous by his escalator ride the day he announced what most expected to be a long-shot bid, if not a joke—an attitude Mr. Trump recalled tonight as he insisted he would win the nomination and then defeat Ms. Clinton.
Ms. Clinton, the former secretary of state and senator, focused a bit on Mr. Trump in her own remarks tonight—insisting once again that "love trumps hate." Asked to respond to that theme, Mr. Trump said he was "not a hateful person," but rather "a person that loves people."
He directed plenty of ire at Ms. Clinton, calling her "Crooked Hillary" and insisting she would be a "horrible president." He made repeated references to the fact that Ms. Clinton is a woman.
"I'll do far more for women than Hillary Clinton will ever do, including protecting our country," Mr. Trump said.
He went on to say he believed the only reason Ms. Clinton was winning was that she is a woman and was playing "the woman card."
"Frankly, if Hillary Clinton were a man, I don't think she'd get 5 percent of the vote," he said. "The beautiful thing is women don't like her."
(Mr. Trump did not explain how those two ideas—that Ms. Clinton's votes came from playing the woman card but that women don't actually like her—squared with one another.)
Ms. Clinton herself has looked to co-opt the "woman card" phrase in her stump speeches, saying that if fighting for equal pay and similar policies amounts to playing the woman card, "then deal me in."
The wins in the well-populated states are a big boost for Mr. Trump in his trudge toward the 1,237 delegates he needs to clinch the Republican nomination, though it will be a difficult road even with tonight's sweep. But Mr. Cruz and Mr. Kasich are hoping to make that road even bumpier with a Cruz win in Indiana, where Mr. Kasich has uneasily entered into a pact with Mr. Cruz in an effort to stop Mr. Trump, a candidate who the Republican establishment has been slow to embrace, to put it mildly. In some states, Mr. Cruz and Mr. Kasich have split the vote that wasn't going to Mr. Trump. (In the Northeast, Mr. Kasich is out-performing Mr. Cruz, who was roundly mocked and handily beaten in New York earlier this month after her referred sneeringly to "New York values.")
"I think that's a good thing because it shows weakness," Mr. Trump said of the pact. "Really, it's collusion. In business, they put you in jail for collusion. In politics, you're allowed to get away with it."
If Mr. Trump does not get to 1,237, there is the possibility that delegates can select a different candidate on a second ballot at the convention in Cleveland this summer—but that move would likely prove deeply unpopular with the Republican primary electorate, who awarded Mr. Trump wins in the majority of states. 
Disclosure: Donald Trump is the father-in-law of Jared Kushner, the publisher of Observer Media.