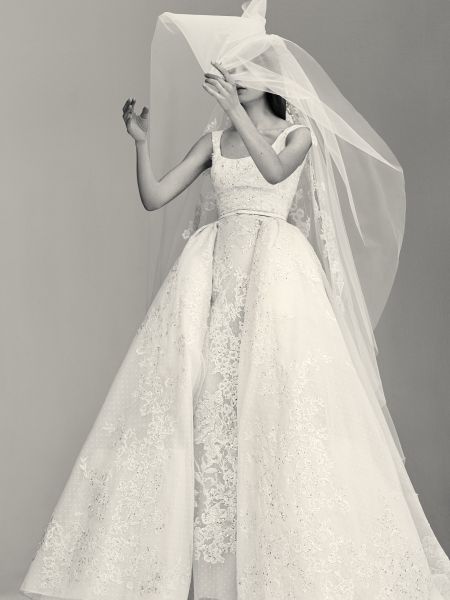 It's about time, we sighed, upon finding out that Elie Saab was delving into the bridal market. The Lebanese designer is a fixture of the French fashion scene, showing on both the ready-to-wear and couture calendars in Paris each year. And now, he's offering his adoration of intricate details and ethereal silhouettes to blushing brides.
Launching with 25 styles, Elie Saab Bridal provides options for brides of all sorts. Prefer a sharp jumpsuit, made for the modern romantic? Or would a daisy-encrusted tulle gown be more your speed? What about a sweetly pleated grecian gown with hidden panels of lace? Luckily, all of those options are included in this collection. Particularly striking is a heavily embroidered column gown, featuring an abbreviated train, a slender waist belt and a flowing veil.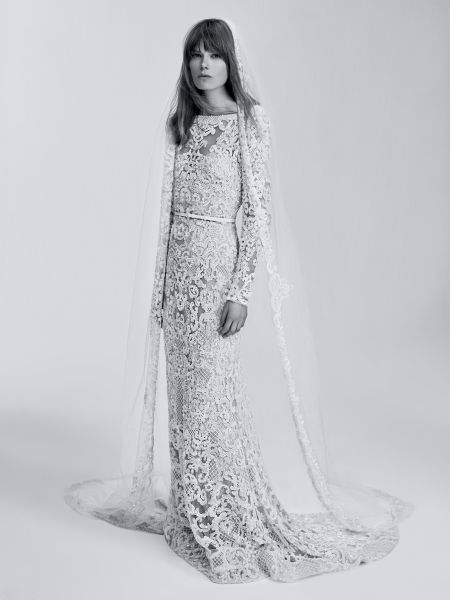 With this range, Mr. Saab is giving girls exactly what they want. The brand explained in a press release: "Signature embroideries and draperies echo the House's history of craftsmanship…The collection also features shorter dresses, alongside ballet slippers, speaking to the air du temps and the desires of contemporary brides today."
Accompanying this launch is a digital campaign, focused around the word "oui." Mr. Saab's brides accent their Swarovski crystal headbands and sequins with edgy tattoos that say "yes" in French.
A handful of these frocks are available for purchase and perusal now, in Elie Saab's Paris, Beirut, Dubai and Hong Kong stores. Harrods, in London, will also be carrying a selection of these dresses. With a launch of this caliber, there's no doubt that Mr. Saab will soon be joining the ranks of Vera Wang and Oscar de la Renta as a go-to couture bridal designer for society swans and celeb sweethearts.