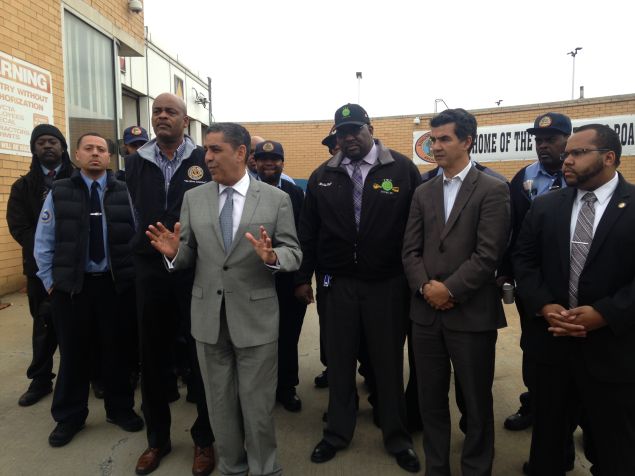 State Senator Adriano Espaillat—one of several aspiring successors to retiring Congressman Charles Rangel—dismissed Senator Kirsten Gillibrand's decision to back Assemblyman Keith Wright for the seat, and insisted his endorsements from local elected officials are more important.
Mr. Espaillat made the argument to the Observer after Transit Workers Union Local 100 announced its support for his bid outside a bus depot in his home neighborhood of Inwood, a part of the Upper Manhattan- and South Bronx-spanning House district. The candidate asserted that local supporters of his—like Bronx Assemblyman Victor Pichardo, Bronx State Senator Gustavo Rivera, and Councilmen Ydanis Rodriguez of Manhattan and Ritchie Torres of the Bronx—are more popular and influential than Ms. Gillibrand.
"I would have loved to have Kirsten Gillibrand, but you know what? I don't think she's going to have a bigger impact in northern Manhattan than, let's say, Council Member Ydanis Rodriguez has. Some people here may not even know who she is," Mr. Espaillat said. "And I don't think she's going to have more of an impact in the Bronx than Senator Gustavo Rivera will have. I think probably in the Bronx, many people don't know who she is."
"Nobody but the local elected officials know the district best," he continued.
The congressional contender characterized his campaign as a "grassroots effort," and maintained that he is the "front-runner" in the race.
Mr. Rodriguez and Mr. Pichardo attended today's event.
Mr. Wright also has the support of Assembly Speaker Carl Heastie, Bronx Borough President Ruben Diaz Jr. and former state Democratic Party chairman and governor David Paterson. The Harlem assemblyman is the boss of the Manhattan Democratic Party, a tight ally of Gov. Andrew Cuomo and a protege of Mr. Rangel's.
Most expect the congressman to announce his endorsement of Mr. Wright in the coming days.
Ms. Gillibrand did not immediately respond to requests for comment. The Wright campaign, however, insisted that the U.S. senator is well-liked in the area—and that her endorsement indicated that the assemblyman is uniquely qualified to work in the House.
"Senator Gillibrand's support for Keith Wright is extremely significant, not only for her popularity among men and women from throughout the 13th Congressional District," said spokesman Hank Sheinkopf. "She understands the leadership skills and experience needed to serve in Congress, and that's why she's supporting Wright."
It is common political wisdom that endorsements matter little beyond their symbolic significance, unless the endorser possesses a sophisticated field operation or powerful fundraising apparatus. The Espaillat campaign told the Observer that 3,000 TWU members reside in the 13th Congressional District, but the union tends to have greater sway in state issues than local elections.
Mr. Espaillat received TWU's  backing in both his unsuccessful bids to unseat Mr. Rangel.
Updated to include comment from Mr. Sheinkopf.